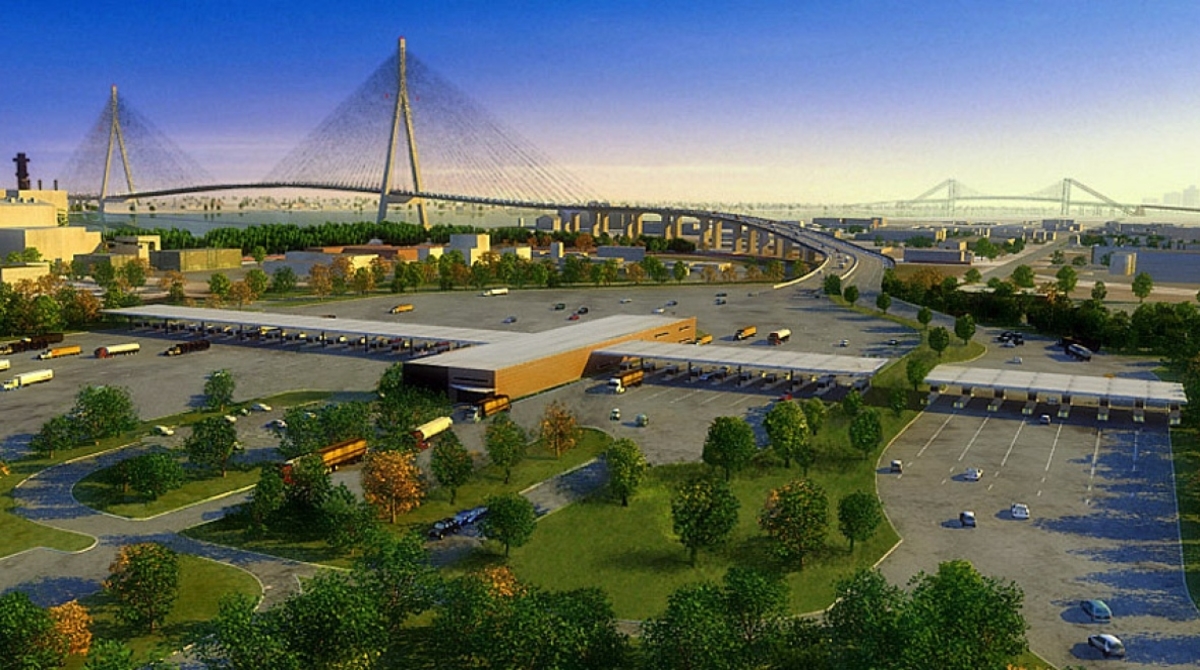 Final design work and preparation construction is starting for the $3.8 billion Gordie Howe International Bridge per Ontario Construction Report.
The cost for the Windsor/Detroit span is $3.8 billion with an additional $1.9 billion for three decades of operation and maintenance after the bridge opens in 2024.
Fluor Canada, ACS Infrastructure Canada and Aecon are the leading international consortium building the bridge under the banner Bridge North America.
"Significant activity on both sides of the border will continue during 2019 on the Gordie Howe International Bridge project. This year will also include installation of test piles and other geotechnical exploration for the bridge foundation to test for soil conditions."
Spokesman for Windsor-Detroit Bridge Authority (WDBA) | Mark Butler
Mr. Butler stated that the activities this year will include the following:
- Advancing the design from 30 per cent to construction-ready design
- Utility surveys and relocations
- Site clearing
- Pre-construction activities
A new Howe bridge plaza will be starting final site preparation across the river in Detroit. Construction will also start on the new I-75 freeway interchange to connect with the new bridge, including sewer and siphon work. Click here for more bridge projects in Ontario.
Final approval for the $20 million in community benefits for the bridge's host communities should be forthcoming this spring.
Construction of the six lane, cable-stayed span is expected to require about 2,500 workers during the six years of construction on both sides of the border. At this time. there are a few hundred workers employed.
According to the Daily Hive, Bryce Phillips, CEO of the Windsor-Detroit Bridge Authority said, "The Gordie Howe International Bridge will be a stunning addition to Windsor and Detroit's shared skyline. Its modern yet timeless design married with advanced technology represents the future of international border crossings.
Gordie Howe was a Canadian who played for the NHL Detroit Red Wings throughout most of his professional ice hockey career.
The structure will be a 2.5 km long, six lane, cable stayed suspension bridge and will cost $1.9 billion to maintain it over the private operating period. It will have three inbound lanes towards Canada and three inbound lanes towards the United States.
The Canadian Port of Entry will span 130 acres and will consist of border inspection facilities for passenger and commercial vehicles. The US Port of Entry on the Detroit side spans a site of 167 acres which is larger than Disney World's Magic Kingdom theme park.
Due to all of the difficulties involved in getting funding in the US and Michigan, the Canadian federal government will be paying for the bridge construction, the Canadian border plaza and even the US border plaza. Canada will recover these costs by charging tolls on the Canadian side of the crossing.
See DataBid Blog titled $2B Gordie Howe International Bridge gets Preferred Proponent
DataBid is currently reporting on this project - WDBA/IA Gordie Howe International Bridge Project DBFM (0046072015)

Posted by Judy Lamelza