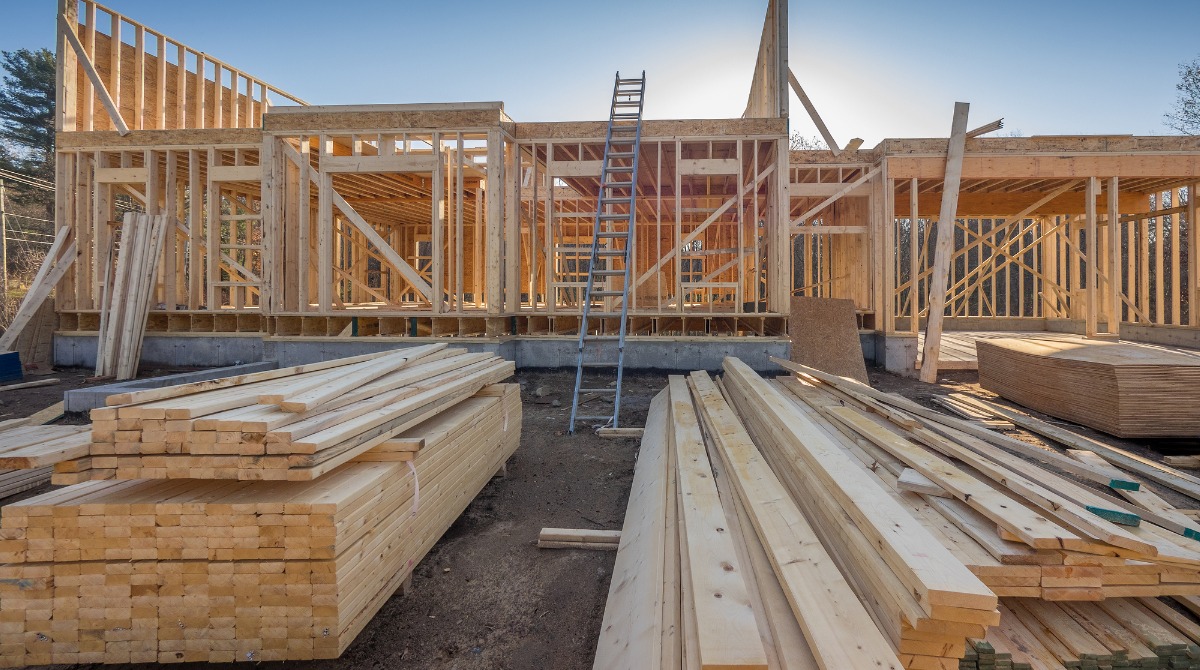 Since the middle of 2020, the cost of lumber and building supplies in Ontario has been on the increase. However, now it is skyrocketing. Let's see what is happening to the costs of lumber and other construction materials and what is causing this increase.
According to Toronto CTV News, lumber prices have been on a steady climb over the past year and it looks like the increases will continue well into the summer and fall.
"Lumber prices are the highest they have ever been and certainly the most volatile they have ever been. If you're going to build a deck this summer, you will be paying three times more for your lumber than you would have two years ago."
Forest Economic Advisors (FEA) | Paul Jannke
It's not just demand driving up prices as some sawmills had to shut down during the pandemic disrupting supply chains. The Ontario Forest Industries Association (OFIA) said mills are doing what they can to catch up.
New home construction is also driving demand and increased lumber costs are expected to add thousands to the purchase price of a new home.
"It hurts you as a business when you have to say that you don't know when you're going to get the lumber that is requested and you can't tell what the price will be. A lot of consumers think they are going to push a project involving wood off until next year, but there is a strong part of me that wants consumers to know that it's never going back to what it was unfortunately."
Co-owner of Century Mill Lumber in Stouffville | Chris Black
Those in construction say the shortages are not just in lumber, but with many other building materials as well. Drywall, plumbing and electrical supplies are also in high demand which could cause more delays and higher prices.
New construction projects have pumped the prices
CBC News states that with many people staying at home most of the time during the pandemic, the need for renovations has increased.
Keven Lee, CEO of the Canadian Home Builders Association stated that the price of lumber could increase the cost of building a house by tens of thousands of dollars depending on the size of the structure. What Covid-19 has done to any industry is the equivalent of mayhem. It has entirely disrupted the normal supply and demand forces.
When the pandemic started, lumber mills closed. All those people confined to their homes then started fixing their decks, fences, and house frames. With so many people forced to work from home, they started their renovation projects to create a home office and generally adapt their homes to their new work-from-home lifestyles. Such an increase in demand after the complete cessation of work led to mills struggling to get logs, and thus, being short of supply. Consequently, contractors had to pay higher prices for the little supply that has been available.
There have also been some supply chain disruptions
Barrie CTV News reports that Todd Young, the owner of Beach Builders Home Hardware in Wasaga Beach stated that there has been a shortage of construction materials throughout the industry. There have been disruptions in the supply chains in North America since the pandemic has hit. Besides, the housing market in Ontario is as explosive as it could be. And coupled with the renovation projects mentioned above, all these factors have caused the lack of some basic construction materials, which then led to prices tripling in some cases.
Shortages lead to project delays
Joe Vaccaro, CEO of the Ontario Home Builders Association, stated that the construction industry has never had such a severe supply chain issue that would lead to project delays. And it is not only lumber that is the problem. Plumbing pipes, drywall, compound and wire is also scarce. Builders are trying their best to handle the situation. They do so by explaining to consumers that the issues they are facing will affect the prices of their houses and cause delays.
What does the future hold?
The truth is that nobody knows when things will go back to normal. It's a fact that the demand has changed at its core due to the pandemic.
The housing sector in Canada has already been on the irrational side. But the pandemic has caused an even more considerable shift in the demand. Last year, people left their apartments and bought houses. Some moved from smaller homes to larger ones. And they left big cities and relocated to smaller towns, both in search of more space and better prices. This is something professionalmoverottawa.com can verify given how much work they had. What is more, this is not only happening in Canada. The US has also been experiencing the same problem.
Nevertheless, things are not as gloomy as they appear. The problems are not permanent. The supply chain will recover as it adapts to the circumstances, and the market will stabilize. It will only take some time. It is only uncertain how much time.
To mitigate anticipated restocking issues, some retailers filled their stocks with lumber as much as they possibly could. When restrictions in the province lift, people will start going out more and slow down the remodeling projects. This could cause the prices to fall as we near 2022.
For now, despite the 28-day stay-at-home order, renovation activities, demolition, and land surveying are allowed. There is also a list of construction activities that are allowed during this latest shutdown. Also, most hardware stores in Ontario are open. However, only delivery and curbside pickup are possible. In some instances, in-store shopping is possible but with a limited number of people allowed.
Final words
To address supply shortages in the near future, builders will begin using substitute products, such as different species of lumber or prefabricated lumber. Eventually there will be an equilibrium between supply and demand.
Cees de Jager, CEO of the Softwood Lumber Board stated that the new normal will be a different type of operating environment, but the industry will adapt. He also thinks that the future is bright for all of us on this.
Most reports show that the demand for lumber is expected to hold up well for some time but they believe that supply should rebound and the price of lumber should sharply decline by the end of 2022. Samuel Burman with Capital Economics believes that the progressive easing of quarantine measures should allow lumber mills to return to full capacity fairly soon. He believes that lumber prices will fall over the next 18 months. In addition, the recent pick-up in hiring and higher trucker pay are likely to alleviate the current shortage of truck drivers, which should help resolve some of the logistical constraints.
Editor's note: This is, indeed, a confusing time for the construction industry. DataBid is working tirelessly to report and distill the news that can help you and your company make the right decisions and keep you up to date on the constant changes as they are made. We hope our coverage brings some clarity amid all the confusion.
Posted by Judy Lamelza