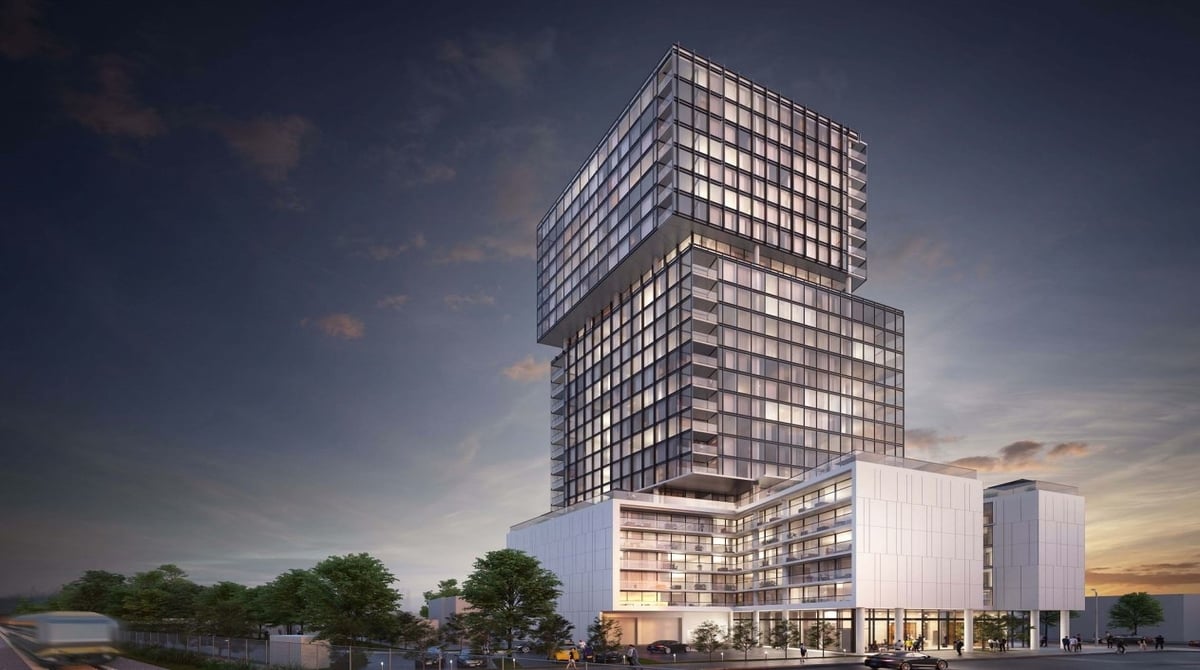 The high-rise residential development at 1695 Weston Road has been completely redesigned by Core Architects for Old Stonehenge Development Corporation. Significant changes have been made since its initial rezoning application was submitted at the end of 2017. (Rendering above is from the 2018 plan submitted by Core Architects to the City of Toronto).
According to an article in Urban Toronto, the following is a list of some of the revisions that have been made:
- Reduction from 25 to 23 storeys
- More typical podium and tower massing in place of the shifted boxes seen previously
- Stepped terraces at the upper storeys along the west elevation of tower
- Footprint of building was expanded following the acquisition of 1693 Weston Road which was not included in previous applications
- 18,629.7 m2 gross floor area increased from 17,602 m2
- Height of 84.55 metres changed from 84.2 metres
- 18,279.6 m2 of the total gross floor area proposed as residential space
- Remaining 350.1 m2 dedicated to ground floor retail space which is an increase from the initial submission of 147 m2 of retail
- Total of 227 condo units (decreased from 240 previously)
- Mix of 16 studios, 126 one-bedrooms, 66 two-bedrooms and 34 three-bedrooms
- All 15 rental units that currently exist on the site are now planned to be replaced with the new building's podium levels
- Two level underground garage containing 106 parking spaces reduced from 136 previously
Core Architects is an award-winning group of architects and interior designers based in Toronto and has been responsible for the design of over 160 condominium projects, 55 of which are in the downtown core of Toronto.
Oldstonehenge Development Corporation was founded in 2009 by Michael Dobrijevic and has evolved over the years. They now offer a unique diversified approach and is willing to take advantage of opportunities with various asset classes, including rental apartments, luxury condominiums and hotels as well as the traditional commercial, office and retail developments.
DataBid is currently reporting on this project - Weston Road Mixed Use - Toronto (0025011018)
Posted by Judy Lamelza