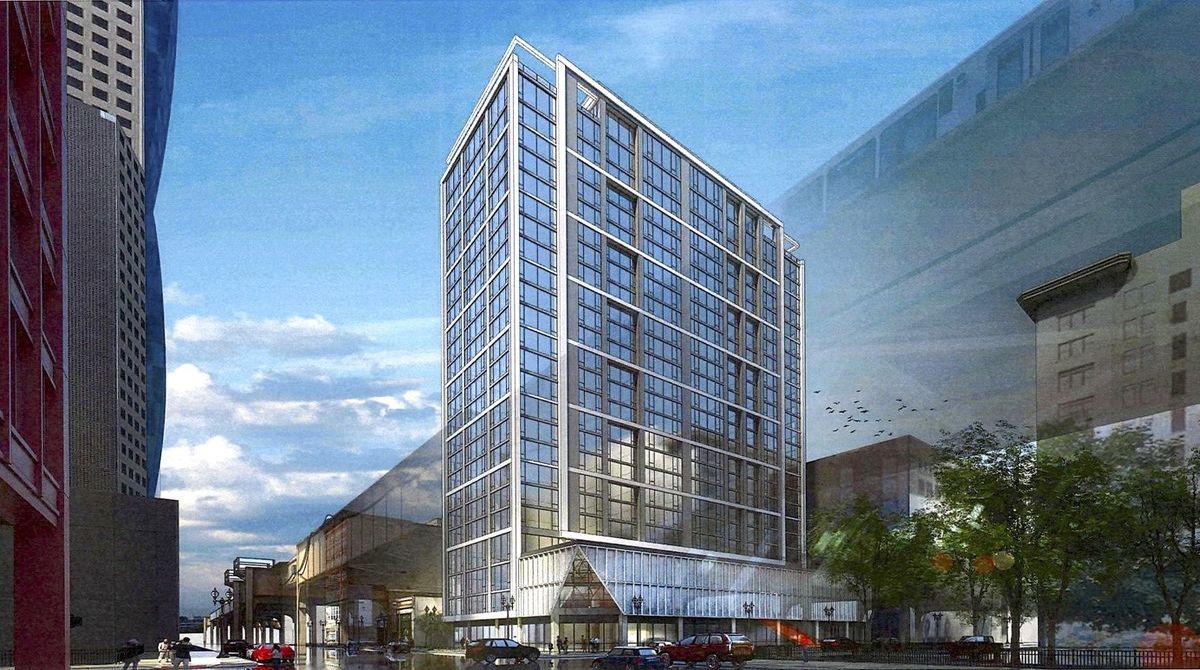 Developers presented plans at a recent town hall meeting for a new apartment tower at 410 S. Wabash Avenue and a coliving at 633 S. LaSalle Street. Both of these projects are being pursued "as of right" with no requested changes to the sites' zoning per Chicago Curbed.
401 S. Wabash Avenue
This 24 story apartment project will be located at 410 S. Wabash Avenue on a parking lot site at the southwest corner of Wabash and Van Buren. The building will rise 260 feet in Chicago's central business district and will include the following features:
- 344 rental units
- 220 efficiency units
- 60 one-bedrooms
- 61 two-bedrooms
- 3 three-bedroom apartments
- Ground floor retail space and a lobby
- 104 space parking garage
The architecture firm is Antunovich Associates and LMC is the developer which is a company owned by Miami-based Lennar. The two firms recently worked together on the Marlowe Apartments which opened last summer in River North.
633 S. LaSalle Street
London-based "coliving" company, The Collective, will be replacing the parking lot at 633 S. LaSalle Street with a 17 story project along Printer's Row.
The coliving concept gives residents a more affordable entry point in a neighborhood by offering smaller, fully furnished private bedrooms and shared common spaces. A single payment from the tenant covers rent, utilities, furniture and even linen service
Contact DataBid Today to Find Out How we Can Make Your Business Grow
Another South Loop coliving development recently opened at 30 E. Balbo Drive and is also being tried out in Chicago's Logan Square and University Village neighborhoods.
The Collective's Chicago expansion will include the following:
- Various indoor and outdoor amenities
- Mix of studios and apartments
- Onsite coworking space
- Ground floor restaurant
- Parking for bicycles but no cars
The designers are FitzGerald Associates Architecture working jointly with Berkelhamer Architects. Construction should begin as early as this summer and open in early 2021.
According to Chicago Business, The Collective aims to provide affordable housing and build communities through local relationships, which is something they want to do in Chicago.
"We want to draw the community in as much as possible and look forward to partnering with different neighborhood groups to activate our block", according to Colective's statement at the town hall meeting. "Some potential ideas include a farmers market and an art installation on the retaining wall opposite the project."
Coliving has become increasingly popular as a cheaper option for people who want to live alone in expensive neighborhoods.

Posted by Judy Lamelza