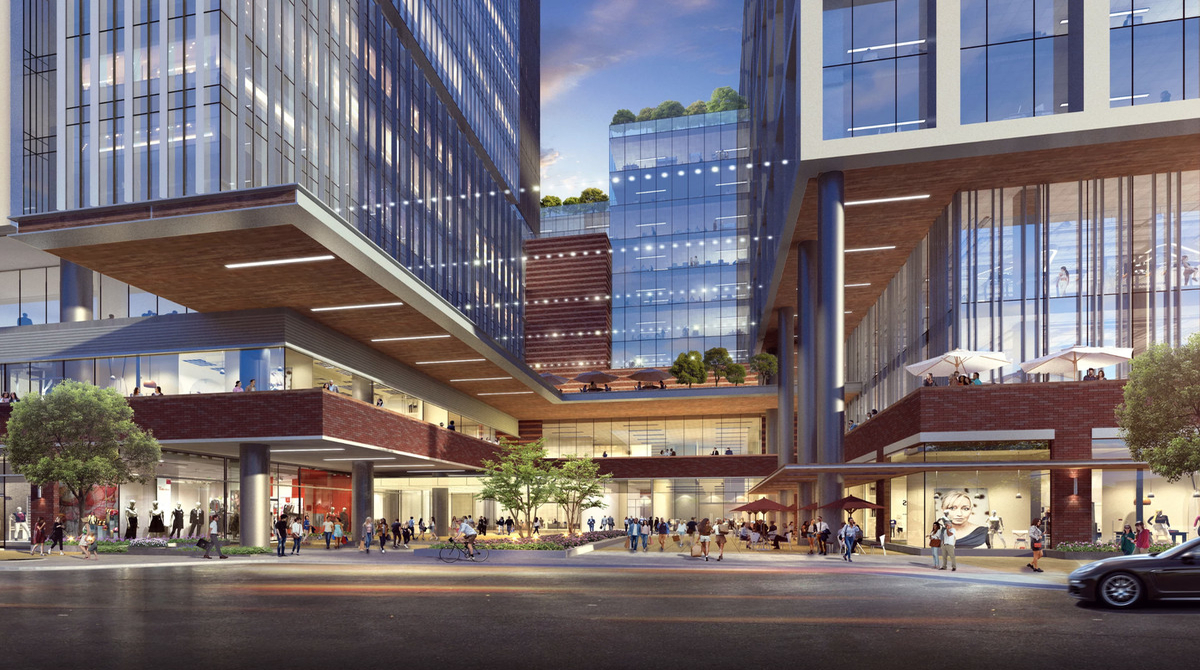 Developers Ryan Companies and IBT Group are planning to build two office towers scaling 18 and 14 stories and incorporating over 600,000 square feet at 1200 West Fulton Market. The name of this massive development will be Axis West and will be built on a 2.1 acre site in Fulton Market according to Block Club Chicago.
The buildings will feature the following:
- 556,000 square feet of office space
- 150,000 square feet of ground floor retail
- 335 parking spaces
- 100 bicycle parking spaces
- 13,000 square foot plaza
- Fitness center
- Outdoor terraces equipped with wifi
This project will replace some one story commercial and industrial buildings on the site with a 300 foot tall, 18 story building and a 240 foot tall, 14 story building.
Per Chicago Curbed, original plans would have occupied the entire block and included 1.2 million square feet of office, retail and hotel space.
The development was designed by CallisonRTKL and will require a zoning change from the city but hopes to break ground next fall.
Looking for Details on all Current Office Construction Projects in the Chicago Market?
There is an overwhelmingly crowded market for office projects right now and if that wasn't enough, Fulton Market developer, Sterling Bay recently filed a new zoning application for a 14 story commercial building right across the street from 1200 W. Fulton at 1200 W. Carroll. The project will rise 227 feet and contain retail and office space.
According to Toby Veit, an executive with the Ryan Companies, he recently told Crain's that the neighborhood has the momentum to absorb all of these upcoming projects due to the high demand.
As stated in BisNow, developers had more than 3.5 million square feet of office under construction in the submarket by the end of Quarter 3 with nearly half of the total for all of Downtown Chicago, according to a report from Colliers International. The vacancy rate also sank from 9.8% last year to just 8.3% by Quarter 3 2019. Colliers researchers believe it is likely the submarket still hasn't reached its potential.
DataBid is currently reporting on this project - 1200 Block Development Fulton Market - Chicago (0060110217)

Posted by Judy Lamelza