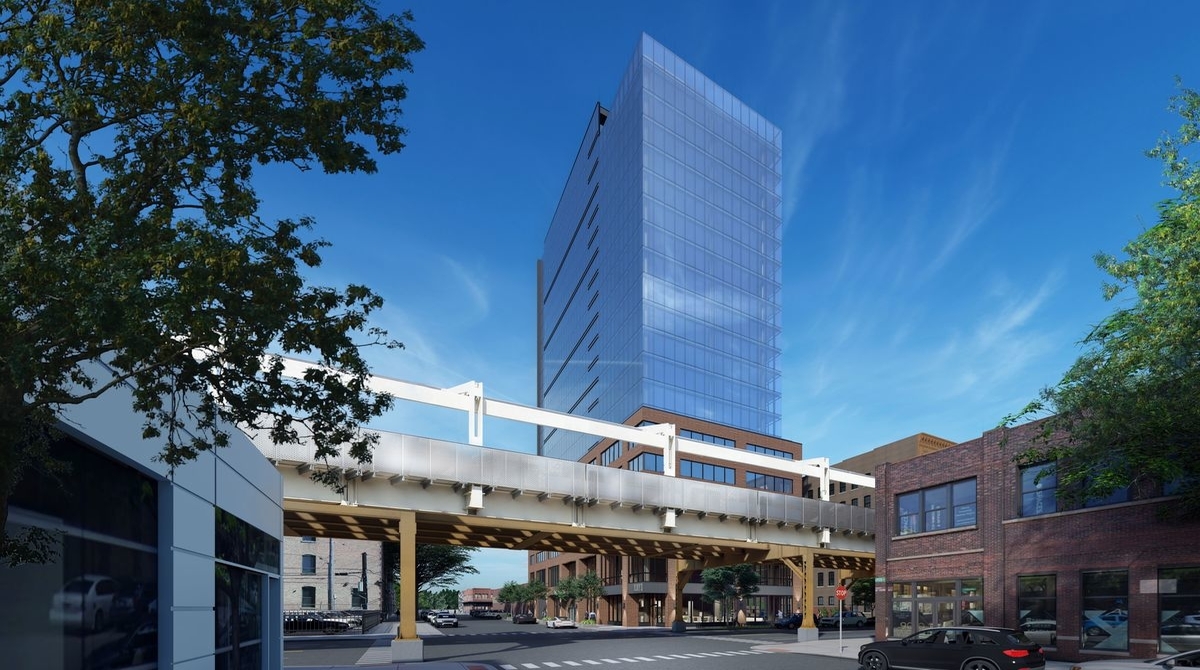 F & F Realty and FitzGerald Associates Architects proposed a 20-story hotel at 920 W. Lake Street in Fulton Market at a recent public meeting. The meeting was hosted by 27th Ward Alderman Walter Burnett Jr. and the West Loop Neighborhood Organization per Chicago Curbed.
According to Block Club Chicago, the Hotel will be a more affordable Marriott franchise and will include 199 rooms and will reach 245 feet. It will also include the following:
- A Restaurant
- Fitness area
- Co-working space
- Rooftop area
- 43 parking spaces (20 surface level and 23 underground)
The developers are thinking about using the surface level parking as a flex space that could double as a courtyard or an outdoor seating area for an on-site restaurant.
The site is currently a parking lot and developers have applied for new zoning to convert the entire block into a Planned Development.
Back in 2015, Architect Patrick FitzGerald had pitched a 10 story residential building at 922 W. Lake St. which is just west of the existing Lake Street Lots rental building. Alderman Walter Burnett, Jr. blocked the plan even though the community had supported this project.
At the recent public meeting, F&F Realty and FitzGerald Associates Architects pledged to pay $2.7 million into the Neighborhood Opportunity Bonus Fund. If this project gets approved, then construction would begin next summer and should take about 16-18 months to complete.
Contact DataBid Today to Find Out how we can make Your Business Grow
Per Chicago Curbed, Alderman Burnett has stated that he is now open to the new hotel plan but will take the West Loop neighborhood groups' advisement under consideration before deciding.
Two blocks to the east, North Park Ventures is planning on building a separate hotel and office development at 800 W. Lake Street. GREC Architects has designed the 19 story tower and has filed a zoning application with the Chicago City Clerk. The proposed 228,000 square foot structure will have parts rising two and three stories with the main tower rising 265 feet.
According to Crain's Chicago Business, North Park plans on demolishing a row of small properties at 800, 808 and 810 W. Lake Street which will include the Paddy O'Fegan's Irish Pub. The developer has not disclosed in his application the breakdown of hotel rooms and office space. This development will be part of a huge number of new buildings that are in the works in this trendy neighborhood. Fulton Market has become a corporate destination for companies such as Google and McDonalds and is attracting more and more upscale hotels, restaurants and retailers to the area. Office buildings and hotels are in extremely high demand at this time.
DataBid is currently reporting on this project - 920 W. Lake Street Hotel - Fulton Market - Chicago (0054072219)
DataBid is currently reporting on this project - 800 West Lake Hotel & Office Development - Fulton Market - Chicago (0052072619)

Posted by Judy Lamelza