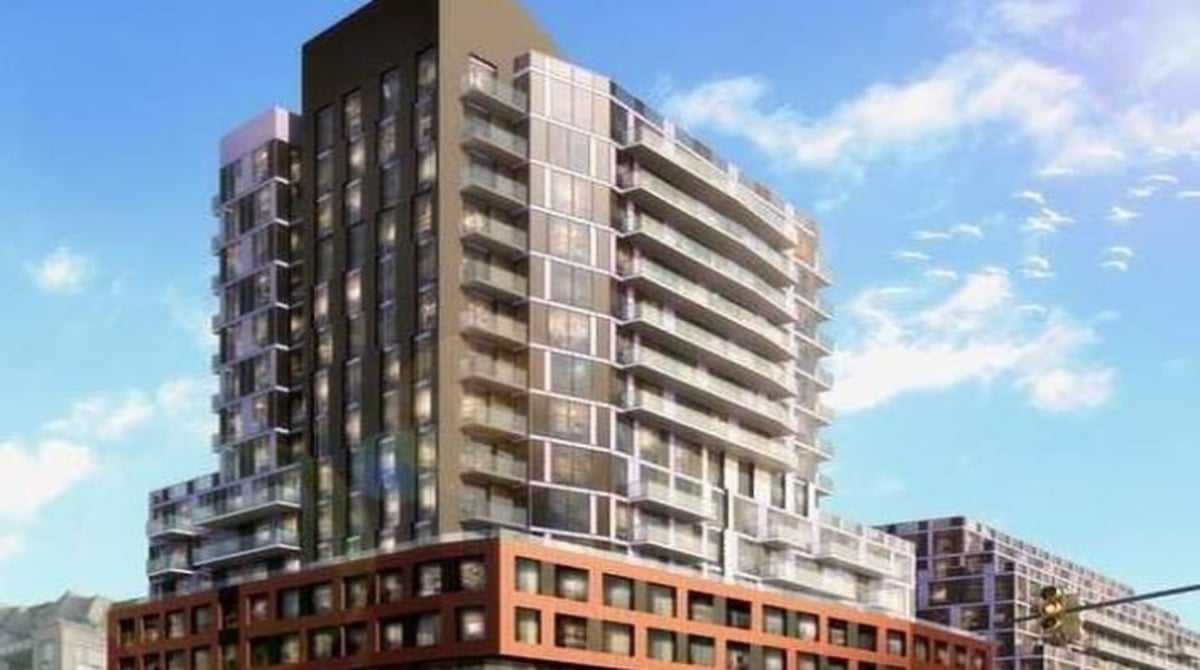 The Sunnybrook Plaza redevelopment at Bayview and Eglinton in midtown Toronto recently submitted an application for Site Plan Approval. The latest changes to the proposal came in response to approval conditions secured in a settlement with the OMB in 2016. The development consisting of two buildings is set to become a purpose-built rental community. Property owner RioCan REIT has teamed up wth Concert Properties per Urban Toronto.
The updated plans come with major revisions by Turner Fleischer Architects who designed this project. The revisions are most notably the buildings' heights and exterior expression and includes the following:
- Redesigned with the OMB-mediated heights of 16 and 11 storeys (55.9 and 44.05 metres high) reduced from the previous 19 and 13-storey heights.
- Revised the 2016 OMB settlement by increasing the amount of gross floor area permitted for the site.
- Major changes to massing and exterior expression are evident in the rectilinear massing with a mix of brick, limestone-hued precast, and window wall cladding making up the exterior expression.
- A total of 417 rental units which is a reduction from the previous 426. Now proposed in a mix of 75 studio units with average sizes of 36 m2, 183 one-bedroom units with average sizes of 61 m2, 132 two-bedroom units with average sizes of 75 m2, and 27 three-bedroom units with average sizes of 102 m2.
The development is located at Leaside station on the Crosstown LRT which is set to open in 2021.


The residential component would be anchored to the Bayview and Eglinton intersection by 2,761 m2 of retail space lining the main frontage, as well as a mix of office and amenity space. Much of the 1,294 m2 of office space will be on the second floor of the 11-storey east building in a contiguous space of 1,109 m2 (11938 ft).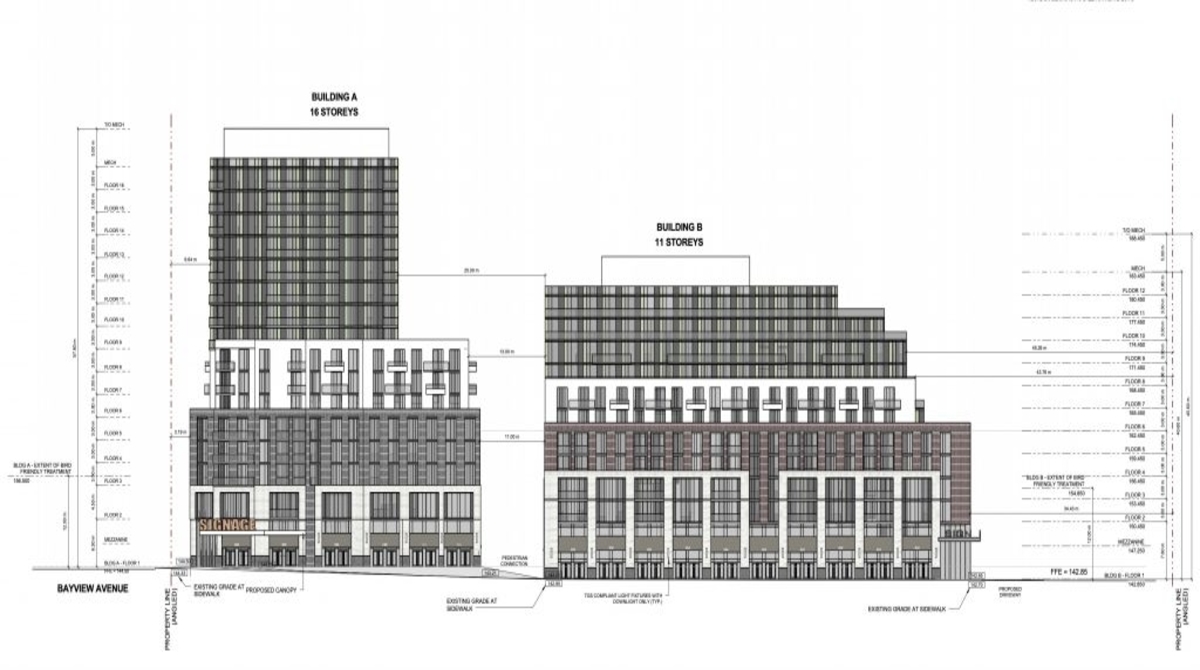 Originally, Sunnybrook Plaza was the first of many suburban strip plazas built in Toronto in the mid-20th century. The plaza had opened back in 1952 at the northeast corner of Bayview and Eglinton and has been home to many retailers and businesses over the decades since that. In January 2015, we learned that owner RioCan had redevelopment plans for the plaza and we now have the development proposal designed by Turner Fleischer Architects.
DataBid is currently reporting on this project - Sunnybrook Plaza Redevelopment - Toronto (0014011215)
Looking for Details on all Current Commercial Construction Projects in the Toronto Market?

Posted by Judy Lamelza