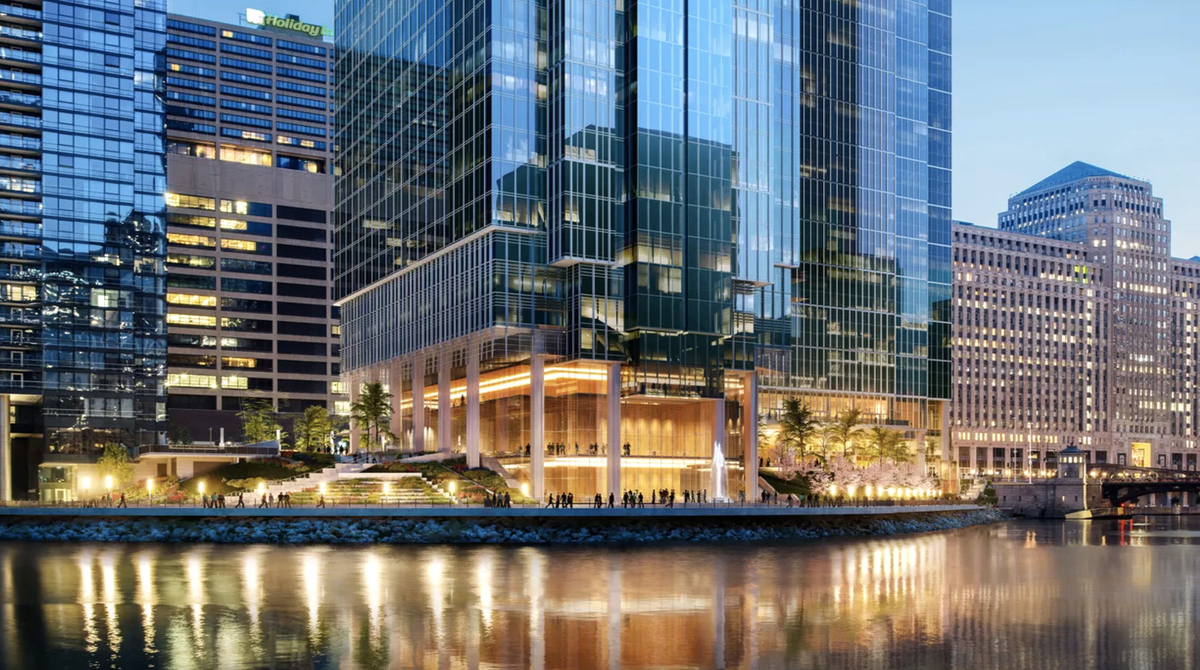 Salesforce has announced that it will be adding 1,000 new jobs in Chicago over the next five years. This is part of their expansion of its regional headquarters which includes the building of Salesforce Tower Chicago in River North per the Chicago Sun Times.
Salesforce will also be donating $1 million to Chicago Public Schools according to Elizabeth Pinkham, executive vice president of real estate for Salesforce. Pinkham also said the use of the tower's top floor called the "Ohana Floor" will be open and available to employees, customers and partners, nonprofits and local education groups on weeknights and weekends.

The site was formerly known as Wolf Point South and is part of a larger 3 tower project. The 57 story building is expected to be open in 2023, and is designed by architects Pelli Clarke Pelli and developed by the Kennedy family and the real estate investment firm Hines.
Chicago Mayor Emanuel said "Today we announce the third tower of that dream in just eight years and I want to congratulate and thank the Kennedy family for seeing that through. This symbolizes all the things that are happening in the city of Chicago and economic opportunity and the revitalization of the city."
According to Biz Journals, the 950 feet tall, 57 story skyscraper will be located at the convergence of the north and south branches of the Chicago River, next to a 2.3 acre public park and riverfront plaza.
The company signed an agreement recently to pay $475 million over 17 years, with hopes of occupying the building in 2022.
This skyscraper joins a growing list of Salesforce towers all over the world with locations in San Francisco, New York, and Indianapolis and more on the way in London and Atlanta.
Get Qualified Leads from Databid
Chicago is also the place where the cloud computing giant has their largest data centers and in August, Salesforce signed onto an 80 megawatt power purchase agreement with Bright Stalk Wind Farm which is located in Central Illinois about 20 miles outside of Bloomington-Normal. This is part of Salesforce's goal to reach 100 percent renewable energy by 2022.
The company also has huge expansion plans in its hometown of San Francisco where it already has some 8,000 workers employed. They recently leased 325,000 square feet in a proposed tower that isn't approved yet to start construction. The site is at 550 Howard Street within a few blocks of four other buildings Salesforce occupies. They propose to build a 61 story, 800 foot tall tower including 17 floors of office, 165 condos, a 190 key hotel, 79,000 square feet of amenity space and more than 9,000 square feet of retail. Salesforce is planning to occupy the entire office space of this building.
Per RE Journals, Salesforce Tower Chicago will act as a hub for world-class, diverse talent and will enable the company to deliver new innovations to its more than 150,000 customers around the world. Chicago is home to many of Salesforce customers including the city of Chicago, United Airlines and Groupon.
Back in August, Salesforce was looking at Wolf Point West which is now under construction. The company was reportedly seeking several concessions, including "extremely extensive" signage that would have included a video wall on the building's exterior. It is unclear at this time if the video board component will be part of Salesforce Tower Chicago.
Contact Databid Today to Find Out How We Can Make Your Business Grow
Posted by Judy Lamelza