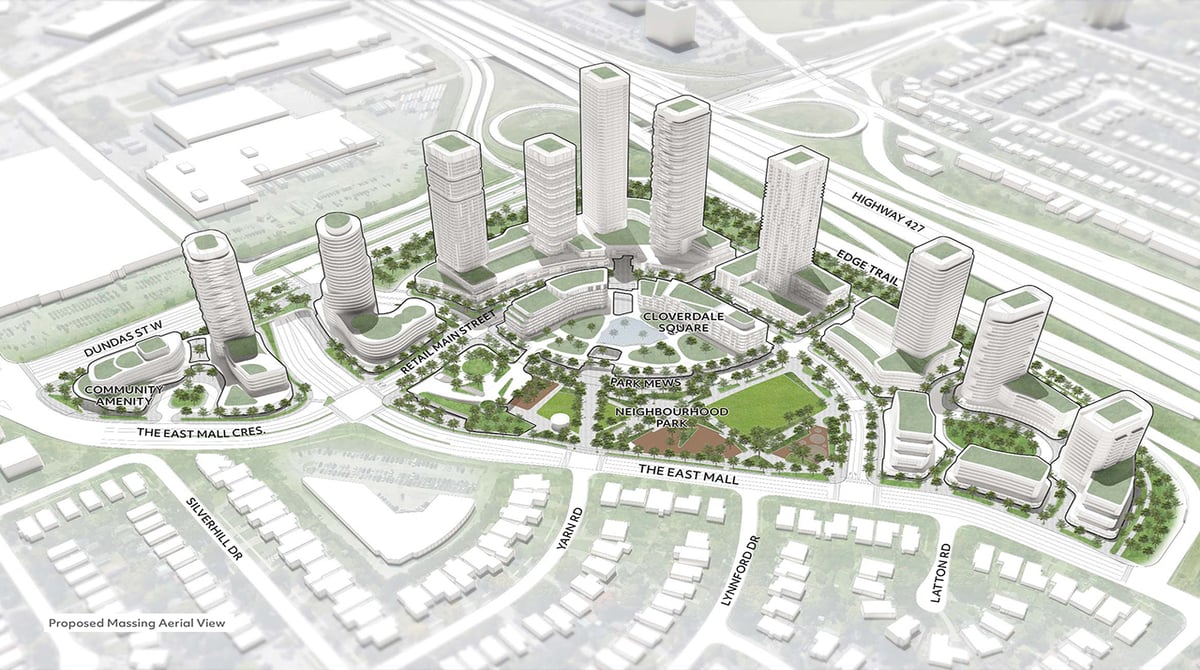 QuadReal is planning a comprehensive redevelopment of Cloverdale Mall that would transform it into a mixed-use, pedestrian-oriented community with thousands of new residents, a park and loads of retail. The preliminary scheme was presented to the Toronto Design Review Panel who called it a "masterful example of mall transformation" according to Urban Toronto.
Cloverdale Mall is bordered by the East Mall, Dundas Street West, and Highway 427, with the interchange of Dundas and 427 at its southwest corner. The plans call for replacing the existing mall and parking lots with a complete community with a new street grid and a pedestrianized public realm.
The plan is being drafted by Giannone Petricone Associates as architects, Urban Strategies as planners and Janet Rosenberg & Studio as landscape architects.

The following four main aspects comprise the design team's vision for the site:
- Enhancing the public realm and community amenities
- Providing plenty of green space and new community amenity while emphasizing pedestrians
- Embracing mixed-use which includes a variety of residential, commercial and community programs in a sustainable community design
- Redefining the retail from a regional shopping mall experience to a more neighbourhood retail experience
The existing edges of the property are defined by high-speed traffic barriers. The new south street providing access to Dundas is planned to have a lighted intersection to take pressure off the East Mall as the primary access road while calming traffic along the highway-like Dundas just before it reaches the intersection.
The community amenity is still unknown but the team is considering an arts and culture centre geared toward the local community.
Filtering through the site is a network of green spaces anchored by a large neighbourhood park to the east. The park consists of several acres. It will also contain a new food market building at its south end with a landscaped sloping green roof that merges the building with the park.
A total of 10 towers are proposed, ranging in height from 16 to 48 storeys. The towers are arranged along the south and west edges of the site and will sit on 4-6 storey mid-rise podiums.
There will also be a 'Village on the Park' complex with a one-storey retail building framed with two 8 storey mid-rises along the south and west edges. The central block will have open-air pedestrian walkways lined with retail that lead to a central covered gathering and event space.
DataBid is currently reporting on this project - Cloverdale Mall Redevelopment - Etobicoke (0008092719)


Posted by Judy Lamelza