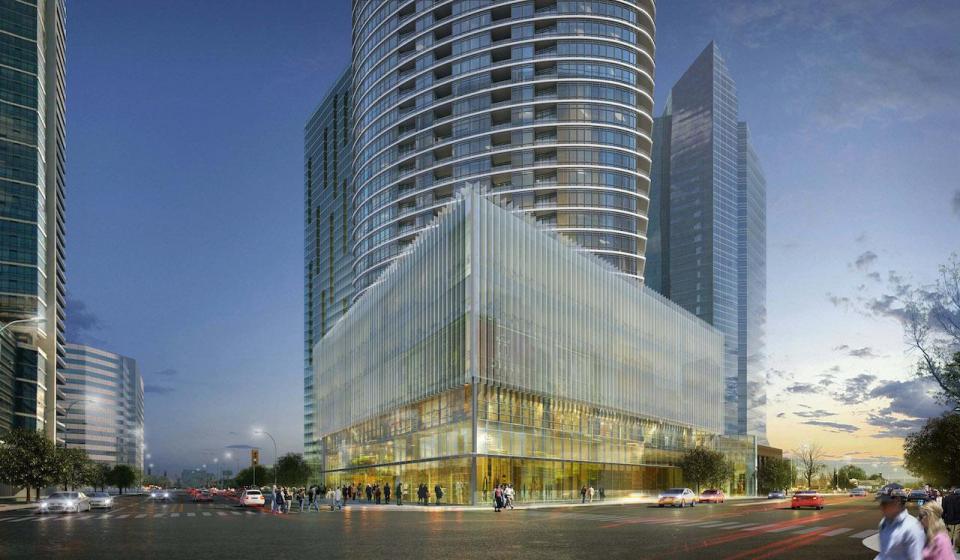 Revised plans were submitted by Menkes Developments for their 4800 Yonge Street mixed-use project which was designed by Miami based Arquitectonica, Toronto's B+H Architects and Turner Fleischer Architects. They are seeking final approvals for the 49 storey tower planned to rise from the southwest corner at Sheppard in North York City Centre per Urban Toronto.
The revised plan introduces changes to the podium which has been increased from 5 levels to 8, and the building's total gross floor area (GFA), which has decreased from 50,012 m2 to 49,906 m2. O. Office GFA has increased from 8,469 m2 to just over 15,000 m2 owing to the larger podium, while conversion of the tower's lowest levels to podium translates to a GFA decrease from 38,129 m2 to 34,387 m2 for condominium suites. At street level, the previously proposed 751 m2 of retail space has been reduced to 519 m2 following the addition of an atrium at the northeast corner of the building.
Even though there is a loss of residential floor area, units have been adjusted in a way that results in the number of suites increasing by just one, from 497 to 498. The units are broken down as follows:
- 32 bachelor units
- 363 one-bedroom units
- 79 two-bedroom units
- 24 three-bedroom units
Residents will have access to 969 m2 of indoor amenity space and 753 m2 of outdoor amenity space.
Other revisions include changes to the site's underground garage, being reduced from 5 levels down to 4, providing 341 parking spaces for residents, office and retail tenants and visitors. Bicycle storage is being decreased from 456 spaces to 432 spaces.
Learn about all the Mixed-Use Projects coming up for bid with a free Trial from DataBid
Menkes Developments Ltd. is an award winning, fully integrated, private real estate company involved in the construction, ownership and management of office, industrial, retail and residential properties. The company was founded in 1954 and is one of largest private developers in Canada.
Menkes' past projects include the Empress Walk entertainment, shopping and residential complex in North York City Centre, the Four Season Hotel & Residences in Bloor-Yorkville and two landmark projects in Toronto's South Core district, 25 York office tower and the two million square foot Harbour Plaza Residences / One York commercial retail complex.
DataBid is currently reporting on this project - 4800 Yonge Street Mixed Use - Toronto (0060032916)



Posted by Judy Lamelza