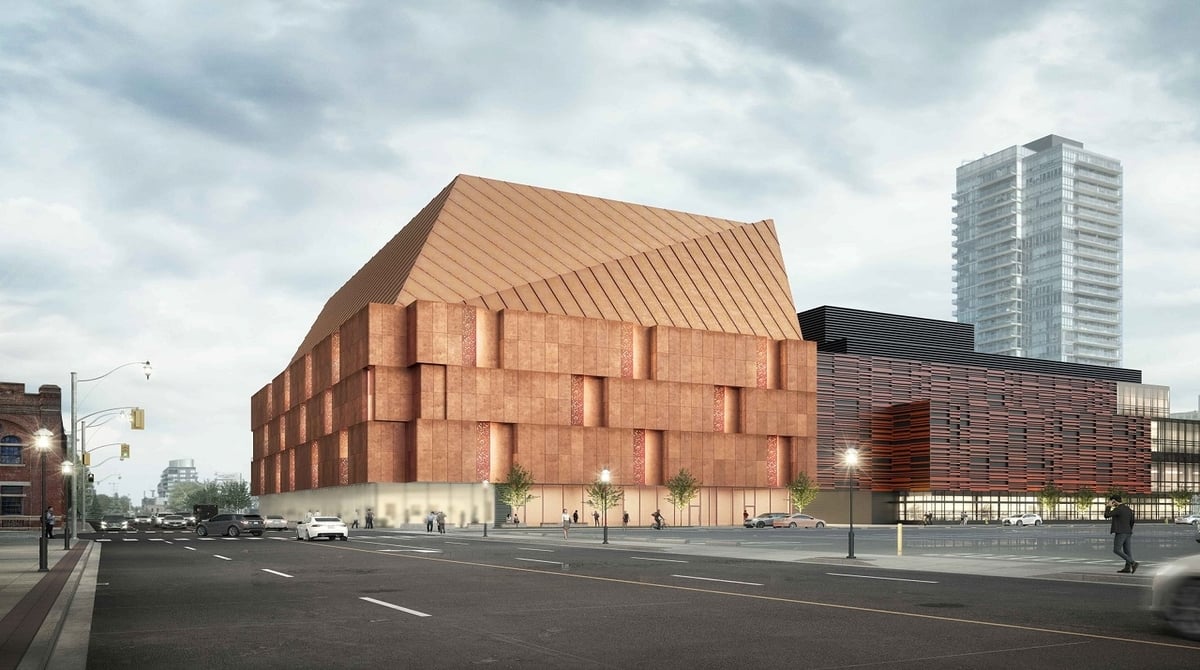 The TR2 Parliament Street Data Centre in Toronto will be expanding by constructing a new building on its north side. It is located on the southeast corner of Front and Parliament Streets. It will be designed by WZMH Architects for Equinix and Arup. They are the same design/build team behind the orange and black TR2 building. (Rendering above via submission to City of Toronto).
An article in Urban Toronto stated that a new application for Site Plan Approval was submitted to the City of Toronto detailing the proposed four storey Downtown Data Centre with its textured metal exterior.
The new building would act as a western gateway to the West Don Lands along with the Toronto Police 51 Division building in a restored heritage Consumers Gas Building across Front Street.
The Downtown Data Centre will have a height of 38.5 metres and a floor area of 13,220 m2. It will be a four storey building with high ceilings and an oversized mechanical penthouse. This is needed for the building's high-tech operations. There will be no retail involved due to the security concerns and the massive heat generation that a data centre usually produces.
The need for solid, windowless walls provide a blank canvas for the avant-garde design which is very similar to the building to the south of it with a modern spin on the warmer-toned building materials.
An application will be forthcoming later this summer which will seek variances related to the proposed mechanical penthouse and parking rates and anything else that might be brought up from the Preliminary Project Review.
According to Baxtel, the new facility will include the following:
- High ceiling heights
- Large capacity floor loads
- Dedicated generators for each data floor
- Underground fuel storage
- Central electrical room and switchgear
- Redundant risers for mechanical, electrical and communications
- Easy access to existing fibre networks
- Ballistic glass and walls
- State-of-the-art security equipment including biometric readers
When the Toronto Public Library's former administrative building was demolished to make way for the new building, a pre-application version was revealed. That version showed a textured white brick finish, a massing more closely aligned with the adjacent TR2 building, along with a gross floor area of 15,600 m2. The new version's total floor area is less at 13,220 m2 but the total volume is greater.
DataBid is currently reporting on this project - Equinix Data Processing Centre - Toronto (0040071620)
Posted by Judy Lamelza