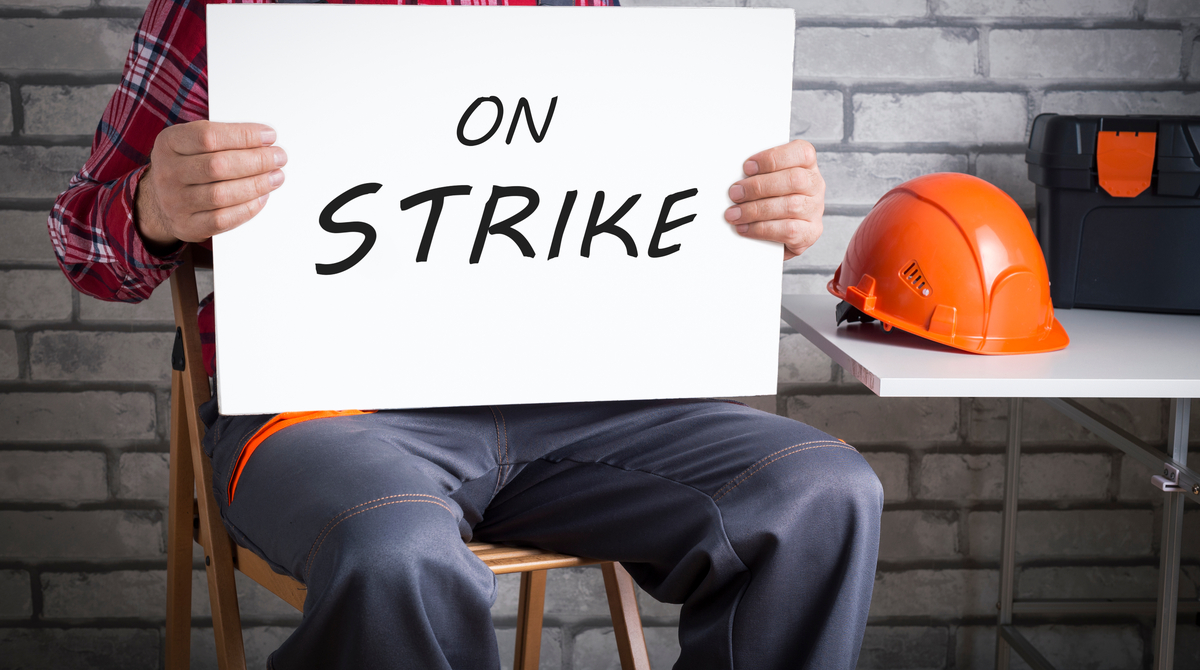 The residential construction industry is experiencing the biggest labour strike in 20 years and this could cause a new housing supply shortage in the Greater Toronto Area. Members from Labourers' International Union of North America (LiUNA) Local 183 union - who work in various aspects of the low and high rise construction sectors have rejected proposed settlements following the expiration of their bargaining agreement.
Toronto Storeys stated that those striking include skilled trades who work in:
- High-Rise Forming
- Self-Levelling Flooring
- House Framing
- Tile Installing
- Railing Installing
- Carpet and Hardwood Installing
Over 15,000 skilled construction labourers have set down their tools and have taken to the picket lines. The affected areas include the GTA, parts of southern Ontario, eastern Ontario, and southwestern Ontario.
Under The Ontario Labour Relations Act, construction strikes in the GTA can last about six weeks before a return to work is mandated, with any outstanding disputes handed over to binding arbitration.
The Local points out that these are mature collective agreements that have been in place for over 30 years. However, as the cost of living has gone up, workers are demanding increased compensation. They want the Contractors' Associations to return to the bargaining table with employment terms that address the impact of inflation and reflect the current cost of living as well as anticipated increases in inflationary pressures.
"LiUNA Local 183 members were deemed essential throughout the pandemic and continue to serve in one of the GTA's fastest growing construction sectors. Our members are at the frontlines of the region's growth and deserve fair pay and benefits for their work and service to the community. The residential sector is amongst the most in-demand industries for the GTA and will continue to be sought after for years to come. They deserve compensation that reflects their contributions to the industry. Our members work hard and are critical to building housing across the GTA. We're ready to get back to work, but the Contractors' Associations needs to offer a fair proposal that respects our members and the work they do."
LiUNA Local 183 Business Manager | Jack Oliveira
According to the Residential Construction Council of Ontario (RESCON), many of the 30 collective agreements within the residential construction sector were settled a few days ago, including a wage dispute for direct employees that went into arbitration on April 21, with approximately $12,500 in annual compensation awarded. However, the job action taken by these key housing sectors will pose considerable challenges for the creation of new supply in the region.
"This is going to create some delays. The longer a strike goes, the longer the delay, needless to say, but it takes that much longer to get things back on track and rescheduled. So, it's particularly challenging that way - and then to add to all this, the financial markets are in considerable turmoil and the forecast seems to be pointing very clearly to further rate hikes coming, anywhere from, depending on if you're in Canada or the U.S., 100 to even 400 basis points. The interesting quirk there would be, if we do get pushed into a showdown or recession, that will have a deflationary effect rather than a stagflationary effect. But its a very complex set of circumstances that are coming together at the same time. I am hopeful the talks will be fruitful in the short term as there's really no purpose for anyone, being served by going the full six weeks of strikes - it just doesn't make sense."
RESCON President | Richard Lyall
The Toronto Sun reports that thousands of carpenters are likely to replace their hammers with picket signs on Monday as a province-wide group walks off the job, joining thousands of other construction workers who are already on strike for higher wages.
Carpenters District Council of Ontario president Mike Yorke states that their union has not been on strike in the industrial, commercial and residential sector for 34 years but have now voted overwhelmingly to tell their employers that they want a fair deal. The union is looking for a new deal that takes into account rampant inflation which clocked in at 6.7 per cent in March.
The cost-of-living concerns mirror those of the two other construction unions that walked off the job this week.
About 15,000 members of the Labourers International Union of North America and some 6,000 crane and heavy-equipment operators are also on strike.
York stated that he does not expect Monday's strike by carpenters will affect home building because those walking out work mainly on industrial and commercial projects.
According to the World Socialist Web Site(WSWS), the strikers are members of the Labourers International Union of North America (LiUNA) Local 183 and International Union of Operating Engineers (IUOE) Local 793. Six groups of LiUNA affiliated workers walked out a few days ago, the first day they were in a legal position to strike. The operating engineers joined the strike the next day, after voting down a three-year tentative agreement recommended by the Local 793 bargaining team. Although details are scant, the engineers appear to have been offered a wage increase of just 9 percent, spread over three years. With inflation currently rising at an annual rate of 6.7 percent, its highest in 30 years, workers were all but guaranteed to suffer a huge real-wage cut under the IUOE endorsed deal.
The builders are insisting that two earlier sell-out agreements should serve as a "pattern" for the industry. In February, the International Brotherhood of Electrical Workers imposed a three-year deal on electricians containing an "increase" of just 8.6 percent, while ironworkers accepted a 9 percent rise with a 0.5 percent premium for Toronto in March.
While the striking construction workers are no doubt determined to fight, they are being straitjacketed by LiUNA and the IUOE within a rigged labour relations system designed to give the employers most everything they want.
Every three years, collective agreements for all 30 trades in Ontario's construction sector expire simultaneously on April 30th. Provincial labour relations law stipulates that workers can only stage job action in support of their contract demands during a 45-day period beginning May 1 and ending June 15. If a negotiated settlement is not reached by mid-June, workers are forced to immediately return to work and any and all outstanding issues in dispute are sent to binding arbitration. Under this anti-democratic process workers are robbed of their legal rights to strike and bargain collectively, and their future terms of employment are dictated by a government-appointed arbitrator, who invariably sides with the employers.
None the less, a large number of collective agreements have been settled, have gone to arbitration, or have reached a tentative agreement and are awaiting a ratification vote. Hopefully, the arbitrated settlement will encourage other parties to return to the bargaining table and reach an agreement.
Posted by Judy Lamelza