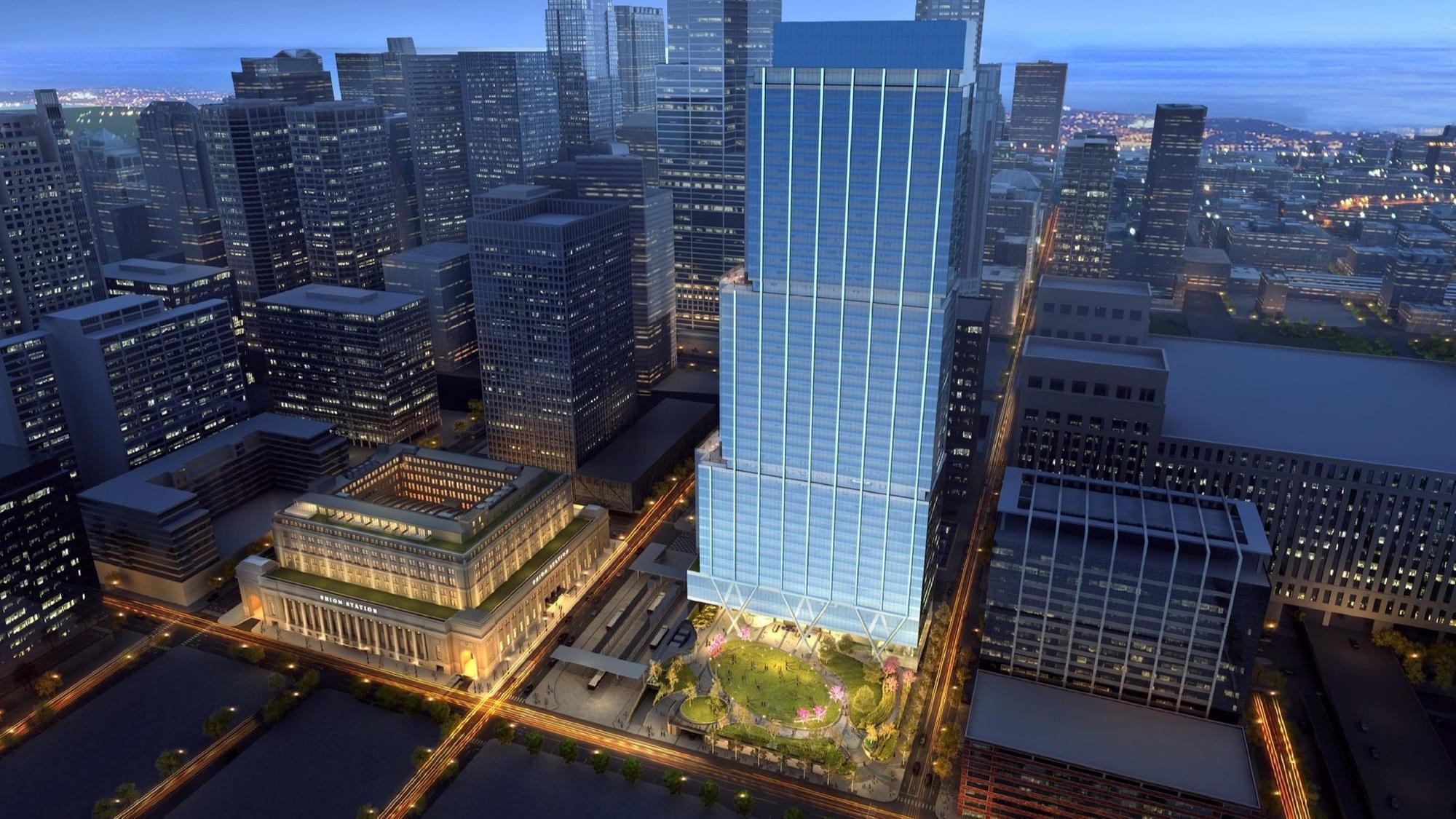 Mayor Rahm Emanuel held a news conference on Sunday stating that there was an aspect of the plan for Union Station that should have been addressed and answered as he stood in a burnt-out room just off the train depot's Great Hall per the Chicago Sun Times. He wanted to make his point ahead of the Chicago City Council's zoning vote on Wednesday that's expected to pass. The room was damaged in a fire and had been closed to the public since 1980.
The new plans call for the space to become a grand new entrance to the middle of the west side of the building on Clinton Street and currently has entrances at the corners of the building.
The new entrance will be across the Great Hall from two marble staircases that lead to Canal Street on the east side of the building. Many people may have seen these staircases before as they were noticeably featured in a scene from the movie "The Untouchables."
Plans also call for an additional floor to be built on top of the Union Station that will house a hotel. Embroilment over the height of the addition, which had formerly called for seven floors, has consumed a lot of time and energy surrounding the project.
A parking garage across the street from the transportation hub will also be replaced by a new high-rise.
No construction timeline has been set up yet and work could start as soon as next year.
The newly revamped Union Station office tower and plaza is predicted to create thousands of jobs on the near West Side.
A lot of people have been very upset with the plans to construct a massive glass tower on top of Union Station and Emanuel was one of them. This has led to the new change of plans which would include 400 hotel rooms.
Emanuel worked quietly behind the scenes with Alderman Brendan Reilly and Riverside Investment & Development to preserve Union Station and build a new office tower and plaza across the street from the historic train station.
An anchor tenant has already been lined up for the building according to mayoral spokesman Adam Collins. The new plans will be shown at a public community meeting before heading to the City Council for approval.
This plan is all part of a long-term effort to capitalize on Amtrak's valuable real estate around Union Station and to accommodate an estimated 40% increase in passenger volume by 2040. Mayor Rahm Emanuel said last week that Union Station redevelopment had secured the recently announced move of 1,800 Walgreens workers into the Old Post Office just south of the project.
Looking for details on all current Office Construction Projects in Chicago?
Over many years, there has been no shortage of grand plans for Union Station. This is the nation's third-busiest commuter rail station and has grown increasingly crowded over time and uncomfortable for passengers who ride 300 trains into and out of the station every day.
Because of the great cost involved in all these plans, it has been more than 20 years since it was last renovated.
According to MSN, the City Council is scheduled to vote Wednesday on a proposal that includes a 50 story office building and a 1.5 acre park to be built on Amtrak land south of the station. Construction on the $900 million project is expected to create 5,100 construction jobs and 480 permanent jobs.
"Union Station is one of those key investment opportunities for job growth, for economic opportunity. We all know its past. We know some of the movies that have been done here. But, I think today will mark a milestone in writing the next chapter of Union Station's future."
Mayor | Rahm Emanuel
The 1.5 million square foot office building will be built by Riverside Investment & Development, the Chicago based firm that Amtrak selected last year for a $1 billion plus redevelopment of Union Station and nearby blocks. Earlier this month, the Chicago Plan Commission signed off on the Union Station proposal.
See our other article on the Union Station project.
DataBid Inc. is currently reporting on this project (DataBid 0064053117) - Union Station Redevelopment.
Posted by Judy Lamelza