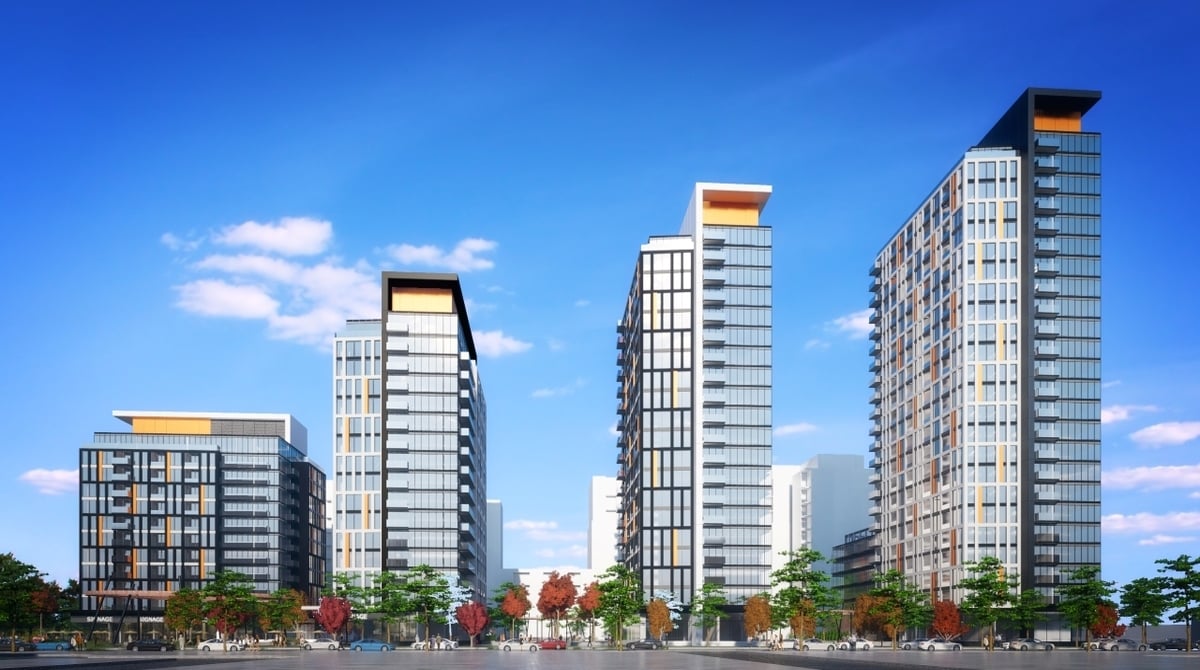 A masterplanned, multi-tower community proposed by SmartCentres REIT will be located in Vaughan at the northeast corner of Weston Road and Major Mackenzie Drive West. (The above rendering is a concept image courtesy of SmartCentres REIT.)
The 6.3 acre development encompasses a vacant area that is within a larger 45 acre property. There is currently a Walmart-anchored shopping centre and a SmartStop Self Storage facility there that is under construction right now.
Urban Toronto reports that the new community will be situated immediately south of a 12 acre parcel that is being developed into a 179-townhouse project by SmartCentres' SmartLiving together with Fieldgate.
Official Plan Amendment and Zoning Bylaw Amendment applications were submitted to the City of Vaughan. The project will feature two seniors supportive living buildings and four residential towers. IBI Group designed the residential towers and the overall site plan. Kasian is designing the two supportive living buildings and MEP Design Inc. is the landscape architect that is designing the master landscape plan.
The proposed 10 and 12 storey seniors' buildings will be situated at the north portion of the property.
The southwestern portion of the property will include the following:
- 12 and 16 storey residential towers with at grade retail
- Large piazza that will grace the corner marking the entry point
- Green spaces
- Internal walkways
- Sidewalks
- Landscaping features that animate the public realm
The southeastern quadrant at Vellore Park Avenue will feature the tallest pair of towers, at 20 and 24 storeys and include a mix of condominium and apartment units.
A two-level underground garage will service residents and visitors. A new private road from Vellore Park Avenue will serve as the main entrance and exit point.
There will be plenty of landscaping and walkways between each of the buildings and a privately-owned public space just south of the two seniors residences. This will also feature an active play space for children.
There is already an open-air shopping centre on an adjacent lot and a York Region Transit bus route with direct access to Maple GO Station.
Hundreds of homes will soon transform the vacant property into a vibrant neighborhood and the new Cortellucci Vaughan Hospital will be an asset to the community. This is the first "smart" hospital in the country and is located just one kilometre east of this mixed-use development.
Posted by Judy Lamelza