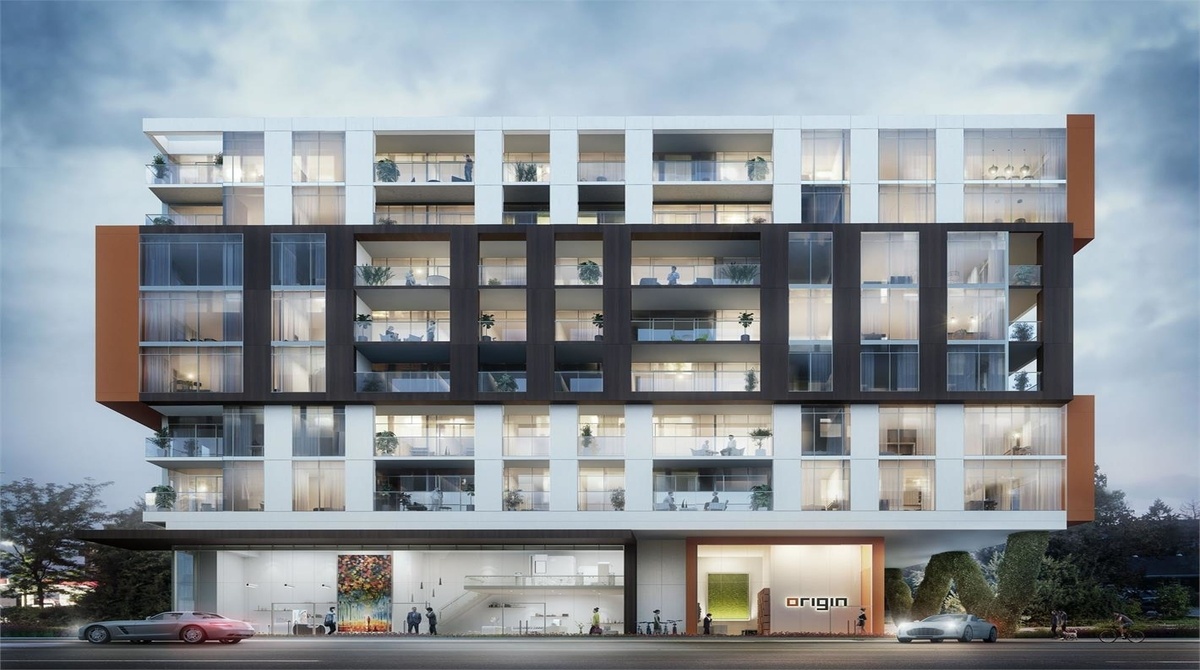 Origin Lofts is introducing a different type of condo living in Markham with their multi-generational concept per Ontario Construction Report.
Nascent Developments and the Sher Corporation will be filling a specific niche in the housing market in Markham.
Raw Design is the architect on this project and is incorporating colour blocking in white, orange and wood tones with live moss accents, green roofs and retail at the street level. An eight storey, mid-rise building will be joined by a series of three five-storey lofthouse buildings, all surrounding a communal courtyard at the McCowan Road and Bur Oak Avenue site.
Learn about all the mixed-use projects coming up for bid with a free trial from Databid
The two and three storey stacked units range from 1,034 to 1,900 square feet and will include two and three bedroom layouts. Some will have family rooms and flex spaces. The way that these are designed makes them ideal for multiple generations of a single family living together.
The size of the units will range from 635 to 1,038 square feet. The eight storey, mid-rise building will be better suited for investors and young professionals also. Units in all of the buildings will cost from $499,900 to about $1.6 million.

According to the National Post, Origin Lofts was inspired by designs from England, the Netherlands and Scandinavia. The units are designed to allow a grandparent, for instance, to use the main level because there is a bedroom with a full bath and is accessible right off of the courtyard with no stairs to climb up or down.
Shakeel Walji, partner with the Sher Corporation said, "We wanted something that was fresh, unique and there were lots of people in Markham who wanted the same thing. They want modern architecture, something that's outside the box and with great exterior and interior space.
The suites will be designed with a loft look, featuring 10 foot ceilings in the mid-rise building and nine and ten foot ceilings in the loft houses. A few units will offer 20 foot ceilings in some areas, creating what Walji calls an eye catching "James Bond style." The Trevisana kitchens will include perforated metal backsplashes and island detailing, add to the industrial feel brought on by the exposed concrete ceilings. Get qualified leads from DataBid.
Green elements will also be picked up inside. In fact, the whole project is being built to LEED Silver standards for sustainable design.
Amenities at the site include the following:
- Gym
- Kids' play area
- Dog wash area
- Glassed-in games space set under a trellised canopy in the courtyard
Contact DataBid today to find out how we can make your business grow
Posted by Judy Lamelza