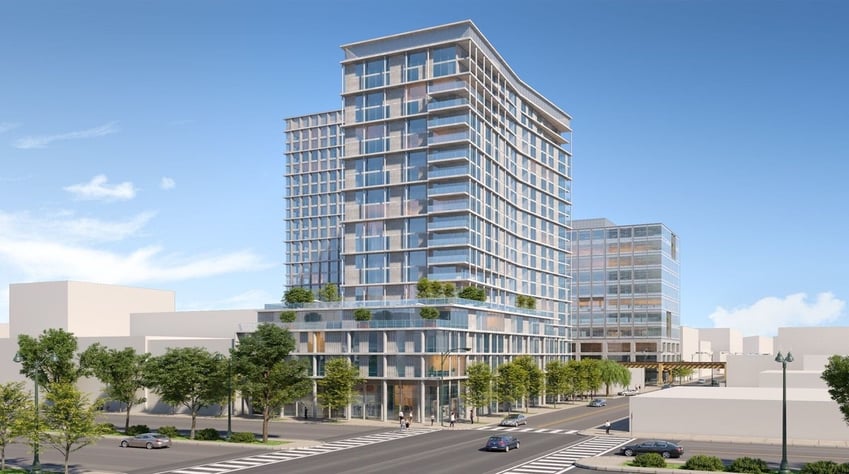 LG Development and NORR Architects presented a proposal a few days ago at a public meeting for a pair of apartment towers and a new office building in the West Loop. They are calling this development the "Amylu Collection" after the longtime property owner and sausage-maker Amylu Foods per Chicago Curbed.
The apartment towers consist of a 22 story tower at 171 N. Racine Avenue and a 20 story tower at the opposite corner of the block at 168 N. May Street. The buildings will share a base topped by a fifth-floor amenity deck with two pools.
The two towers will include the following:
- 484 studio, one, and two bedroom rental units
- 20 percent affordable housing on-site
- Ground floor retail space
- Parking for 220 vehicles
A nearby vacant lot on Lake Street will be the site of a new 11 story commercial building that will include office space, ground floor retail and underground parking for 75 vehicles.
A zoning change will still be needed from the city for this project to move forward. This may happen by the beginning of next year and the construction is expected to take 20 months according to the developer.
Learn about all the Mixed-Use Projects coming up for bid with a free trial from DataBid
LG Development has other projects in the West Loop neighborhood such as the Illume condos at 111 S. Peoria and the 166 unit apartment project at 1220 W. Jackson. They are also seeking approval for a 21 story office building at 210 N. Aberdeen and a 17 story hotel at 215 N. May Street.
According to Block Club Chicago, LG Development is under contract to buy the ATK Foods site at 1143 W. Lake Street for more than $30 million to make way for the project.
Some residents are objecting to the apartment towers because of their height which they feel is out of character with the neighborhood. Other residents feel that the height and added density of the two apartment towers would cause safety and traffic problems in the already crowded neighborhood.
Alderman Burnett is still thinking of approving this project because of the 97 affordable housing units which are badly needed in the area that will be built on site as part of the developer's plan. He will also ask the developers to provide some public green space like a dog park. LG Development is also going to pay $5.7 million into the city's Neighborhood Opportunity Fund that allows developers to build bigger and taller projects in an expanded downtown area to support commercial projects in neglected parts of the city.
DataBid is currently reporting on this project - Amylu Collection Mixed Use Tower West Loop - Chicago (0059073119)

Posted by Judy Lamelza