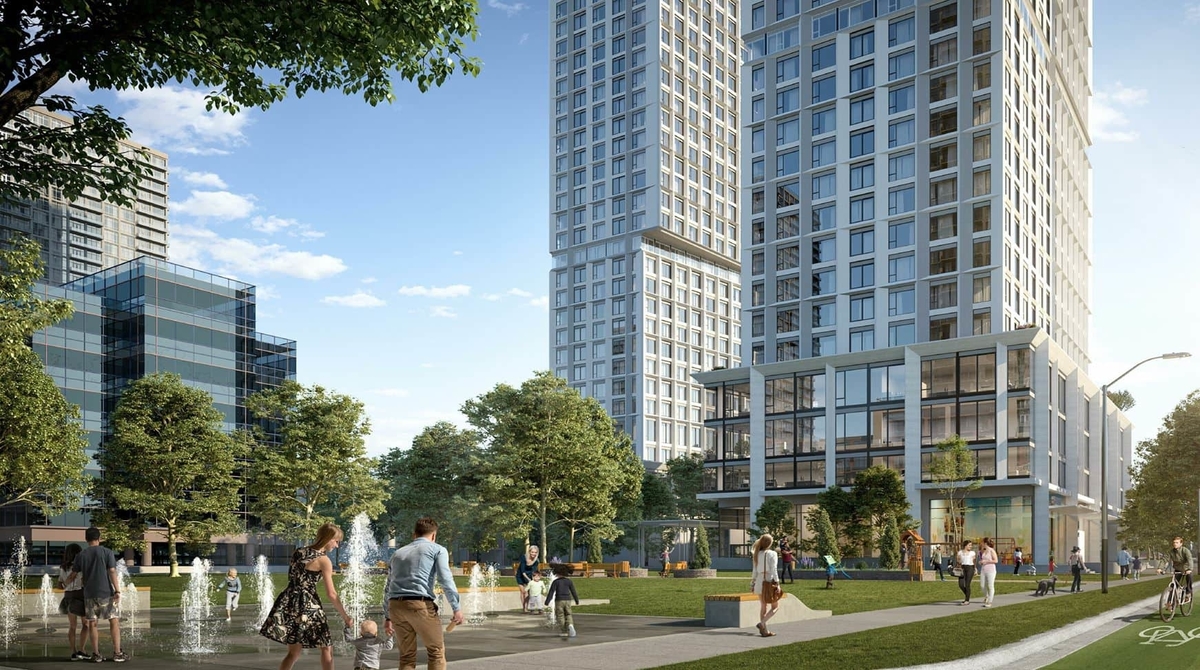 Dream Asset Management Corporation has submitted an Official Plan Amendment application resubmission and zoning by-law amendments to the City of Toronto to develop a master-planned community at 2200-2206 Eglinton Avenue East. There was a previous OPA application submitted back in August 2018 which has now been revamped to respond to policy framework with the Golden Mile Secondary area.
An article in the Toronto Storeys stated that the refined proposal maintains the basic structural ingredients of the original 2018 master plan which also includes the overall street and block plan and the retaining of existing office uses and the approach to overall density.
The refinements to the plan's built form and open space approaches have resulted in a redevelopment concept that is more varied and fits better with the site's current and future context, and explains the planning rationale prepared by Urban Strategies Inc. (Their above rendering was submitted to the City of Toronto). The architect for this project is Quadrangle Architects Ltd.
The revised proposal calls for creating a multi-building complex that would include the following:
- Residential space
- Retail space
- Office space
- Park space
- 3,547 residential units
- Gross floor area of 2,897,224 square feet
- A total of 976 units would be rentals
The development would be located along the Eglinton Crosstown LRT line which is under construction right now.
The first phase of the project includes blocks one to three and would be located on the southeast corner of the development.
This will include integrating an existing seven-storey office building and a four-storey parking garage into the master plan.
The proposed development for Block 2 would include two residential towers, standing 46 and 39 storeys and would be connected by a 3-4 storey base building with a gross floor area of 65,700 square metres.
The proposed zoning by-law amendment for Block 2 will also facilitate transit-oriented development at the eastern gateway of Golden Mile. This would maximize the benefit of transit infrastructure investment along the Eglinton corridor and would introduce new purpose-built rental housing in Scarborough.
The ground floor of the building will feature:
- A daycare
- Retail uses
- Grade related townhouse units along Birchmount Avenue
According to an article in Livabl_ by BuzzBuzzHome, the master-plan divides the site into 10 development blocks, bisected by a future east-west public street called Golden Mile Boulevard. Residential units would be distributed between blocks two, five, seven and 10 in buildings ranging from three to 46 storeys in height, covering a mix of mid-rise buildings, eight towers and a collection of two-level townhouses. The tallest structures are expected to be built within blocks south of Golden Mile Boulevard.
DataBid is currently reporting on this project - 2200-2206 Eglinton Avenue East Mixed Use Redevelopment - Scarborough (0005081718)
Posted by Judy Lamelza