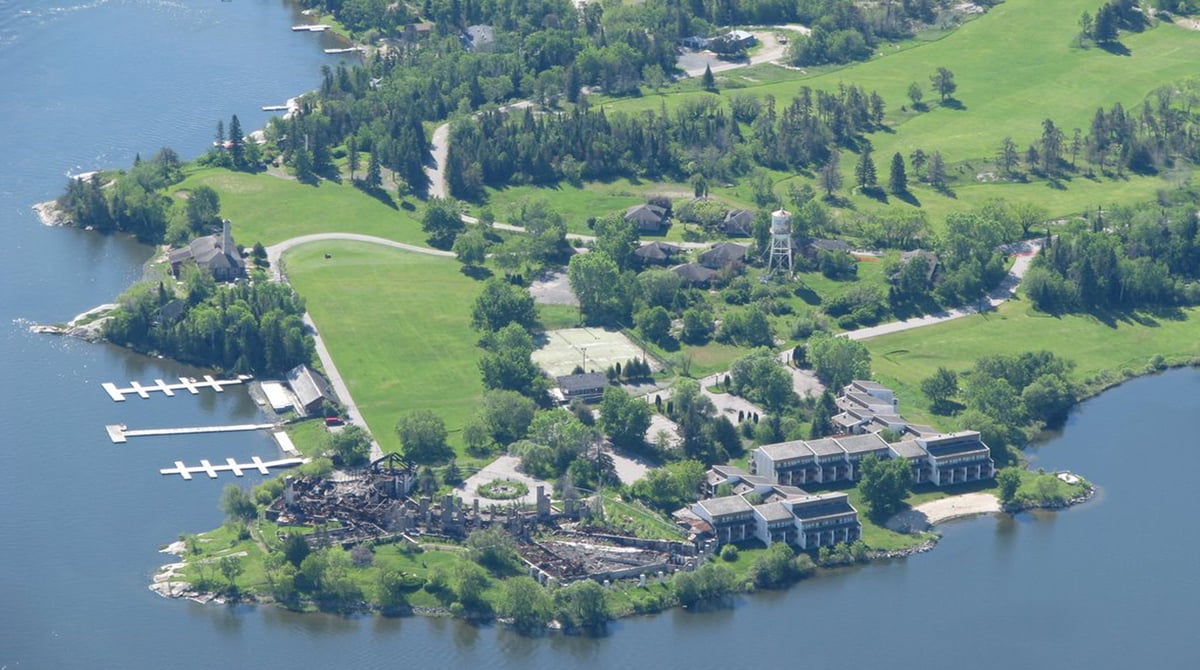 The former Minaki Lodge property has plans to be redeveloped. The former lodge burned down in 2003 and has remained unoccupied for the past 17 years. Timelines for this project have not yet been determined but the interest is definitely there. Above is an aerial view of the site where Minaki on the River is proposing to build cottages and convert hotel condominiums. (www.minakiontheriver.ca)
Thunder Bay Newswatch reported that the lodge was originally built in 1914 by the Grand Trunk Pacific Railway and served as part of a chain of Canadian National Hotels. Minaki is located northwest of Kenora.
"We are excited to have all government approvals and to be able to proceed with the redevelopment of the property. It's taken several years, but we are confident that this project will provide quality, affordable access to recreation opportunities for residents of Manitoba and Northwestern Ontario. We have received interest from several parties in the seasonal RV park industry either wanting to partner on or purchase the project, so we are taking our time to decide how the project will unfold."
Spokesman for Minaki on the River | David Banman
The company purchased the property in 2010.
Redevelopment plans call for the following:
- Converting 120 existing hotel units into 56 condominiums
- 198 RV style seasonal units
- 125 seat restaurant
- Reopening of seven existing heritage cabins.
- 82 additional cottage lots to be developed
- Condos would be 600 square feet and estimated cost just under $200,000.
According to an article in CBC News, the old lodge was basically in ruins but the new owners pulled out almost 1,700 tons worth of steel and transported it to Selkirk, Manitoba to be recycled.
Minaki on the River has two other development options available, neither of which require government approval.
There are already 119 existing cottage lots on the site, which could be sold individually and the other option would be a seasonal camping or mobile home park with a maximum of 250 units.
The company hopes to begin development on the site next spring.
Per Wikipedia, Minaki Lodge was originally built in 1914 and located on the route of the National Transcontinental Railway at Minaki, Ontario where the railway crosses the Winnipeg River. The rustic resort hotel named Minaki Lodge and the railway station, also called Minaki, is an Ojibwa word meaning "beautiful water".
The Grand Trunk Pacific Railway and the National Transcontinental Railway went bankrupt and were nationalized as part of the Canadian National Railways. Sir Henry Thornton rebuilt the hotel on a more lavish scale but it burned down as it was about to open in 1925. He rebuilt it on an even more lavish scale using Scottish stonemasons, Swedish lot cutters and English gardeners to build and landscape a soaring granite and log building that opened in 1927. He also had a golf course built.
Minaki Lodge remained a luxurious resort until after the Second World War but travel patterns changed and the railway, emphasizing freight, sold it in the early 1950's. Over the next 50 years, the hotel passed through many hands and many renovations. The Ontario government owned it for some years and spent about $50 million on upgrading it, only to sell it to a hotel chain for $4 million. Owners since then have included a nearby Indian band, a Texan speculator and a Calgary real estate developer. The main building burned to the ground in October 2003 and the resort has not operated since.
Posted by Judy Lamelza