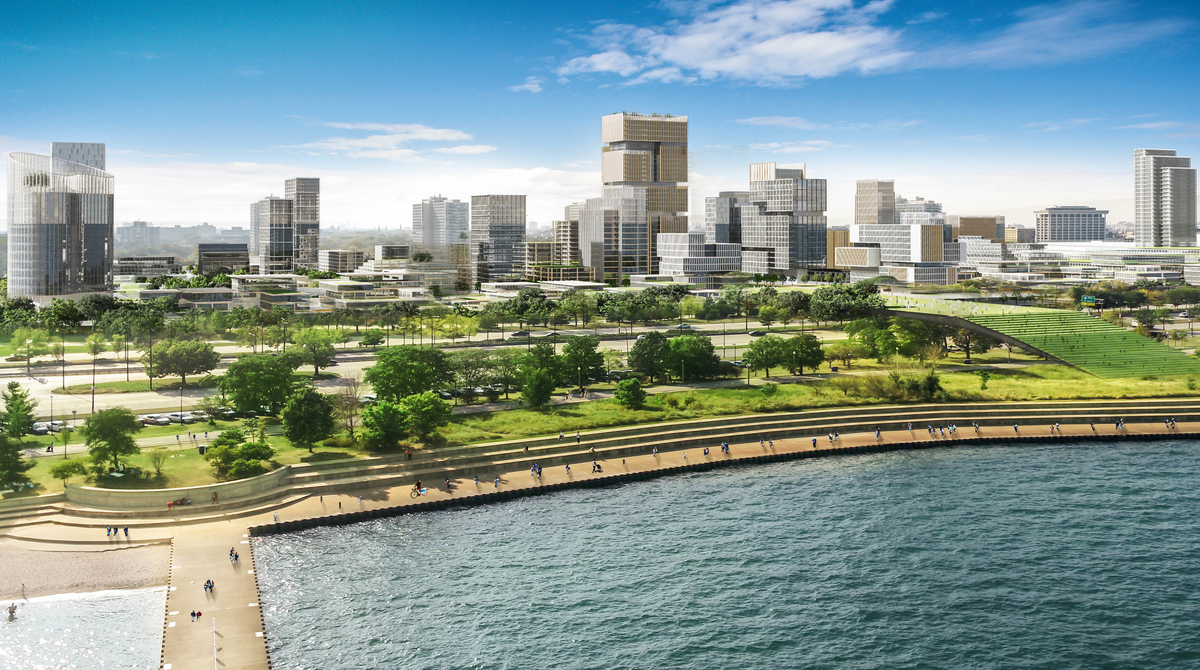 A few days ago, 4th Ward Alderman Sophia King hosted a community meeting for the public to get a look at a plan to redevelop the former Michael Reese Hospital site into a megadevelopment according to Chicago Curbed.
The project is located on Chicago's Near South Side in Bronzeville on nearly 100 acres just west of Lake Shore Drive and work could begin in as little as 18 months.
This site was previously pitched as a site of the Olympic Village during Chicago's failed bid for the 2016 summer games and more recently, one of the candidates for Amazon's HQ2. The city owned site has been vacant since the Michael Reese hospital closed more than a decade ago.
Per The Real Deal, Farpoint Development, which the city picked to lead the redevelopment team, laid out its plan for 650,000 square feet of residential space.
The developers on this project in addition to Farpoint are Draper & Kramer, Chicago Neighborhood Initiatives, McLaurin Development Partners and Bronzeville Community Development Partnership.
Looking for details on all Mixed-Use Projects in the Chicago Area?
The sprawling site is also in a federally designated Opportunity Zone. The $2 billion project had already been in line to collect city funds for the construction of the new campus back in May. Now the site stands to gain significant federal tax incentives because of the Opportunity Zone designation.
Alderman Sophia King stated that the recent plans were not set in stone. One thing is definite though and that is that the location will not become a casino as had earlier been proposed this year. Mayor Lightfoot's initial feasibility study had included this site for a casino but the alderman and the community were strongly in opposition to having a casino there.
According to Chicago Curbed, the Phase 1 Concept will include the following:
- Multifamily housing - 450,000 sf
- Senior housing - 200,000 sf
- Health campus - 500,000 sf
- Office - 200,000 sf
- Data Center - 200,000 sf
- Singer Pavilion - 60,000 sf
- Retail - 60,000 sf
- Community space - 10,000 - 40,000 sf
- 3 acre Civic space
- 31st Street Metra Station
The latest version of the plan no longer carries the Burnham Lakefront name and is now called Bronzeville Lakefront. Phase one will also rehab the Singer Pavilion which is the sole surviving structure from the old hospital.
The biggest changes involve moving the public parks and plazas to face 31st Street, the senior and multi-family housing further west and adding new residential towers on the east.
Alderman King stressed that nothing was set in stone and that plans were likely to evolve as discussions continue. Details as to number of residential units, building heights and design are still not definite. The development team is even thinking about holding an architectural design competition for the more prominent lakefront structures.
The Bronzeville plan still needs to clear three city approvals. It requires a zoning approval as well as a deal for an unspecified amount of tax increment financing funds to help pay for things like new streets and the Metra stop. If all goes as planned, site work could begin in 18 months followed by the first signs of vertical construction 12 months after that.
Future phases of Bronzeville Lakefront could grow the massive project to between 10 to 14 million square feet. A full build-out could take up to 12 years to complete.

Posted by Judy Lamelza