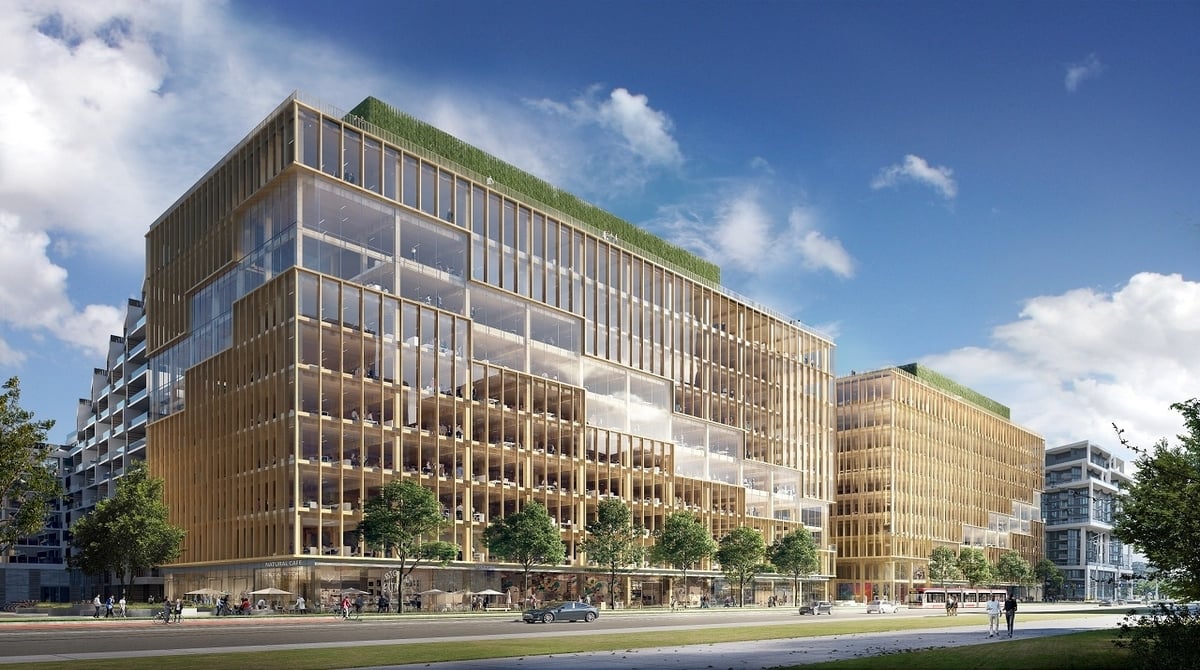 Construction is starting on a mass-timber office complex known as T3 Bayside in Toronto. It is located on Queens Quay East, just west of Parliament Street. T3 represents "timber, talent and technology and is the innovative project from developer Hines with a design by Danish architects 3XN working with local firm WZMH Architects. (Rendering above courtesy of Hines). It will be the city's tallest wood frame building and could even be the tallest wood frame office building in North America when it is completed.
According to Urban Toronto, the ground breaking was attended by Avi Tesciuba, Senior Managing Director and Country Head, Hines Canada, and George Zegarac, President and CEO, Waterfront Toronto who were joined by members of all three levels of government: Catherine McKenna, Federal Minister of infrastructure and Communities, Laurie Scott, Ontario Minister of Infrastructure, and Toronto Mayor John Tory.
"It's exciting to see Canada adopting mass timber construction, a huge competitive advantage for Canada and to see the sustainable new method of wood building construction going up here in Toronto where innovation is so vital to economic growth."
Federal Minister of Infrastructure & Communities | Catherine McKenna
Work will be started on the first of two ten-storey office buildings with actual construction activity by general contractor, Eastern Construction awaiting the finalization of a shoring and excavation permit which is expected to be issued in the coming weeks.
Phase I will bring 251,000 ft2 of office space to the East Bayfront area and expected to wrap up construction in early 2023. Hines is building "on spec" and counting on the draw of the building's unique design, sustainability and amnenities to bring in tenants.
"We feel strongly that T3 Bayside's timber structure, prime waterfront location and market-leading amenity offering, will provide tenants an unparalleled experience in the Toronto market, giving us the confidence to launch this development without any confirmed pre-leasing."
Hines Canada | Avi Tesciuba
There is a six-storey cap by the Ontario Building Code for these type of projects, but T3 Bayside's exemption was recently granted. Hines is already working on another timber framed office building under their T3 brand on Sterling Road. Other major projects in the city are wanting even higher heights with timber construction, like the University of Toronto's planned Academic Wood Tower which is planned to rise 14 storeys.
An article by REMI Network states that once completed, Bayside Toronto will include the following:
- Two million square feet of new residential housing
- Market condominiums and affordable housing
- Modern office space
- Shopping
- Restaurant destinations
- Cultural Venues
- Newly activated and engaging public realm
Hines was named the master developer of Bayside Toronto after an international competition by Waterfront Toronto. Hines brought condominium developer Tridel on as its exclusive residential development partner at Bayside. So far, Hines and Tridel have launched four residential projects: Aqualina, Aquavista, Aquabella and Aqualuna. 3XN's design for Aquabella marked the Danish firm's first project in North America.
Hines stated that Waterfront Toronto was established by the Government of Canada, the Province of Ontario and the City of Toronto in 2001 to oversee and lead the renewal of the city's waterfront. Their goal is to deliver a revitalized waterfront that brings together the most innovative approaches to sustainable urban development, excellence in urban design, real estate development and leading technology infrastructure.
Waterfront Toronto creates complete neighborhoods anchored by parks and public spaces, and diverse, mixed-use communities that offer a high quality of life for residents, employees and visitors.
DataBid is currently reporting on this project - T3 Bayside Commercial Buildings - Toronto (0028032819)
Posted by Judy Lamelza