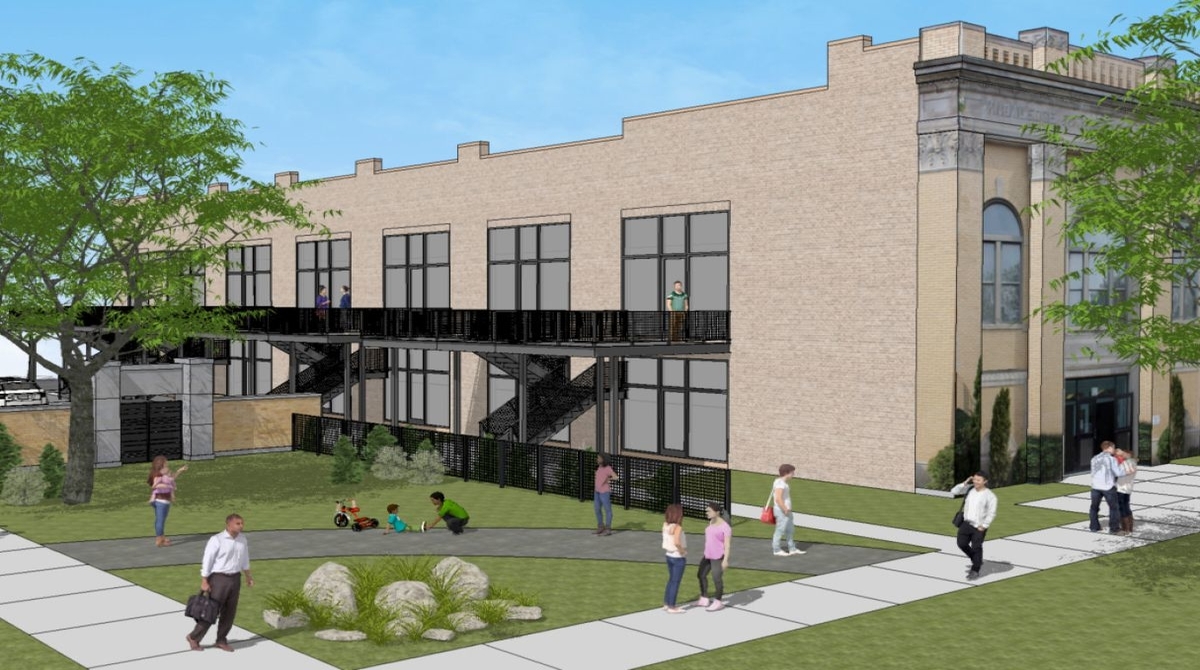 A historic building in Logan Square that used to be a community center for Temple-Beth El synagogue and a Boys and Girls Club, will become a 14 unit apartment development named Palmer Lodge. The project will preserve a historic building and will bring open space to the Logan Square community according to Chicago Curbed.
The old yellow brick and limestone structure will be preserved. It is located at 3228 W. Palmer Street and was designed by architect Edward Steinborn in the 1920's. Local preservationists were upset at the thought that this building would be demolished when it was put up for sale last year.
A lot of people worked as a team to preserve the building and Alderman Scott Waguespack introduced a down-zoning measure to limit what could be built on this site if new owners choosed to demolish it. Everyone was relieved when the building was sold to a team of developers that supported adaptive reuse.
"It was very clear from the beginning that the community's priority was to preserve the building. We went through a community engagement process and have collaborated with Logan Square preservation to provide a publicly accessible park on the site's southwest corner."
Developer - Campbell Coyle Real Estate | Chris Dillion
Campbell Coyle Real Estate partnered with co-developers New Era Chicago and Ranquist Development and with architecture firm Pappageorge Haymes Partners.
Even though the plan saved the former synagogue, it did demolish an annex building added to the west side of the property in the 1950's. The community chose instead to make space for 12 parking spots and to add a new pocket park.
The Boys and Girl's club was there for more than 60 years and there wasn't much left inside to indicate it was once a religious site.
The building's structure will give the units a unique, loft-like appearance. The historic masonry will be mixed with modern fixtures. It will blend in very nicely with other rental buildings in the neighborhood.
Interior demolition started last month and the first building permit was received this week. Structural repairs will need to be made before preparing to subdivide the old building into 10 two-bedroom units, 2 one-bedrooms and 2 three-bedroom units.
Construction is expected to be completed next year.

Posted by Judy Lamelza