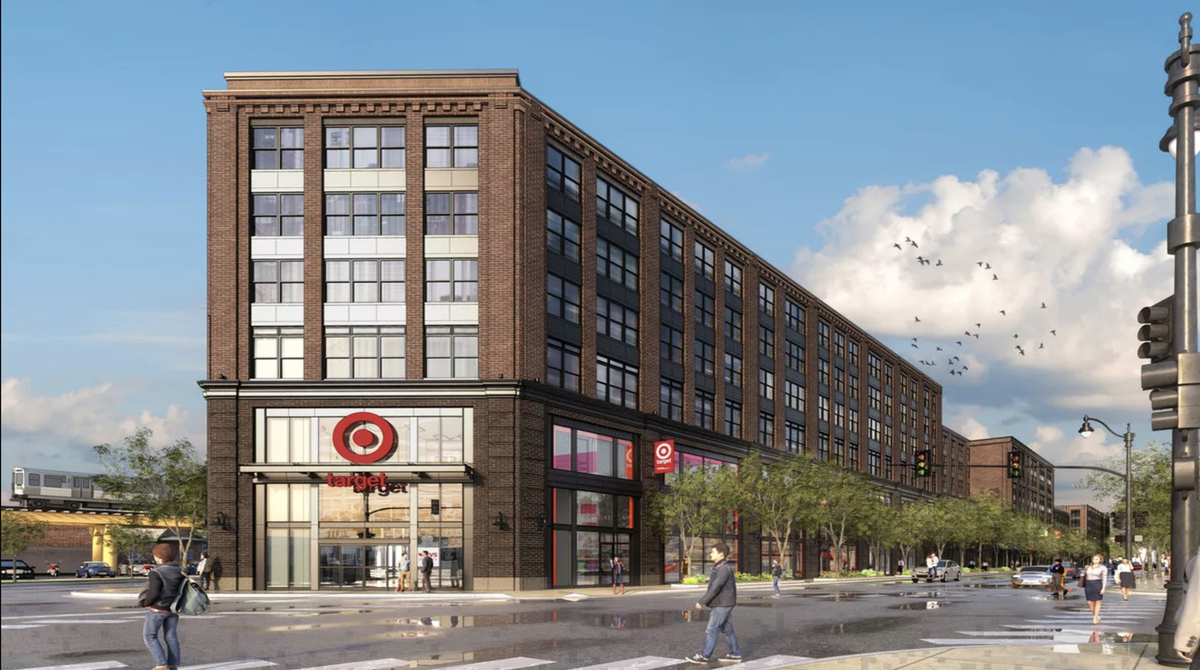 The City has just awarded a $20 million building permit for the redevelopment of the former Mega Mall per Chicago Curbed. This will replace the Mega Mall into
the mixed-use project known as Logan's Crossing.
Last June, the foundation work had begun at the 2500 block of North Milwaukee Avenue and with this new permit, the new development will be able to reach it's final seven story height.
This project has been in the works since 2015 and is replacing the demolished Mega Mall with a pair of brick structures connected by an elevated pedestrian bridge. They will include the following features:
- 220 apartments
- 110 parking spaces
- 67,000 square feet of commercial space anchored by a small Target store
The developers are Fifield Realty Corporation along with Terraco Real Estate. The project was designed by Antunovich Associates and completion is expected later this year.

27,400 square feet have been set aside for the "small-format" Target store at the south end of the property. A list of new commercial tenants will be announced soon.
Fifield last summer secured at $67.5 million construction loan from Fifth Third Bank for the project about a week after breaking ground on it. Terraco and Marc Realty bought the Mega Mall property back in September 2014 for $8.9 million from Kyun Hee Park.
This project is one of dozens of recent developments that are springing up along Chicago's Milwaukee Avenue. Since the city expanded transit oriented development zoning rules in 2015, thousands of residential units have reshaped the North Side corridor. Some residents were happy about the new investments, but others have voiced concerns over rising rents, gentrification pressures, and Blue Line overcrowding.
Per The Real Deal, the median price of a single-family home in Logan Square rose more than 19 percent in the third quarter of last year, even as the market in other neighborhoods slowed. Rents have been on the rise as well, putting the neighborhood at the epicenter of a growing debate over allowing rent control in Illinois.
See DataBid Blog titled Logans Square's Mega Mall breaks ground
DataBid is reporting on this project - Logans Crossing Residential & Shopping Center - Chicago (0015082014)
Looking for more Mixed-use projects in Chicago?
Posted by Judy Lamelza