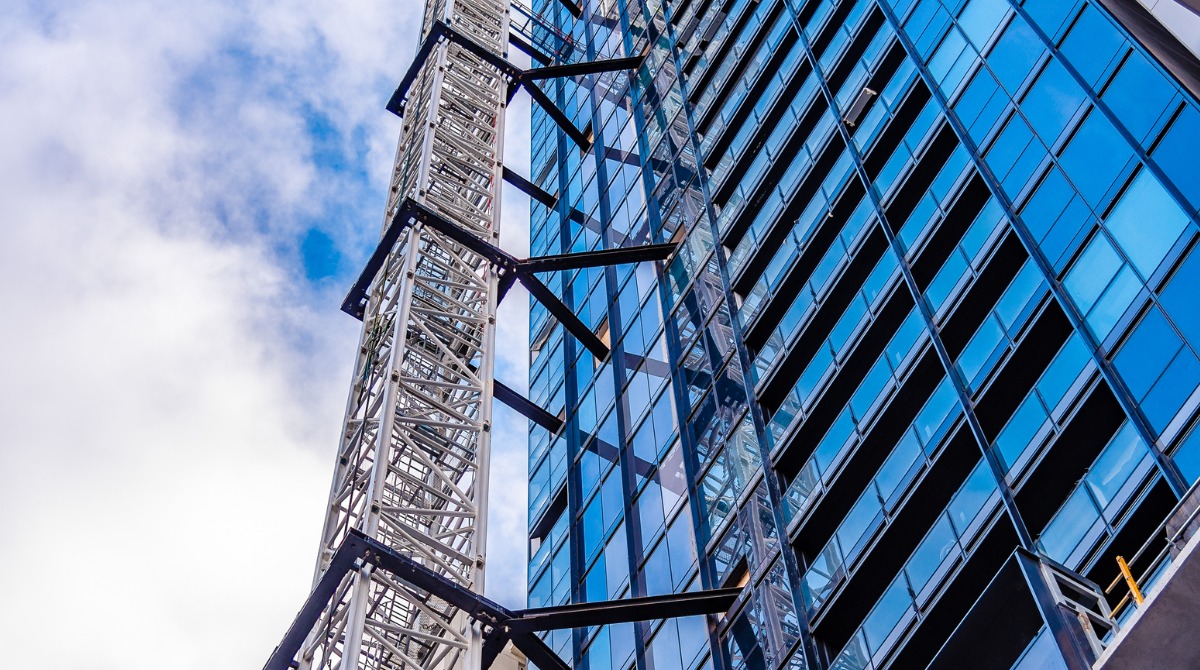 LendLease will be having a groundbreaking in a few days and will begin construction on "The Reed" which is a planned 41-story residential tower at 234 W. Polk Street in South Loop. Quite a few things have taken place already such as fencing, additional equipment, including a crane, are now on site. Also, a staging area and an access road have been built out. This will be part of a megadevelopment which will involve a new two-acre park and roughly 1,000 feet of new riverwalk.
Chicago Yimby reports that The Reed is the second building in a four-building masterplan known as Southbank. The first tower to be completed, known as The Cooper, is situated directly north of The Reed at 29 stories. Plans on The Reed's website show that the remaining two towers will be connected by a podium, and will rise 40 and 42 stories.
The Reed will house a total of 440 residences, split between 224 apartments on the ninth to 22nd floors, as well as 216 condominiums on the 23rd to 41st floors. These condominium units will vary in price from $400,000 up through $1.4 million.
The units will all take on an industrial-chic design, with balconies in select units. Condominiums will include:
- Nine-foot-tall exposed concrete ceilings
- Metal finishes
- Wood plank flooring
- floor-to-ceiling windows
- Kitchens with 3/4 inch quartz countertops
- Hansgrohe faucets
- Custom European flat panel cabinetry
- Bosch and Whirlpool appliances
- Bathrooms will feature walk-in showers
- Overscale tile
- Built-in vanities
- Chrome or black hardware
The Reed houses multiple amenity areas which will include the following:
- 15,000 square foot deck
- Indoor and outdoor spaces on the eighth floor
- A Condominium exclusive amenity space will occupy the second floor with sweeping views of the Chicago River's south branch
Perkins + Will is the design architect and their planned 446-foot-tall exterior involves a mix of glass and metal paneling to give more of a rustic, yet modern theme that infuses the interior. The east-facing side will have more glass than metal to maximize the views of the river.
The exact number of parking spaces has yet to be determined, though planning documents show that the approved proposal shows .67 spaces for every unit and 1.23 bike spaces for every parking spot. This come out to 295 parking spaces and 363 bike spaces. Public transit options are also readily available, all within a 10 minute walk.
Closest CTA L service for the Blue Line is at LaSalle station via a seven minute walk northeast, while the Red Line can be found at Harrison station, also a seven-minute walk northeast. Additional services are available within a nine-minute walk northeast. To board the Metra, there are many trains within a five-minute walk northeast to LaSalle station and a 15 minute walk northwest to Union station.
Foundation permits have been issued but full construction permits have been filed but not issued. LendLease is also serving as general contractor, with an expected opening for 2023.
Outdoor space can be found for the newly created Southbank Park, designed by Hoerr Schaudt Landscape Architects. The park consists of a central grass area, bike racks, seating terraces overlooking the river and a connection to a new span of Riverwalk.
Posted by Judy Lamelza