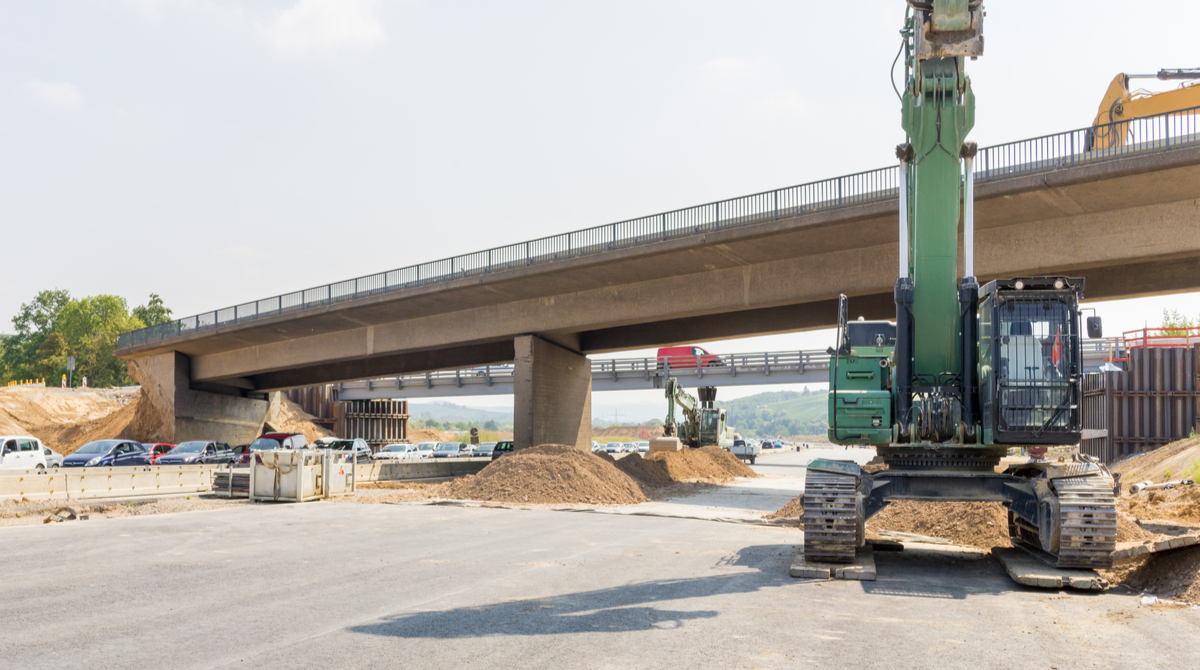 Tri-State Tollway (I-294) at the Burlington Northern Santa Fe Railway Bridge is scheduled for a new traffic shift beginning this Friday. This is in preparation for the upcoming placement of bridge beam segments as part of construction of a new bridge structure to accommodate I-294 rebuilding and widening. According to the article in My Suburban Life, all work is weather dependent.
Before the work begins, electronic message signs and construction signage will be put in place to alert drivers of multiple lane closures and traffic shifts.
Beginning June 12, I-294 is scheduled to shift to the right to allow for construction of traffic crossovers. This will be for traffic in both directions.
Also on that date, lane closures on I-294 are scheduled to begin at 7 pm to reduce traffic to a single lane in both directions by 11 pm. Once the lane closures are all in place, work will be done overnight to include placement of temporary barrier walls and pavement striping.
On June l3 at 6 a.m. all lanes will reopen as scheduled. If the work is still not finished at that time, other similar closures will be scheduled for June 13 into June 14. Traffic in both directions will remain shifted to the right after all the lanes open.
After the new traffic shift is finished, work will start on constructing two traffic crossovers to the north and to the south of the BNSF Bridge, near Pierce Park and 47th Street. Crossovers will be used to accommodate I-294 traffic during the two upcoming weekends when the new bridge segments will be installed over the tollway.
When the extended closures are enforced on I-294, bridge segment installation is scheduled to be completed on one side of the tollway at a time.
On June 19, when the first weekend of closures are scheduled, it will allow the tollway to reduce I-294 southbound traffic into a single counter flow lane on the northbound side. During the second week of closures on June 26, they will allow the tollway to reduce I-294 northbound traffic into a single counter flow lane on the southbound side.
Travel Midwest informed us that bridge segments are currently being assembled by crews from portions of steel beams next to the roadway. When bridge segment assembly is complete, crews will use a self-propelled modular transporter (SPMT) vehicle which is a combination of multi-axle platforms operated through a computer-controlled system. The crew will then be able to lift,carry and set the very large and heavy segment of bridge beams. The motorized vehicle moves at walking speed and is capable of carrying the large structures and positioning them precisely into final position.
The use of this technology will enable the tollway to reduce significant impact to its customers to two weekends, compared to two months of overnight and weekend lane closures with full stops typically scheduled for conventional bridge construction.
Reconstructing the BNSF Railway Bridge which carries the triple-track railroad over I-294 between Hinsdale and Western Springs will accommodate the reconstruction and widening of the Central Tri-State Tollway.
A longer, wider two-span steel beam structure will replace the existing bridge and will accommodate four tracks. It will also allow for reconstruction and widening of the Tollway underneath. The new fourth track on the bridge will be used for maintenance purposes by BNSF.
The BNSF Railway Bridge Project is being coordinated with Metra, Burlington Northern Santa Fe Railway and Cook County, along with local municipalities, park districts, as well as police and fire departments.
Posted by Judy Lamelza