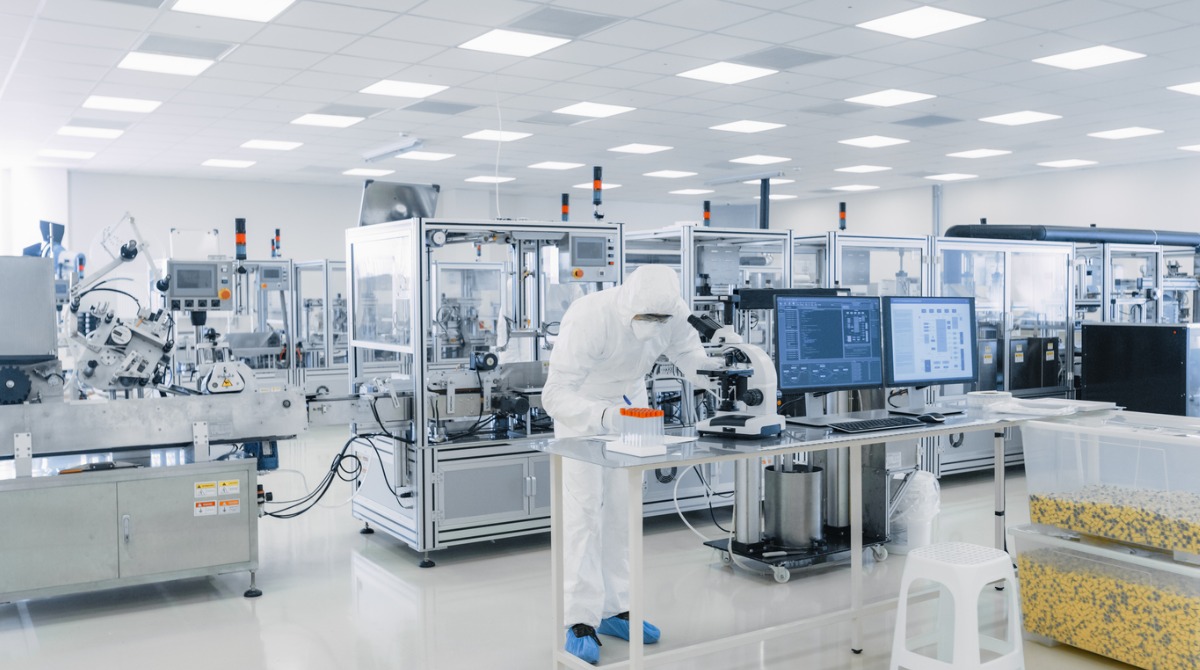 The White House has announced that President Joe Biden will be signing the $52 billion CHIPS Act which will subsidize the semiconductor industry and provide a 25% tax credit for companies that build facilities in the U.S.
Richard Branch, chief economist for Dodge Data & Analytics, stated that the CHIPS Act will keep the construction sector on sure footing as the economy slows over the next year. There are nearly $33 billion in semiconductor fabrication plants in the planning stages at this time.
Construction Dive reports that James Christianson, vice president of government relations at the Associated General Contractors of America, said the act will spur broader economic development and new, long-term construction jobs in a letter praising the passage of the CHIPS Act.
However, challenges still remain. These include:
Labor Shortage
There are a limited number of specialty contractors with the skill and experience in the semiconductor industry.
"The current demand and shortage of skilled labor will present a substantial challenge for the teams selected to perform such projects. Ultimately, successful project delivery will demand a nimble team prepared to perform very specialized design and construction services suited to the clean building environment necessary for a precision industrial chip facility."
Chair of Akerman's construction practice | Jeffrey Gilmore
These jobs typically require progressive design-build and engineering, procurement and construction approaches as well as heightened security.
Gilmore believes that access to a workforce with security clearances will likely provide a further complication that may limit the pool of qualified candidates. Also, access to federal funds will likely entail a unique set of compliance issues to address relevant requirements that will be mandated as a condition of the funding.
Peter Comstock, senior director of legislative affairs at Associated Builders & Contractors, also raised concerns about how Davis-Bacon regulations, which set prevailing wages on federal projects, will be included on private construction jobs.
"Davis-Bacon expansion could have a devastating impact on an industry facing a workforce shortage of 650,000 in 2022 and put the 87% of nonunion construction companies at a serious competitive disadvantage when it comes to winning contracts. It will limit the ability of many otherwise qualified small businesses and skilled construction workers and apprentices from participating in these projects."
Senior director legislative affairs/Associated Builders & Contractors | Peter Comstock
Timing of Funds
Funding from last year's $1.2 trillion infrastructure act is just now beginning to trickle out to actual projects, nine months after it was passed.
Rick White, board member at Alliantgroup, raised concerns on how the funding will be distributed.
"The main point of this act is to promote manufacturing of silicon chips in the United States. In a perfect world, we would facilitate that manufacturing staying here, but also try to make sure that funding goes to places where you will have the most innovation, the most efficient use of the money. And I think that's a little unclear."
Board member at Alliantgroup | Rick White
This would still be a tremendous opportunity for construction firms. Especially for those who have done these types of projects before. Larry Prosen, government contracts and construction litigation attorney at Cozen O'Connor, a law firm headquartered in Philadelphia believes that the front end on actual construction should be very good and expects that the construction industry will see a significant uptick.
Some of the projects that are posed to benefit from the CHIPS Act via subsidies and tax credits include:
- Samsung's 11 chip plants worth $191 billion in Texas
- Intel's $20 billion facility in Licking County, Ohio
- GlobalFoundries chip factory in Malta, New York
- Micron Technology manufacturing expansion in Boise, Idaho
- Taiwan Semiconductor Manufacturing company's $12 billion computer chip factory in Arizona
According to CNBC News, advocates of this bill say that it is vital for the U.S. to boost its production of semiconductors, which are increasingly critical components in a vast array of products including consumer electronics, automobiles, health care equipment and weapons systems.
Biden has blamed the chip shortage for the sky-high inflation that has dogged his presidency. A lack of chips available for new car manufacturing has been linked to soaring prices for used cars, which are pushing inflation higher. The U.S. share of global chip production has fallen sharply in recent decades, while China and other nations have invested heavily in the industry.
Texas Standard states that the goal of the CHIPS Act is to stave off the kinds of supply chain problems that have cut chip production in the past couple of years - and to protect the U.S. industry from increasing global competition. Tech expert Omar Gallaga stated that besides providing money to encourage domestic chip making, the bill includes a provision that restricts U.S. companies' future chip production in China.
Posted by Judy Lamelza