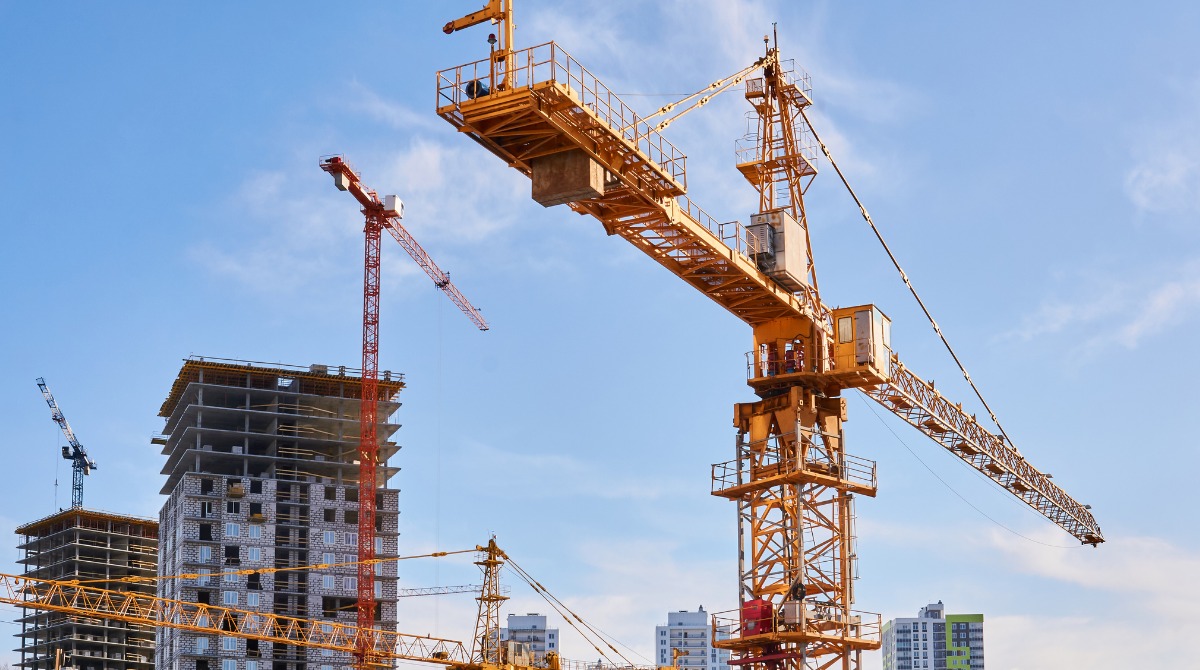 The year 2020 is behind us, but it left a hard and dark print on our world. The COVID-19 pandemic struck us with surprise, and everyone handled the situation to the best of their abilities. Even though a substantial number of businesses had to lock their doors or lay off employees, we also witnessed those who thrived and rose above the circumstances. Considering everything, we must wonder how did some construction companies thrive in 2020? The construction industry is a prime example of how planning and thinking ahead can help you not only save your business but grow it and help others at the same time.
An article in Construction Dive stated that since the pandemic took a turn for the worse, there was a huge hole in the construction market. Those who had to close down their business left a blank spot to be filled.
Mark Yanik, Vice President of strategic business development for one of the largest Chicago-based construction companies, Leopardo Construction, explained that the flexibility of Illinois's construction market played a crucial role.
"There are other markets that are difficult to break into, like New York or Boston or some markets in California, but Chicago really is a relational-based place. Illinois is also interesting because of what a large part of the state Chicago comprises. Illinois has just shy of 13 million people, and nearly 10 million of that is in or around the greater Chicago area."
Vice President of strategic business development for Leopardo Const. | Mark Yanik
Construction Dive states that there are some construction industry companies that have thrived during the pandemic by adopting some of these practices:
- Opening up new locations
- Taking the opportunity to become lean
- Hiring skilled employees that were laid off from competitors
- Expanding into booming construction markets such as industrial buildings or healthcare
JD Summa, CEO and president of general construction firm Kings Capital described two ways that the company achieved success in 2020. Many of their projects were considered essential because they had affordable housing components to them. Kings also had a major healthcare project underway as well, another project considered essential.
The company never stopped working. They also took every opportunity to reduce areas of overlap, becoming more economical. They were also able to secure talent - senior project executives, a project manager and a superintendent - that had been laid off from other contractors.
One strategy that Summa employed and which he plans to use in 2021 and beyond is to engage employees in ways that keeps them focused in the tasks at hand while still recognizing and being flexible about the difficulties that they are facing in their lives like childcare, adjusting to remote work or caring for sick family members.
GI Stone, the fabrication and installation company in Chicago already had more than a year's worth of jobs on the books when 2020 began. Sandya Dandamudi said her company is focused on creating more efficiencies within the business and managed to increase project profit by 6% to 7%. GI had already employed waste-ridding strategies like meeting via Zoom and going paperless before the pandemic hit, so 2020 saw those practices continue.
This was also the strategy for securing its construction materials. Dandamudi was in China in January 2020 when rumors about the novel coronavirus started to circulate, so she immediately fast-tracked the orders she could to minimize supply chain disruption. They also ended up being awarded some jobs where other competitors didn't have the material.
The company is booked through the second and third quarters. There have, however, been a few projects that have had a status change as far as financing.
Briq is a financial and management platform that allows users to crunch data and evaluate multiple aspects of construction projects such as scheduling, financing and selecting subcontractors. In 2020 co-founder and CEO Bessem Hamdy stated that Briq grew 330% in both revenue and new clients and closed a major funding round. Briq gives contractors the ability to understand where they stand on cash, profit and labor.
The biggest obstacle the company had to overcome last year was that of remote working and not being able to build client relationships in the more traditional way. But they were able to earn trust by speaking directly to their customers' challenges and through existing client testimonials.
This year they expect to have their most profitable year on record because many of their clients are in the booming segments of technology, infrastructure, healthcare and housing.
The strength and persistence of Illinois-based construction companies are strengthening the state's economy. The state is providing funding to improve the infrastructure, pouring $1 billion into expanding roads and bridges.
Two major projects include the construction of a $35 million bridge between Lincoln Park and Bucktown, and extending the 606 Trail all the way under the Kennedy Expressway and across the Chicago River according to Chicago Construction News.
This level of development is made possible only because of the perseverance of the construction companies in Illinois in 2020. They understood the importance of deciding to try and stay in business, despite all the hardships caused by the global Coronavirus pandemic.
As a result of these efforts, other businesses have continued to operate. For example, the moving industry. If there is a need for someone to move, easy relocation from or to Illinois is made possible.
In the aftermath of the 2020 pandemic, several new trends are emerging in the construction industry. The only way for the Illinois construction industry to continue showing the signs of life is to follow those trends to support the employees and customers:
- Invest in protective equipment. Construction workers require more protection to continue doing business
- There is a growing need for new labor. Many people were laid off and the construction companies still in business need to embrace this situation and start hiring
- Figuring out mobile access and remote work is imperative. Mobile apps are gaining a lot of attention in the industry, allowing access to real-time inspections, accountability, virtual meetings and communication with clients
So, how did some construction companies thrive in 2020? We believe the question has been answered. However, it is even more important to recognize the need to stay strong in 2021 and bounce back even further. Now is not the time to back down but push forward with passion, energy and commitment. The only way to beat the COVID-19 in its game is to respect the safety measures and adopt some strategies from successful companies. Above all, stay safe!
Editor's note: This is, indeed, a confusing time for the construction industry. DataBid is working tirelessly to report and distill the news that can help you and your company make the right decisions and keep you up to date on the constant changes as they are made. We hope our coverage brings some clarity amid all the confusion.
Posted by Judy Lamelza