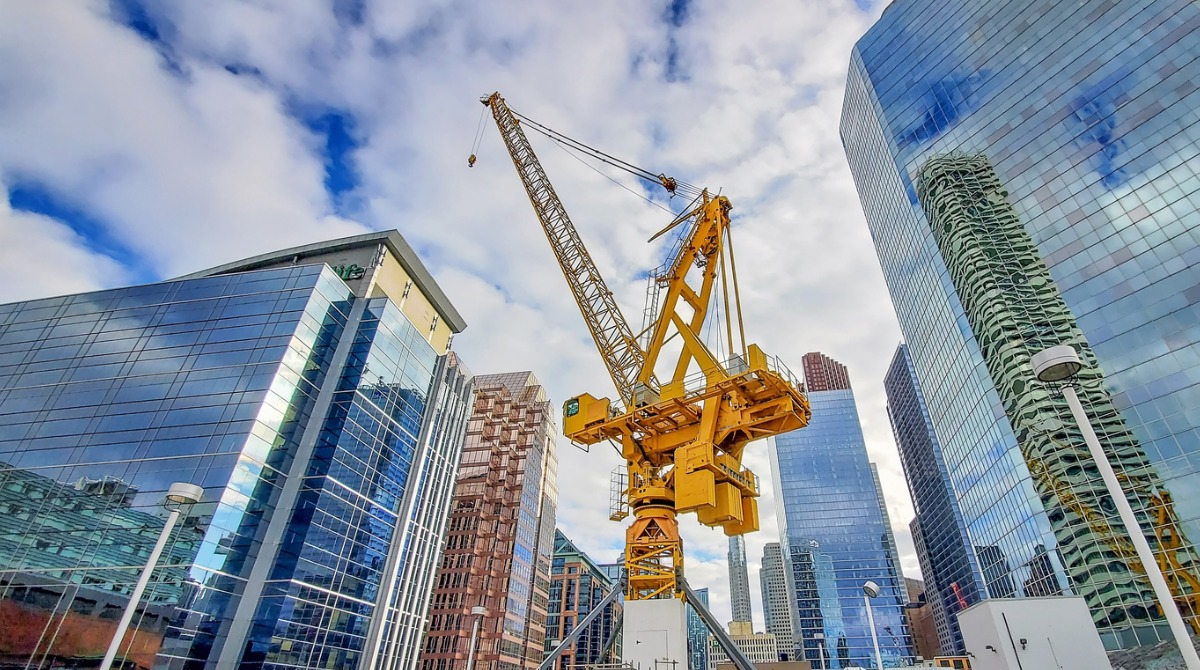 The COVID-19 pandemic disrupted the Chicago commercial construction market in some surprising and drastic ways in 2020. We have many challenges to overcome for a successful, post-Covid transition. A recovering economy, boosted by the vaccination of America should help markets turn around but it might not happen as quickly as we would like.
Chicago Business reported that the arrival of the coronavirus in Chicago in March turned the commercial real estate market upside down. Local hotels suffered staggering declines in occupancy when traveling was halted and conventions were cancelled.
Many people defaulted on their mortgages. A $338 million foreclosure suit was filed against the Palmer House Hilton. But industrial and life-sciences properties seem to come out ahead and actually attracted a lot of attention from investors with few places to go.
The pandemic didn't spare the local office sector. Business put expansion plans on hold or decided they didn't need as much space and were able to keep working using Zoom. Its impact on the apartment market was mixed. The suburbs seem to bear through it but the downtown cities really suffered.
Amazon which had been slowly adding warehouses before the pandemic, went crazy after the pandemic arrived. Online orders started surging from everyone being stuck at home and it became clear that the economy's steady transition to e-commerce was accelerating. Amazon started gobbling up more than 14 million square feet of Chicago-area warehouse space in the first half of the year, in places like Downers Grove, Pullman and Markham. The company's expansion of its distribution network was the biggest local economic growth store of 2020. The Seattle tech giant, with about 23,000 employees in Illinois over the summer, ramped up a hiring spree that could add as many as 15,000 more here in the Chicago area. But Amazon's push also attracted the attention of community and environmental activists, who raised questions about the company's impact on the environment and quality of its jobs.
In 2021 we can expect news of more warehouses and jobs along with more criticism.
Developers behind several megaprojects planned around downtown began the year hunting for anchor tenants to kickstart their work. Related Midwest got a win in February when Governor J.B. Pritzker announced the release of $500 million in state capital money that will help develop the Discovery Partners Institute. This is a 500,000 square foot University of Illinois classroom and lab space planned for the 78, Related's planned 62 acre campus along the South Branch of the Chicago River south of Roosevelt Road.
Elsewhere on the Near South Side, a coalition of developers struck a deal with the largest hospital in Israel to open a medical innovation center that will anchor a 15 million square foot campus planned on the city-owned former Michael Reese Hospital site next to McCormick Place. Sterling Bay has yet to announce any tenants at Lincoln Yards on the North Branch of the Chicago River, though it unveiled plans for a life sciences lab building on the project's southern border.
All three developers need to knock out major infrastructure projects to get going. Sterling Bay plans to begin work by mid-year on a bridge running through the heart of its project. Related Midwest is still working on an extension of Wells Street through its site and road projects are still in the works for the Michael Reese site.
Mayor Lori Lightfoot's administration kicked off a crucial new phase of its program meant to revamp blighted commercial corridors in the city's South and West Side neighborhoods. The city solicited developer bids for the first seven projects at sites chosen in Englewood, Auburn Gresham and Austin among other disinvested areas. Their initiative is meant to get multiple city departments focused on revamping the properties, hoping they will spur more projects and job creation nearby. Lightfoot has committed to channel $750 million in city resources such as TIF money and small business grants to the 10 Invest South/West projects.
In 2021, we can look for the city to pick developers for its first three projects by February, with plans on breaking ground in early 2022. It will also issue its final three requests early in the year for proposals for Humboldt Park, Roseland and South Shore.
As far as the office market is concerned, It is unknown at this time if or when companies will return to offices. What is clear is that there will be a lot more space available. New projects in the Fulton Market District and other major additions like the redeveloped upper floors of the Marshall Field building are just some of the 5.5 million square feet of offices that are now under construction. Only 36 percent of which have been pre-leased, according to CBRE.
Construction Dive reports that the coming months could be particularly hard on subcontractors, and the contractors who will need them once projects pick up again.
The market is just getting much more competitive for subcontractors, and therefore, sadly, some will go out of business, especially the smaller guys. General contractors may need to self-perform a lot of work they would normally sub out and build those capabilities in house."
Deloitt's engineering & construction leader | Michelle Meisels
Michael Bordes, president of AA Jedson Company, states that he had to pivot from restaurants to gyms he built previously to now having to focus on affordable housing projects. But, he is also flipping the script and limiting his risk from subs by handling more work in house.
"We're self-performing most of the construction tasks ourselves because the subcontractors that are out there are having a very hard time. Affording insurance is one issue subs are struggling with. The people we're dealing with may not be transparent about saying we're having trouble with assurances or we're short on labor. If you keep it on your payroll, you at least have 95% control."
President of AA Jedson Company | Michael Bordes
According to Chicago Business, our entire economy seems to depend on the distribution of COVID vaccines. They will help to determine how bad it will be for downtown office landlords. Most companies have put off leasing decisions if they can, but the first new transactions that get done will say a lot about the types and locations that tenants want and how much space they will need.
COVID accelerated a millennial migration away from downtown that gave the suburban residential market a shot in the arm. But it's still too soon to say whether that will give suburban offices, malls and apartments a lift in turn. After nearly a decade of companies pouring into downtown office buildings, suburban office landlords foresee good things ahead as companies give their spacious properties a second look. But the numbers are still not proving this out. Suburban office leasing plummeted since March, sending the vacancy rate to its highest mark in a decade.
Editor's note: This is, indeed, a confusing time for the construction industry. DataBid is working tirelessly to report and distill the news that can help you and your company make the right decisions and keep you up to date on the constant changes as they are made. We hope our coverage brings some clarity amid all the confusion.
Posted by Judy Lamelza