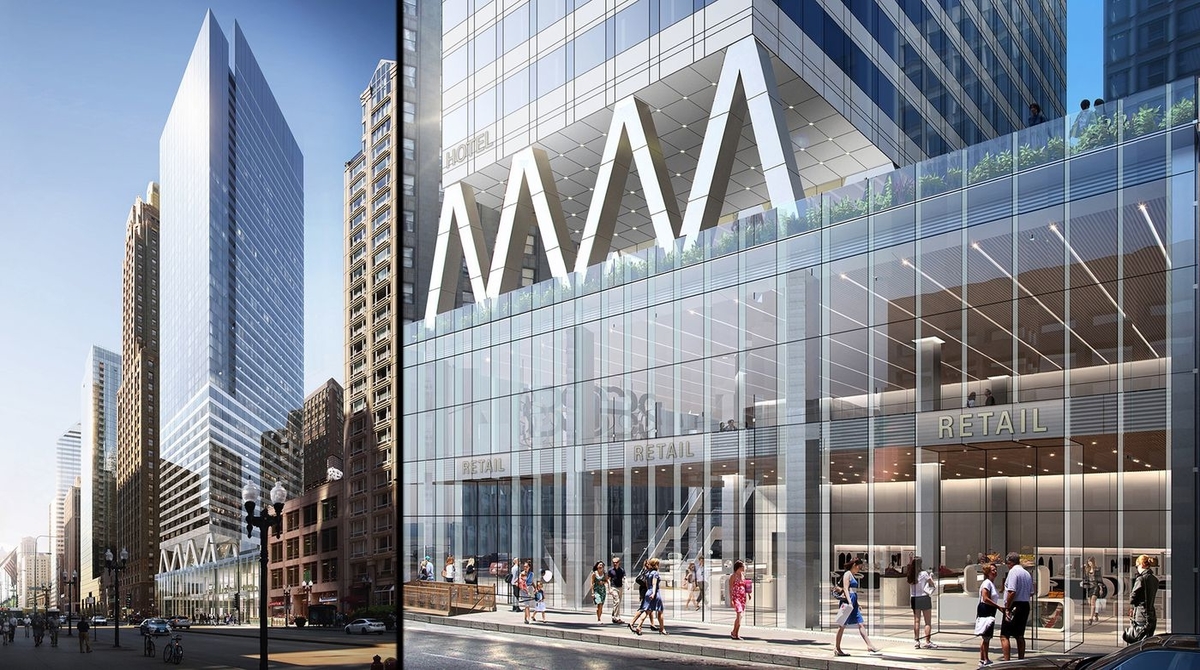 Sterling Bay has announced the closing of $174.5 million in financing for the construction of a 47 story mixed-use tower at 300 North Michigan Avenue that will be developed in partnership with Magellan Development Group. (Rendering above courtesy of Sterling Bay/bKL Architecture.)
According to an article in Connect Chicago, the capital structure includes senior-secured financing from Bank OZK, mezzanine financing from Pearlmark Real Estate and Monroe Capital and also a crowd-sourced equity component fundraised through CrowdStreet.
The project will include the following:
- 289 residential units
- 25,000 square feet of flagship retail space
- 280-key hotel that will be purchased by citizenM upon completion
Newsbug states that Sterling Bay has assembled a best-in-class team to lead development at 300 North Michigan Avenue which is located between the City's Riverwalk and Millennium Park. Chicago based general contractor Linn-Mathes will be in charge of the construction process which is scheduled to begin in August. bKL Architecture will serve as lead architect.
"This development will serve as a striking new addition to Chicago's Michigan Avenue. We are extremely proud that financing has successfully crossed the finish line despite the pandemic. Our ability to originate multiple loans from industry-leading lenders - as well as from a diverse group of individual investors - at a time when capital is at a premium is a testament to our team's excellent track record for success in commercial property development."
CEO of Sterling Bay | Andy Gloor
Sterling Bay's 300 North Michigan Avenue presents an opportunity for the City of Chicago to continue developing world-class properties that deliver important economic opportunities to the community.
This massive project will help the community in the following ways:
- Will create over 500 on-site construction jobs over course of development
- 70+ permanent on-site jobs in residential and hotel operations once complete
- Include a $3.9 million payment by Sterling Bay into Chicago's Neighborhood Opportunity Fund which is used by the City to support small businesses in underserved neighborhoods on the South and West sides
Sterling Bay is a Chicago-based real estate investment and development company with expertise spanning all aspects of real estate ownership. They are well known for creating world-class urban campuses for companies like Google, McDonalds, WPP, Pinterest, Dyson and Tyson Foods.
Their award winning projects transform space, enhance communities and strengthen a company's culture and brand. Sterling Bay's team consists of more than 200 professionals who are responsible for a portfolio that exceeds $5 billion, and a development pipeline of more than $9 billion.
DataBid is currently reporting on this project - 300 N. NMA Millenium Mile Multi Use Highrise Tower - Chicago (0045051517)
See DataBid Blog titled: Michigan Avenue Hotel & Apartment Tower Wins Approval
Posted by Judy Lamelza