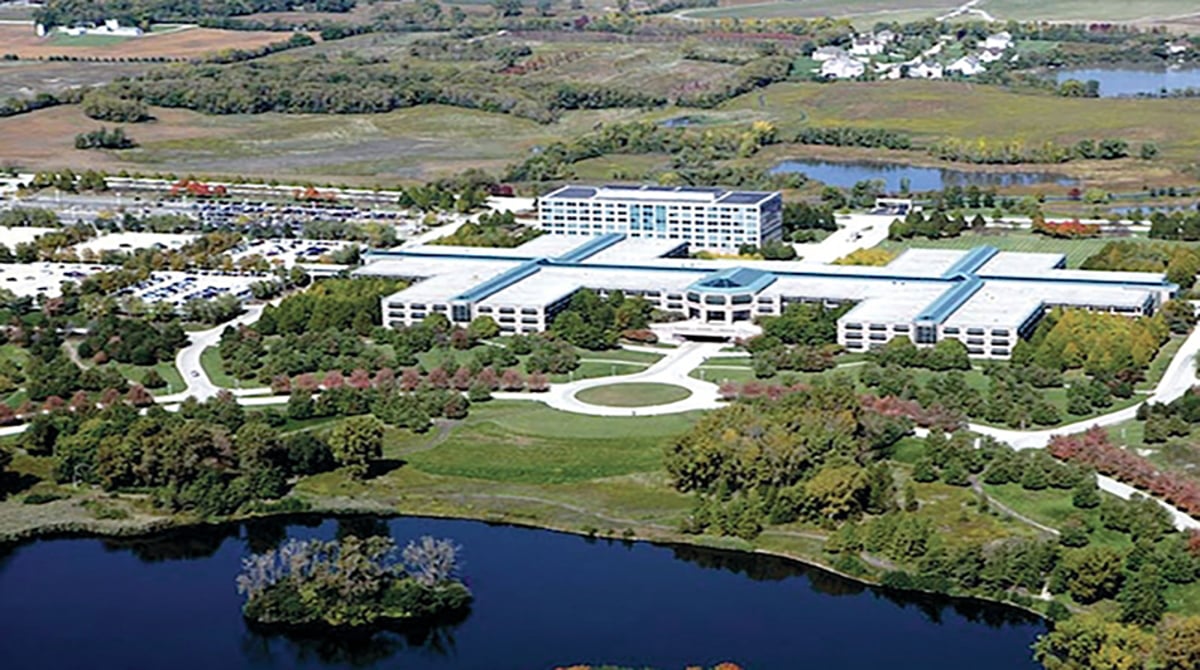 Somerset Development, partnering with Triangle Capital Group has acquired the former AT&T corporate campus in Hoffman Estates. The 150 acre property will be the future site for Chicagoland's first "Metroburb". This will be a self-contained urban core in suburbia per RE Journals.
The 1.62 million square foot campus with its three buildings has been vacant since 2016. The developer plans to duplicate their Bell Works concept that transformed a two million square foot former Bell Labs headquarters in Holmdel, New Jersey into a first of its kind ecosystem that included the following:
- Offices
- Shops
- Dining venues
- Event space
- Hospitality and community resources
"Today marks an important milestone for Bell Works, and another huge step toward the creation of Chicagoland's first metroburb. This property serves as an ideal canvas for the kind of dynamic, urban-inspired destination we have successfully created at the original Bell Works. We are tremendously thankful to the village of Hoffman Estates for believing in our vision and look forward to working together to revive this property and usher in a new era of prosperity for this community."
President & CEO of Somerset Development | Ralph Zucker
Acquisition financing was provided by Taconic Capital Advisors who will also be a future funding facility for pre-development costs. Colliers International will be the exclusive broker for Somerset Development.

The former AT&T campus was completed in 1991 and consists of a 1,300,000 square foot, four story building, a 280,000 square foot, six story building and a single story, 40,000 square foot building. The following features will be included:
- Naturally lit atriums
- Granite balconies
- 10 foot ceilings
- Over 4,000 parking spaces including on-site covered parking for up to 1,675 vehicles
- Walking paths
- Adjacent to an 1,800 acre county forest preserve
Hoffman Estates officials unanimously approved the plan in January. The $200 million redevelopment plans for Bell Works will create an exciting, walkable downtown-style centerpiece for the village, complete with 1.2 million square feet of office space, 60,000 square feet of conference facilities, storage and amenities and 60,000 square feet of restaurant and retail space.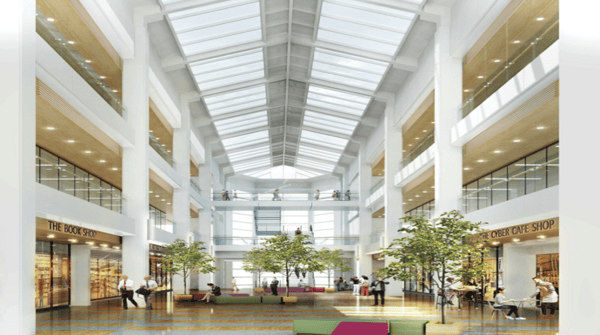 The New Jersey Bell Works development which launched in 2013 was once the country's largest vacant office campus and the redeveloped property has completed more than one million square feet of commercial leases which includes 90 per cent of its office space. Currently the building is home to over 70 signed tenants and welcomes thousands of workers daily in addition to visitors.
The following is a list of features of the Bell Works site:
- State-of-the-art conference and event center
- Public library
- Montessori School
- Future 186 room rooftop hotel
- Gourmet food market
- Restaurants
- Cafe
- Florist
- Public dental office
- Jeweler
- Boutique barre
- Group fitness studio
According to S&P Global, a tax increment financing district was approved by Hoffman Estates as an economic incentive for the commercial part of the development. Somerset also is planning on selling a portion of the adjacent land to another developer for construction of 380 multi-family residential units and 170 townhouses. The project could take five to seven years to complete depending on market conditions.
Highlands REIT Inc. had owned the campus but lost it through a foreclosure suit after AT&T stopped rent payments and vacated the site in August of 2016.
DataBid is currently reporting on this project - Bell Works Redevelopment Lakewood Center - Hoffman Estates (0056043018)
Learn about all the Mixed-Use Projects coming up for bid with a free trial from DataBid

Posted by Judy Lamelza