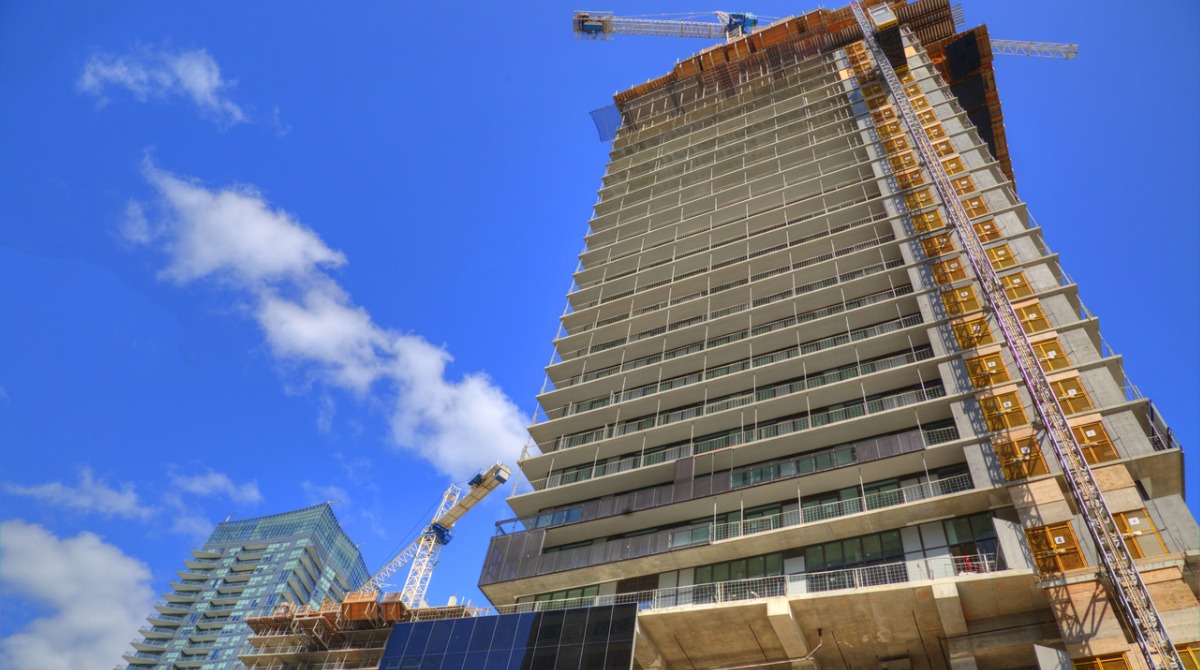 Fitzrovia hosted a ground breaking ceremony to mark the start of construction of their master-planned development at Bloor and Dufferin with partners Hazelview Investments and AIMCo. They have developed a comprehensive plan with Turner Fleischer Architects for the construction of three new rental buildings on the eastern half of the site.
The buildings vary in height and massing and are called The Marlow, The Quinton, and the Belvoir and will all front on Dufferin Street. There will be a total of 889 new rental units.
The Marlow will include:
- 29 storeys in height (the tallest tower)
- Stepped podium
-Exterior has vertical bays of windows that run entire height of the tower
- Precast framing separates the individual floors and windows
The Quinton will include:
- Rise from behind the heritage Kent School building
- Stand 18 storeys with minimal formal changes or step-backs
- Two storey reveal of vision glass and spandrel separates the tower from the school building below
The Belvoir includes:
- 19 storey tower defined by a terraced massing with outdoor spaces
- Building steps back from eastern edge a total of five times
- A step-back from the northern edge of building at the second level creates a C-shaped arrangement
Urban Toronto states that the buildings will have an ample amenity program which will include the following:
- Commercial grade gym with a basketball court
- Resort-inspired rooftop pool
- Cafe/bar
- Early learning institution offering year-round preschool and kindergarten programs
"We could not be more excited to announce the commencement of construction at this landmark site. Our focus on building sustainable long-lasting communities that enrich the lives of our residents and surrounding neighbourhoods is the driving force behind this exciting new development. At its completion, The Marlow, The Quinton, and The Belvoir will feature three new best-in-class luxury rental towers, which will feature the thoughtful integration of the preserved historic Kent School."
CEO & Founder of Fitzrovia | Adrian Rocca
The Bloor-Dufferin masterplan is a community-oriented, pedestrian-first, mixed-use development that will consist of new Class A purpose-built rental suites, a 30,000 square foot community hub and daycare, public spaces and more.
According to Bahar Joshan Poosh, VP of Design at Fitzrovia, construction is now underway and first occupancy is targeted for early 2026.
DataBid is currently reporting on this project - Bloor & Dufferin Mixed-Use Development - Toronto {0050101317)
Posted by Judy Lamelza