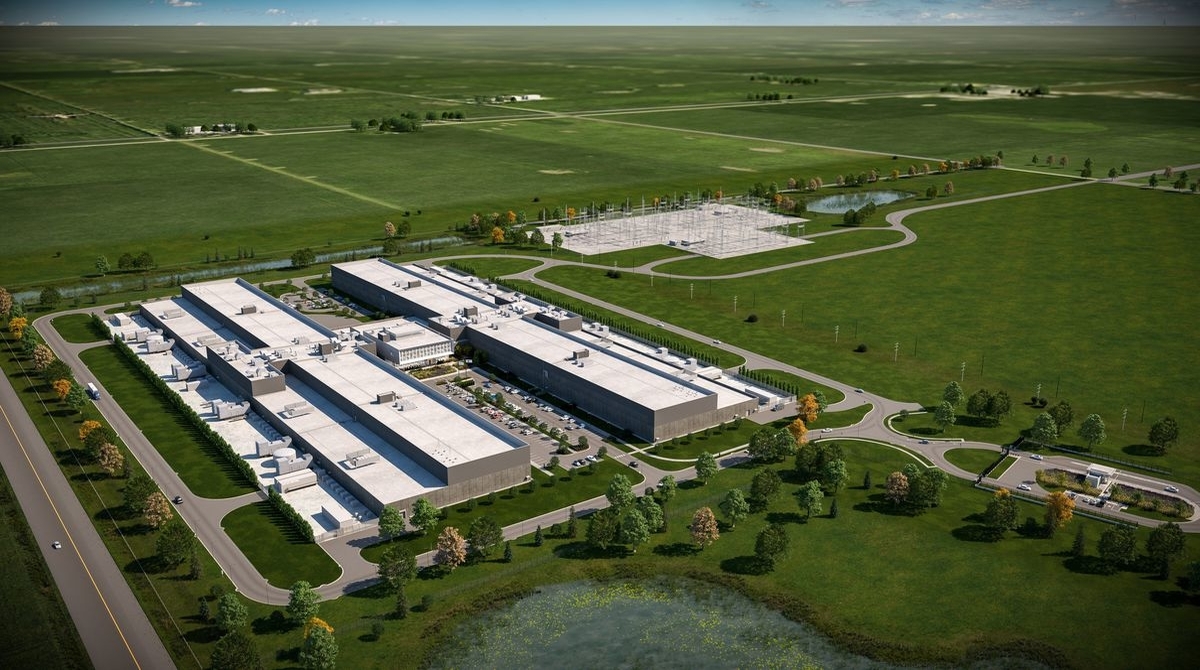 Facebook is planning to build an $800 million data center in DeKalb. This would be among the largest project of its kind in the state of Illinois. The data center will top 900,000 square feet and will be Facebook's 12th US data center. (The rendering above is from Facebook Inc.) This is the type of project that Illinois legislators had been missing out on last year when the tax incentives for the industry were passed. The company has not yet applied for any incentives.
According to an article in Crain's Chicago Business, Jerry Krusinski, CEO of Krusinski Construction in Oak Brook stated that the state's incentive program was a great component of getting this project over the finish line. Krusinski had been hoping to acquire a data center since he began working on the 1,000 acre ChicagoWest Business Center in DeKalb over 10 years ago.
Krusinski's firm is doing the infrastructure for both the park and the project. Chicago has long been one of the nation's telecommunications hubs due to its size and geography. It is the nation's fourth largest data center market.
The Illinois Department of Commerce & Economic Opportunity states that seven companies have been approved for data center tax incentives. Stack Infrastructure and CoreSight are two that are building projects in the Chicago area. A key incentive of the program is an exemption from sales and some other taxes for projects with capital investments of over $250 million.
Even with data centers this size costing $200-300 million, the equipment inside them can cost three times as much and will need to be upgraded or replaced every four years or so.
NBC Chicago stated that the data center will be among the most advanced, energy and water-efficient data facility in the world.
Facebook chose the DeKalb location for the following reasons:
- Access to renewable energy
- A strong talent pool
- Higher education institutions
- Community partners
- Strong infrastructure
Facebook reported that the facility will be supported by 100 percent renewable energy and use 80 percent less water than the average data center. It will also be LEED Gold certified once it is built.
Per Biz Journals, Rachel Peterson, vice president of data center strategy for Facebook stated that about 1,000 construction workers are expected to begin working on the facility and about 100 workers will work in the facility when it is completed. Open jobs will be available for technicians, engineers, construction management, facility managers, logistics professionals and security personnel.
WIFR23 in Rockford reported that the project will also include the following:
- Building almost 3 miles of water lines
- one and a half miles of sewer extension
- Repaving local roads
Mortenson Construction was selected as the general contractor for the DeKalb Data Center.
Posted by Judy Lamelza