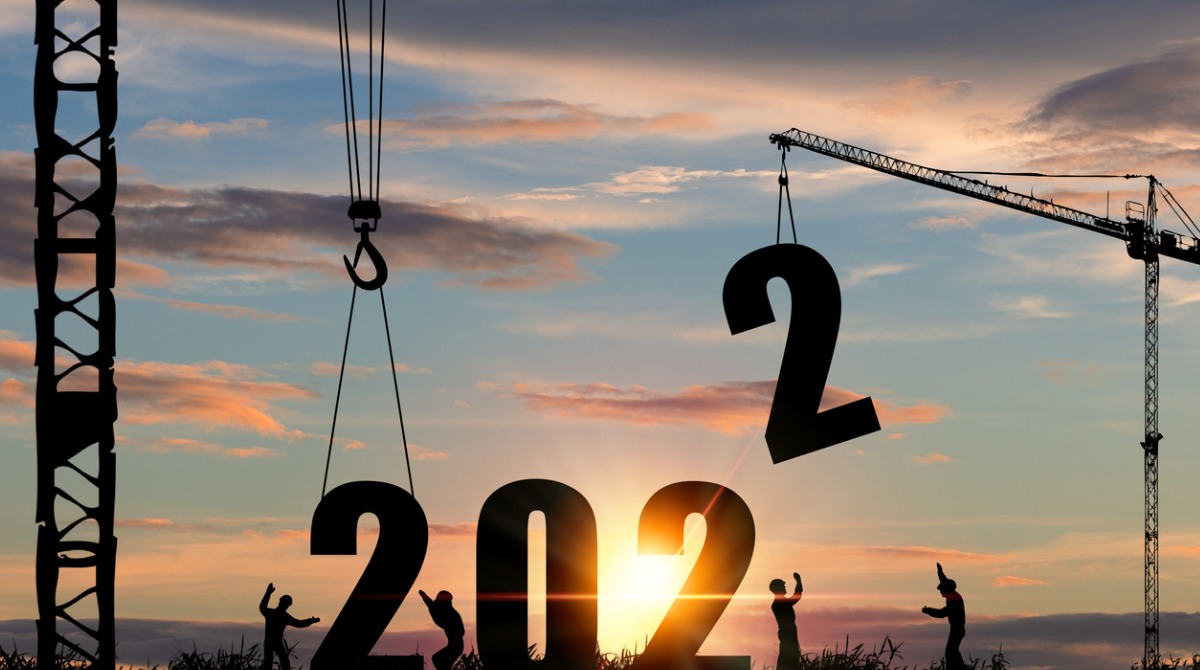 In 2022, as we move into the second year of recovery, the construction industry has a big role in supporting the nation's growth plan. The infrastructure investment and Jobs Act (IIJA) has played a large part in this confidence boost and it's vital that the appropriation funds from IIJA become available soon, in order for that optimism to be fulfilled.
Construction Dive reports that contractors are optimistic for 2022 according to a member survey from the Associated General Contractors of America. Indicative of that optimistic outlook, AGC found 74% of construction firms intend to hire in 2022, despite supply chain challenges that are slowing project starts and previous labor shortages.
As far as infrastructure, respondents were optimistic about highway and bridge construction, with 63% expecting a large dollar value of projects to compete for. They were also upbeat for transit projects, such as rail and airports, with a net positive reading of 51%.
Even though three-quarters of firms expect to hire in 2022, 83% of respondents reported continuing troubles filling salaried or hourly craft positions. Three-fourths of respondents said they expect the difficulty to continue.
"If we see long-term sustainable funding, that would and should aid in our efforts to recruit people in the industry. If we can demonstrate to them that there is funding in the future, their jobs won't be in jeopardy."
AGC CEO | Stephen Sandherr
AGC Chief Economist Ken Simonson stated that some manufacturers are responding to the increasing demand for materials and one example is a $3 billion U.S. Steel plant project in Arkansas.
President of CT Wilson Construction in North Carolina, Charlie Wilson, said that supply chain and material delays are not always as bad as they seem. He has experienced material delivery dates changed to months earlier than anticipated after his company has ordered them, which he attributes to supplies likely wanting to avoid overpromising.
According to Deloitte, their 2022 engineering and construction industry outlook states that the industry looks to be poised to capture growth opportunities. In 2022, as we move into the second year of recovery, the industry has a big role in supporting the nation's growth plan. The IIJA is expected to accelerate recovery across the nonresidential segment. The residential segment is expected to stay strong and exhibit similar activity as it did in 2021.
In a recent Deloitte survey, 91% of respondents characterize the business outlook for their industry as somewhat or very positive which is 23% higher than last year. The housing segment showed strong growth on the back of low mortgage rates and experienced improvements across both single and multifamily construction. Housing starts are likely to stay strong, further aiding residential segment growth in 2022.
The $550 billion that IIJA would invest will go for:
- $110 billion on roads, bridges and major infrastructure projects
- $66 billion on passenger and freight rail
- $55 billion on water infrastructure
- $40 billion on bridge repair
- $39 billion in public transit infrastructure
The bill also has other tax incentives to promote partnerships with cities and states and encourage private investments. This is likely to propel some growth in the nonresidential segment. In addition to infrastructure work, a further mix of projects are expected through new data centers, warehousing and even health care. The bill would also provide:
- $65 billion to expand high-speed internet access
- $25 billion for airports
During the second half of 2020, the pandemic exposed the vulnerabilities of global supply chains. Unfortunately pandemic-induced supply shortages still persist and affect key materials such as lumber, paint and coatings, aluminum, steel and cement, etc. The Aluminum Association reported that aluminum demand in the U.S. and Canada totaled 8.8 billion pounds through the first four months of 2021, increasing from 2.1 billion pounds in the first four months of 2020 when the pandemic was beginning. Further making matters worse were the disruptions in the movement of materials due to increased congestion and delays at major ports such as Yantian and Ningbo in China. This also caused a spike in freight costs, which on average are three to five times higher than last year's level.
Contractors should be proactive in managing processes and operations that contribute to margins and profitability, adding efficiencies and optimization where possible. The integration of digital technologies into the supply chain could help. These advanced networks, now ubiquitously known as digital supply networks can help contractors gain better visibility into the availability and movement of materials. Smart project management can also help bring suppliers, vendor and contract management and materials management onto a single platform.
Another strategy is to develop prefabrication and modular construction capabilities, helping firms save costs and reduce sourcing complexity. The industry can also come together to form a supplier collaboration network to help bring in new sourcing strategies and reduce the current material supply volatilities. Overall, supply chain disruptions and volatility are expected to be among the biggest challenges in 2022, and the companies that can navigate through them will likely emerge as winners.
The industry landscape is rapidly evolving as contractors realize the value of connected construction technologies. These technologies can help bring assets, people, processes and job sites onto one platform, making everyone and everything work smarter, reduce downtime, optimize asset utilization and efficiency and gain greater visibility into operations.
Attracting workers is still a challenge. The industry lost an additional 3,000 jobs in August and labor shortages could reach crisis proportions as the current situation is expected to continue through 2022. Not filling job openings can cause project delays and cancellations, projects being scaled back, an inability to respond to market needs, losing project bids, and failing to innovate. A lack of qualified candidates is also a problem. Training and reskilling them might be the solution.
The bottom line is that the issues construction has seen either during or because of the pandemic will continue into the new year, but contractors' confidence isn't withering.
Associated General Contractors of America states that they are working to ensure the continued success of the commercial construction industry by advocating for federal, state and local measures that support the industry, providing opportunities for firms to learn about ways to become more accomplished and connecting them with the resources and individuals they need to be successful businesses.
Contractors expect demand for most types of projects to increase this year and, as a result, most firms plan to add staff. This is in marked contrast to last year, when contractors expected demand for many types of projects to contract and were less bullish in their hiring plans. Contractors also continue to invest in new technologies that are designed to make them more efficient and effective.
Contractors are taking steps to overcome workforce shortages and supply chain problems. They are finding alternative suppliers and materials to use in their projects. They are boosting pay and adding other incentives to attract new workers. They are raising bid prices to reflect higher materials costs and building more time into their construction schedules to accommodate supply chain obstacles.
Assuming current trend lines hold, 2022 should be a relatively strong year for the construction industry. While contractors face challenges, most of those will be centered on the need to keep pace with growing demand. The industry should end 2022 in far better shape than it started.
Posted by Judy Lamelza