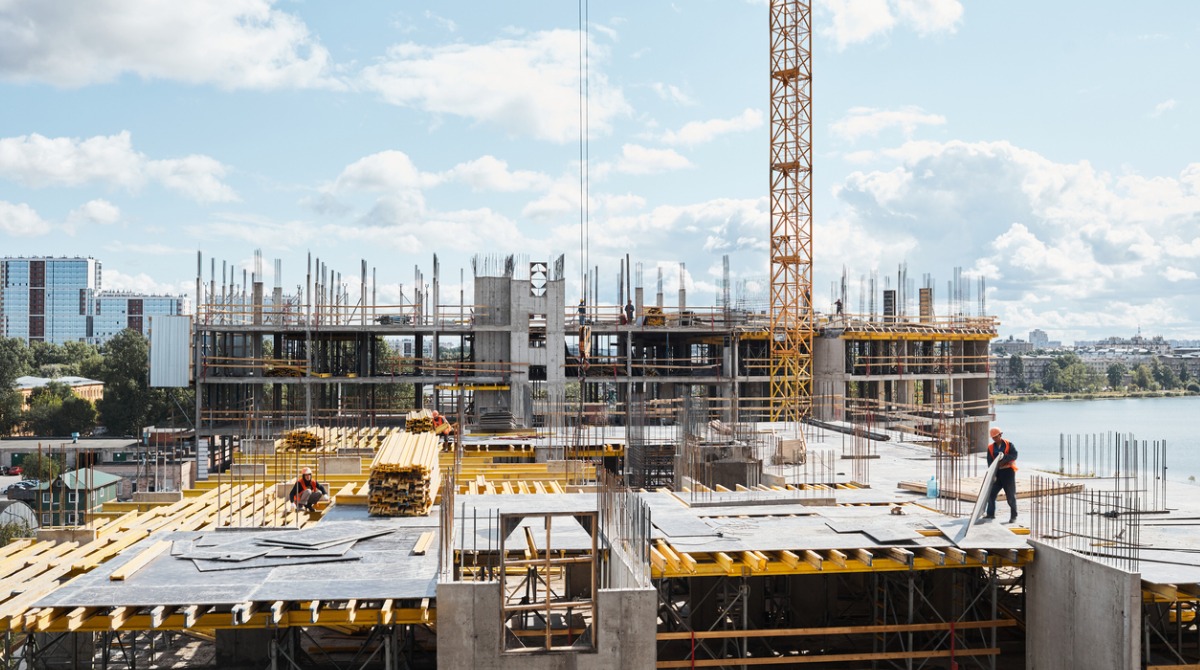 Beating the supply chain crisis has forced local construction companies to get creative. For those working in construction, supply chain problems have caused project delays, a long wait for and lack of key materials, and frustration over the past year. Unfortunately this problem does not show any signs of improving in the rest of 2022.
For Barry Sullivan, a vice president of construction for Ryan Companies U.S., Inc., it is becoming something of a team game, where he and his co-workers get help from local vendors and subcontractors and return the favor in kind.
The Daily Herald reports that Sullivan stated that he was nearing completion of a large apartment complex project when he found out that the appliance manufacturer wouldn't be able to produce the needed appliances until well after the grand opening. Ryan Companies worked with a local vendor to find another manufacturer. The project opened on time, with even better quality appliances than they had originally found.
Contractors are still being challenged to find ways to get projects done with quality materials and be on time.
Tom Murphy, director of project services for Hiffman National, a division of NAI Hiffman in Oakbrook Terrace stated that it definitely contrasts with the way the world was in 2020 and 2019.
Chris Coleman, vice president of development for Mount Prospect-based Wingspan Development Group, stated that getting creative has meant putting just-in-time inventories aside. Instead, he rents out warehouses in which he stores appliances, plywood and dimensional lumber, insulation, windows, flexible duct work and other HVAC components.
The expense of renting out warehouse space is well worth the cost to a family-owned and family-operated firm like Wingspan. To the Papanicholas family, missing a deadline is not only costly financially, but also expensive in terms of reputation and customer satisfaction. Losing out on two months rent across an entire apartment complex could be very expensive.
"Moving is a very stressful experience to go through, and to the extent you put people off it's even more stressful. Then they have to find another place to stay and what are they going to do with their personal belongings and their furnishings. It just better for everybody if you deliver on time and keep the promises that you make."
Vice president of development Wingspan Development Group | Chris Coleman
Sullivan said Ryan Companies also has stocked up on appliances and other necessities to some extent. It also is warning clients up front they they might have to be flexible in the course of their project, being proactive about the situation.
The supply chain issues continue to keep Sullivan, Murphy and Coleman on their toes, with no end in sight.
Sullivan stated that treating all of their local subcontractors and vendors well over the years has really paid off and they are even helping them find some products in some cases. He believes that finding new solutions in solving whatever problem comes up next requires you to be more creative at times like this.
Murphy stated that we all just need to continue to monitor and just be vigilant on what we're specifying in our drawings or how we're guiding clients to build out a certain space.
WSB states that the supply chain is tightly integrated and when one part of the supply chain faces issues, it can have a domino effect. For those working in construction, supply chain problems have caused project delays, a long wait for and lack of key materials, and frustration over the past year. Unfortunately, it shows no signs of improving in the remainder of this year.
With a shortage of labor, shipping delays and trouble getting materials, we should prepare for our recovery to take longer than many people anticipated. As our industry tackles these problems, there are things construction teams can do to anticipate, innovate, and adapt to the current situation.
Being flexible is key to adapting to supply chain uncertainties. If clients and contractors can build some flexibility into the contract to use alternative materials, it is more likely that a project will be completed on time or without significant delays.
Some contractors are procuring high-risk items and pre-purchasing material for clients, working in storage cost to help prevent delays.
Building risk management into contracts can be helpful. Whether it's procurement of materials or more flexibility on timing of projects, thoughtful contract terms can help both cities and contractors, mitigating some risk.
Since supply chain issues, labor shortages, shipping slowdowns and numerous other factors are expected to continue creating challenges for the construction industry over the next year, innovation, flexibility and adaptability can help projects moving forward for clients and contractors.
Posted by Judy Lamelza