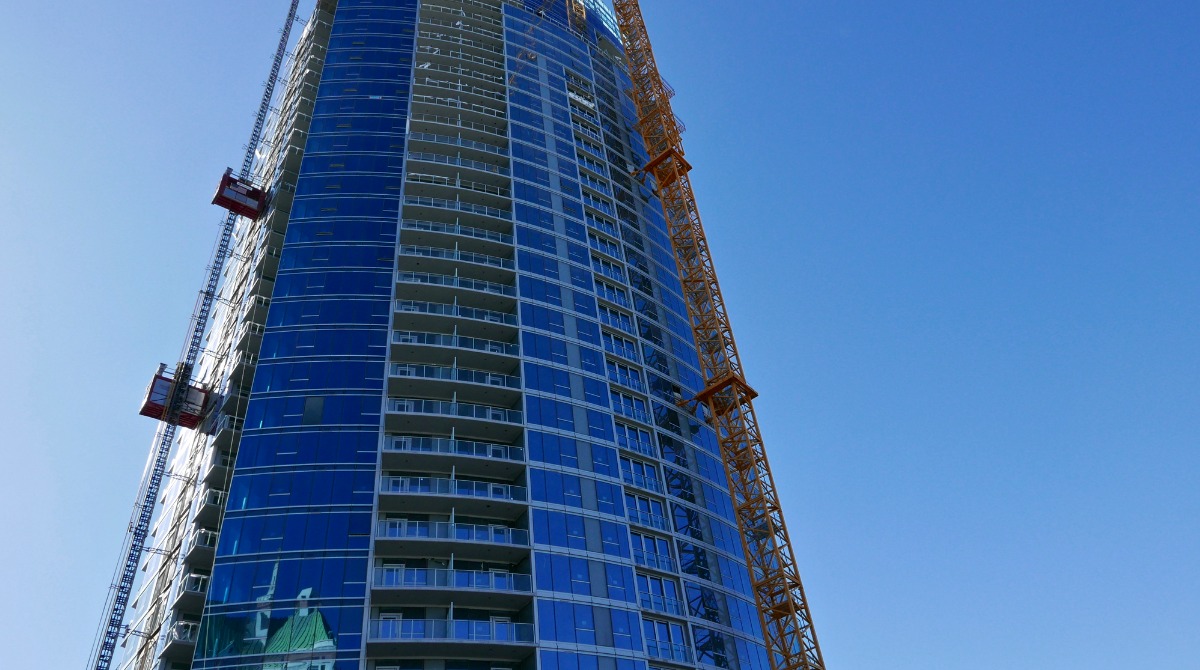 A 54 storey tower was proposed by Republic Developments for Toronto. This high-rise tower could bring almost 550 new condos to the downtown area. Republic Developments has applied to the City of Toronto for the rezoning of the properties located at 15 Charles Street East and 16 Isabella Street to permit an increase in height and density on the site which is about 0.15 hectares in size.
An article in Urban Toronto states that the building was designed by IBI Group and will include the following:
- 54 storey residential condominium building
- Six storey podium
- Total of 549 residential condominium units
- 146m2 of retail space at grade level
- Total Gross Floor Area of 35,625m2
- Floor Space Index of 23.81
- 65 parking spaces inclusive of 10 shared visitor and commercial parking spaces in five level underground garage
- 550 resident bicycle parking spaces on 2nd floor
- The parcel of ground at 16 Isabella Street is being proposed to be redeveloped into an 150m2 park
The surrounding area includes a series of high-rise residential, public, community and commercial buildings. To the east of the site is George Hislop Park, which is municipally owned and extends from Charles Street East to Isabella Street. This park would be expanded by the addition of the space from the 16 Isabella Street property. South of the bulk of the site are other properties on Isabella Street which contain two to three-storey commercial buildings. To the west of the site is the municipal alley "Biscuit Lane" and directly west of it are two to four-storey commercial buildings fronting onto Yonge Street.
Across Charles to the north of the site is a six-storey municipal parking garage with at-grade retail uses. The Yonge subway line runs beneath the parking garage and George Hislop Park.
The proposed unit mix of the building is:
- Two studio units (0.4%)
- 197 one-bedroom units (36%)
- 193 one-bedroom + den units (35%)
- 98 two-bedroom units (18%)
- 59 three-bedroom units (11%)
The amenity space will feature the following:
- Total of 1,104m2 of indoor amenity space
- 280m2 of outdoor amenity space
- Levels 3 to 7 would feature indoor amenity space within the southern portion
- 7th floor indoor amenity space would extend into 280m2 of outdoor amenity space
Livabl_ reports that that the developer, Republic Developments, is also behind the master planned Scarborough Junction project that would deliver more than 6,600 homes to Birchmount Park.
The new building is designed as a slender point tower, stepping back from the 48th floor and up to form a 75 degree angled top. To improve the public realm, decorative, interlocked paving would be added along Charles Street East and the western frontage of George Hislop Park, in addition to deciduous tress and shrubs. The ground floor would be glazed and would allow for views into the tower and out to the public realm.
Republic Developments is a Toronto based city builder and their main purpose is to enhance and strengthen every community they engage with. Over the past decade, their leadership has managed 13.5 million square feet of residential and mixed-use projects, representing approximately 16,000 homes and over 12.6 billion in development value.
They seek out projects in both established neighbourhoods and those in transition, that will be seen as desirable places to live, work and play today and into the future. As a result, they typically focus on transit oriented communities in need of additional housing supply, and on sites where they are uniquely positioned to maximize the development potential of the land and expedite the project schedule.
Posted by Judy Lamelza