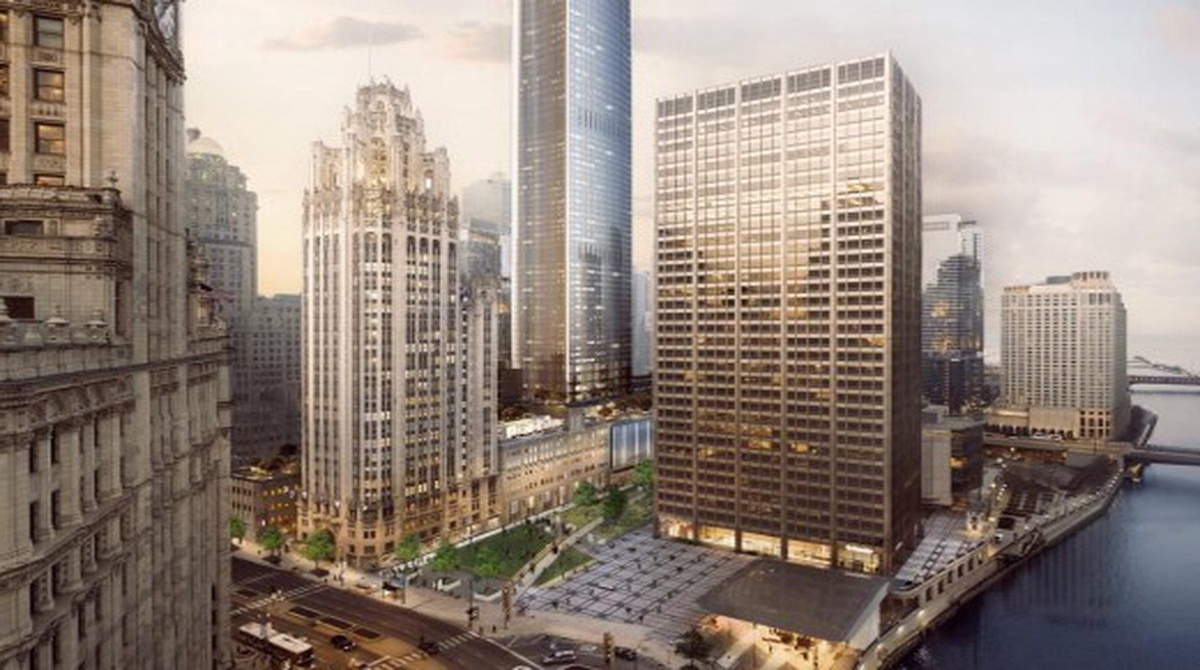 Chicago's planning authority approved zoning for a hotel and residential high rise east of the Tribune Tower. The building will be the second tallest building in Chicago but still remains highly speculative and could take years to realize. It will be comprised of condos, rentals and a hotel and all are vulnerable in an economy that is enduring damage from the pandemic per the Chicago Times.
One of the developers, Lee Golub, told the commission that he would consider adding residential units if the hotel was not viable. He stated that he hopes the three year construction project could start late in 2021 or early 2022.
The building would be located at the southwest corner of Illinois and St. Clair Streets which currently has a parking lot. The design is by Chicago-based Adrian Smith + Gordon Gill Architecture whose rendering above shows the new tower east of the landmark Tribune Tower. The building is just 29 feet shorter than Chicago's Willis Tower.
The $700 million building would include the following:
- 439 Apartments
- 125 Condos
- 200 room Hotel
- Retail space
- Landscaping
- Parking for 426 cars
The building is going by the name Tribune Tower East. The landmark Tribune Tower is located at 435 N. Michigan Avenue.
The project was approved by the commission in a virtual meeting with one dissenting vote. It is now being sent to the City Council for final action.
Even though the new building's design and placement were praised by the commissioners, several criticized its lack of on-site affordable housing.
The developers will provide 11 rental units on-site to be marketed as affordable for renters earning 60 per cent of the area's median income. The current income limit for a family of four is $53,460.
The developers will also be providing $13 million to support off-site construction of affordable units and will be required to pay $15.1 million to the city's Neighborhood Opportunity Fund to support local commercial districts.
Due to the exclusive location just off Michigan Avenue and with the property costing more than $200 million, more on-site affordable units is impractical.
During one of their community hearings, Alderman Walter Burnett Jr. who is also a member of the commission thought that the building was very attractive and would make a great statement in the city of Chicago.
DataBid is currently reporting on this project - Tribune East Redevelopment - Chicago (0061090816)
Posted by Judy Lamelza