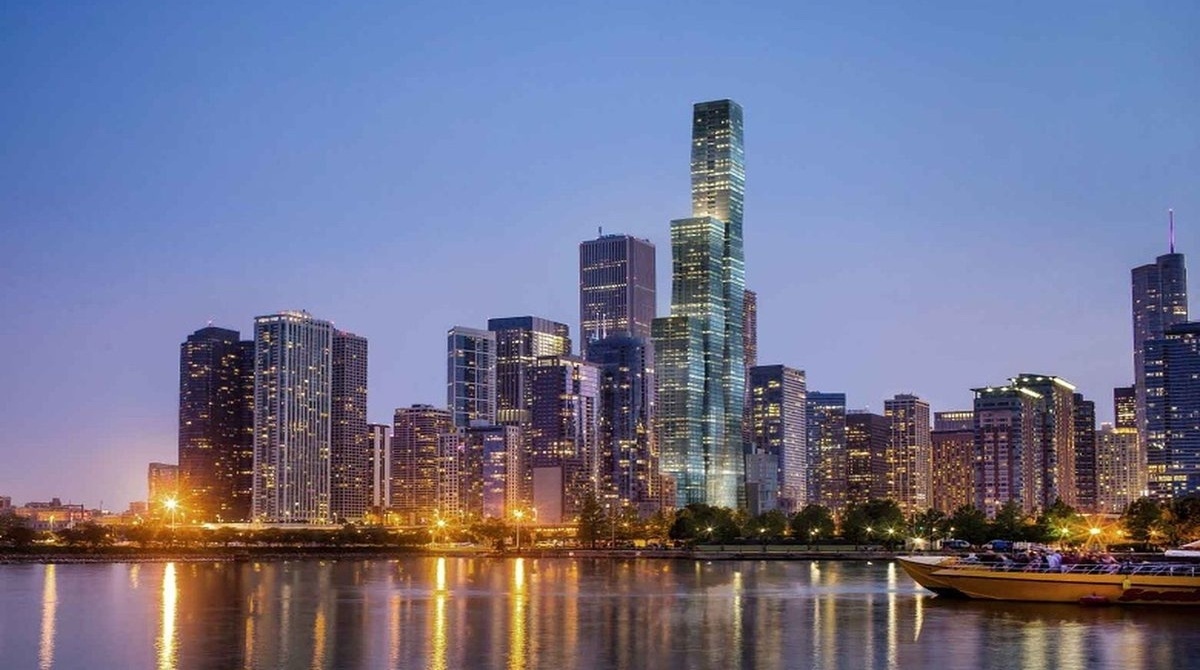 Construction in Chicago is going strong and tower cranes can be seen all over the city. The tallest buildings listed below include office towers, condominiums, and hotels. Here are 10 of the tallest buildings currently under construction:
1. Vista Tower - Per Chicago Curbed, this is a 1,186 Foot tall luxury hotel and condo tower and will become Chicago's third tallest building. This skyscraper will be 93 stories tall and was designed by architect Jeanne Gang.
The structure will have 200 luxury hotel rooms and 406 private condominiums and is expected to open in 2020. The condo units in the building are going for sale from $1 million to $18 million each. 44% of the condos have been pre-sold already. One interesting fact is the use of 7 water filled tanks that will be placed on top of the tower. They are designed to help offset wind-induced swaying. When the wind is pushing the tower in one direction from one side, the water in the tanks will slosh in the other direction and this will keep the structure from swaying.
The project is jointly developed by Magellan Development Group and China's Dalian Wanda Group. This building will have the distinction of being the tallest building in the world designed by a woman-led firm. When completed, the tower will trail only Willis Tower (1,451 feet) and Trump International Hotel & Tower (1389 feet).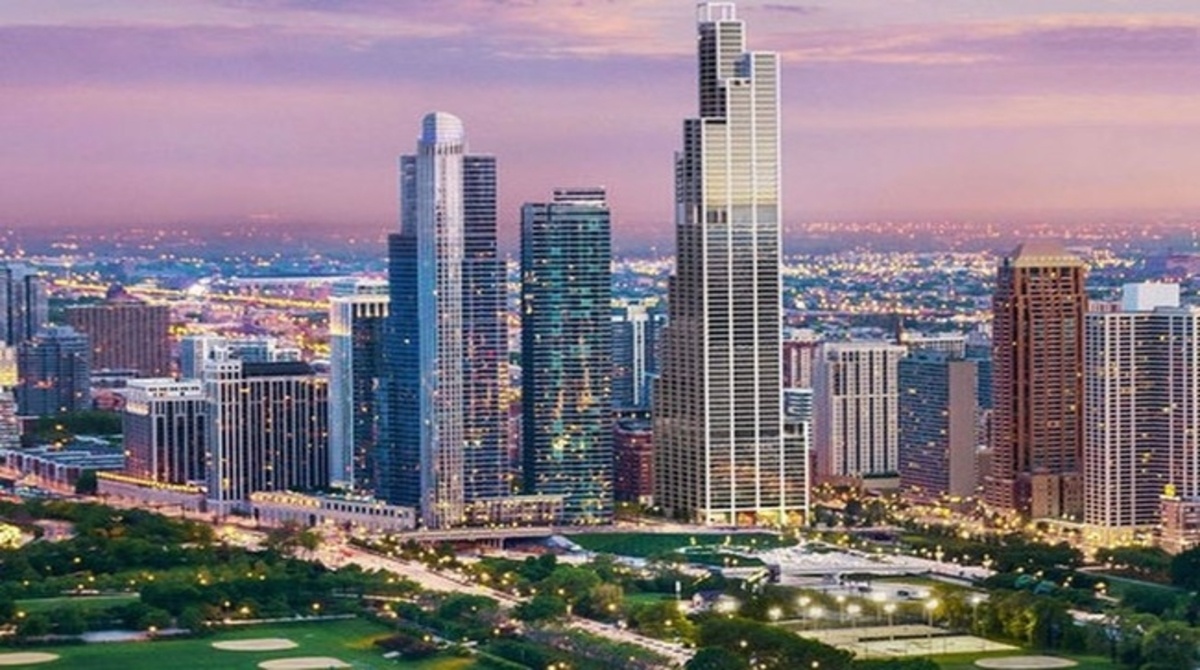 NEMA Chicago
2. NEMA Chicago - NEMA was formerly known as One Grant Park and was developed by Crescent Heights. This 76 story, 893 foot tower is going to change chicago's skyline at the corner of Roosevelt and Indiana in Chicago's South Loop. The building was designed by architect Rafael Vinoly and will feature 792 rental units.
The structure may be taller than the 76 stated stories with the addition of four mechanical floors plus the tower's decorative crown, it could reach 892 feet. An additional phase of the project might include a second, taller twin tower to the west of this building.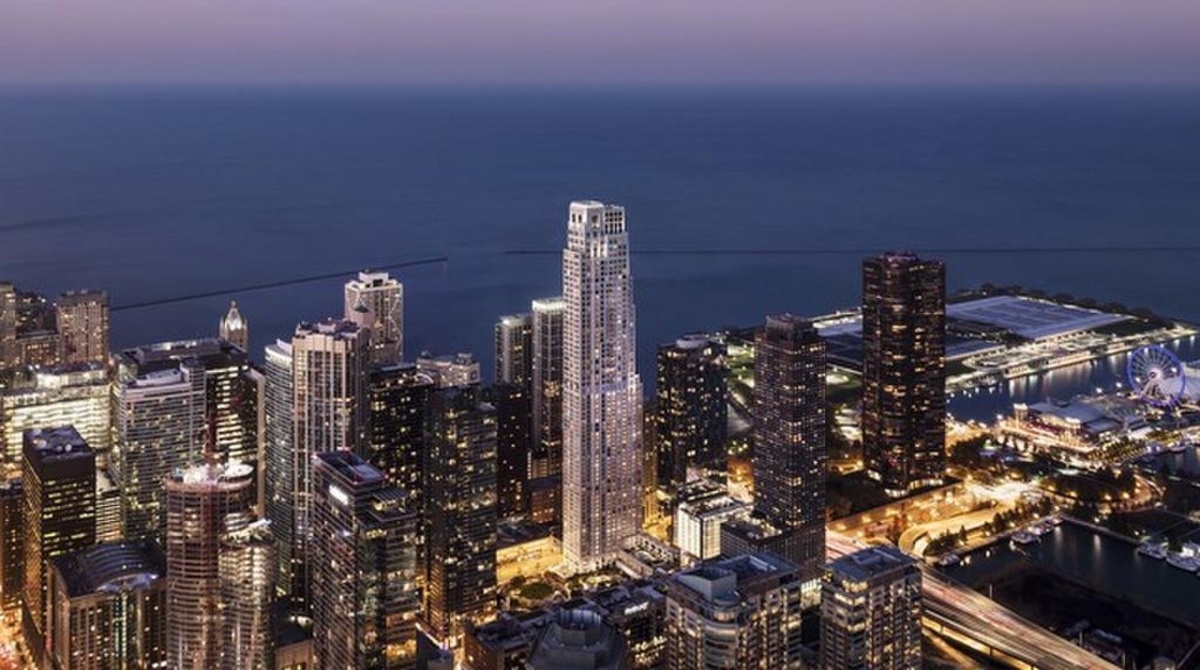 One Bennett Park
3. One Bennett Park - This narrow Art Deco high-rise from Robert A.M. Stern Architects and Related Midwest will include luxury apartments and for-sale condominiums. This will be a 67 story condominium/apartment tower that will reach 843 feet.
There will be a 1.7 acre park at the base of the tower and it is being rebuilt by landscape architect Michael Van Valkenburgh. The park will occupy the roof of the underground parking garage and will include a new playground, picnic grove and a canine area.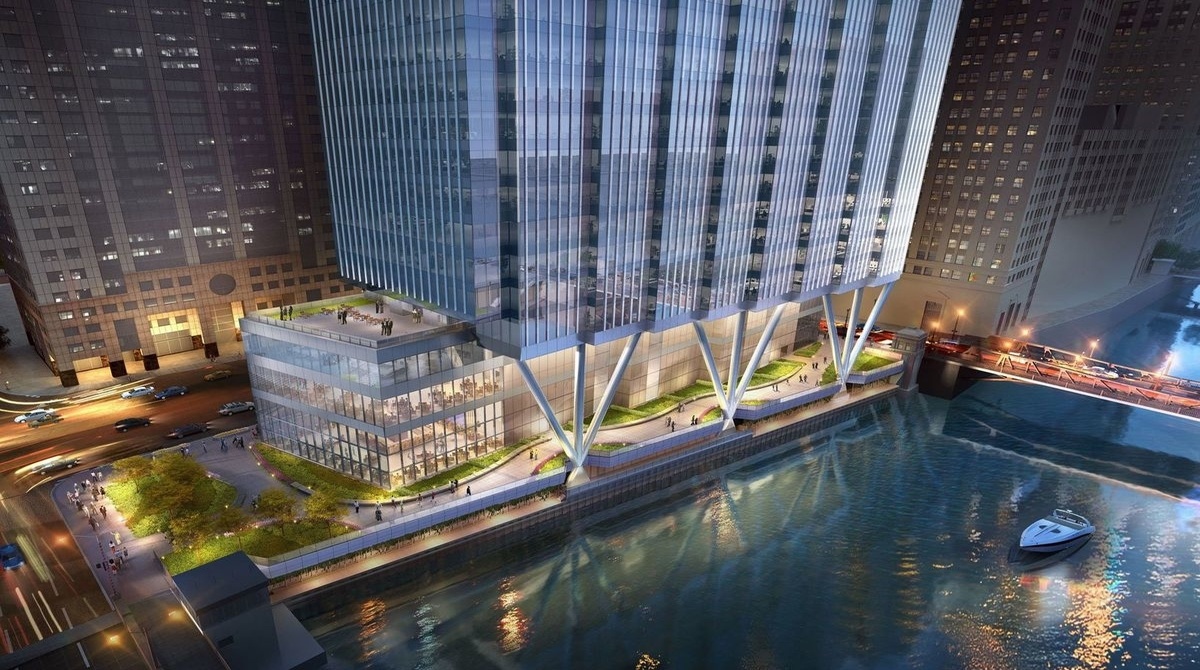 110 N. Wacker
4. 110 N. Wacker - This project will be replacing the Loop's General Growth Building. The office tower with riverwalk comes from Texas based Howard Hughes Corporate and Chicago's Riverside Investment & Development. The architects are Goettsch Partners. It includes a new pocket park and public riverwalk and is expected to be finished by late 2020 or early 2021. This 800 foot tower will join the riverfront development boom.
The tower is estimated at $40 million and will have 54 stories which will include parking on lower level one and lower level two, (110 parking spaces) altogether.It will also include a ground floor retail area. A waterfront promenade below the skyscraper's western facade will also be a stunning addition. Pieces of the midcentury steel facade from the demolished building that was previously on this site will be incorporated into the base of the new tower.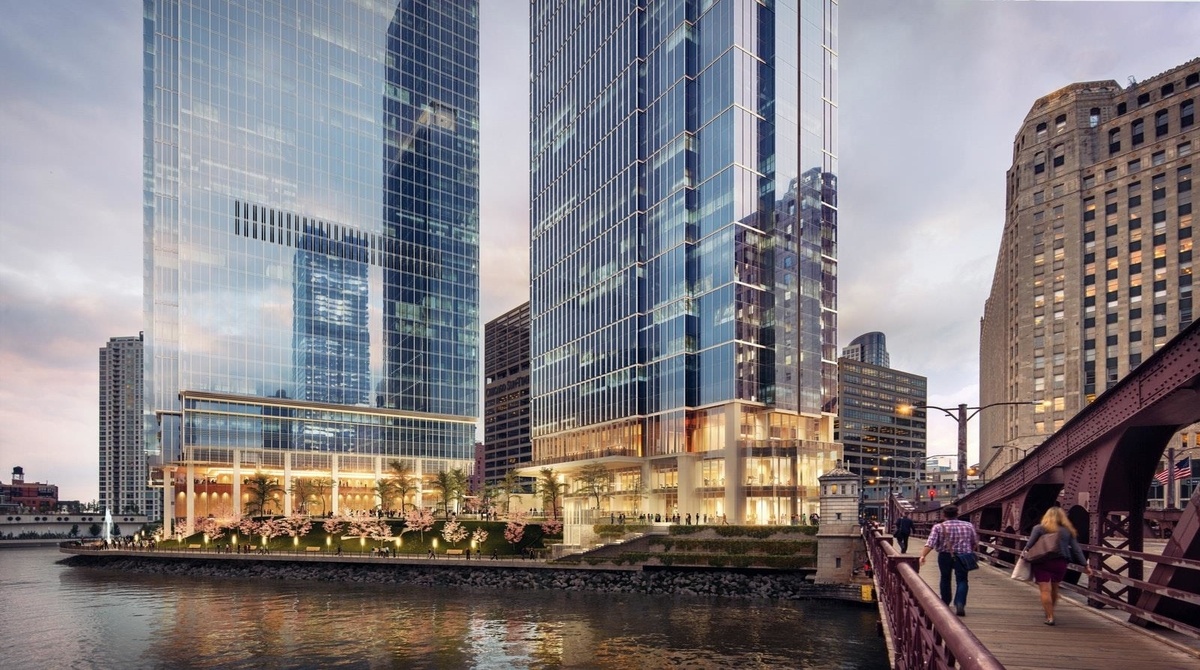 Wolf Point East
5. Wolf Point East - This 60 story, 660 feet project is located at 343 W. Wolf Point Plaza and is designed by Pelli Clarke Pelli with Chicago's Pappageorge Haymes serving as local architect. The 698 unit eastern tower comes from developers the Kennedy family and Hines Interests.
This is the second phase of the three-skyscraper project at Wolf Point where the three branches of the Chicago River come together. The tower's overall cost is estimated at $360 million. The third and final high-rise will contain an office area and will reach a height of 950 feet over the Chicago River.
A new southbound contra-flow vehicular traffic lane will also be added to link it to the expressway feeder ramps.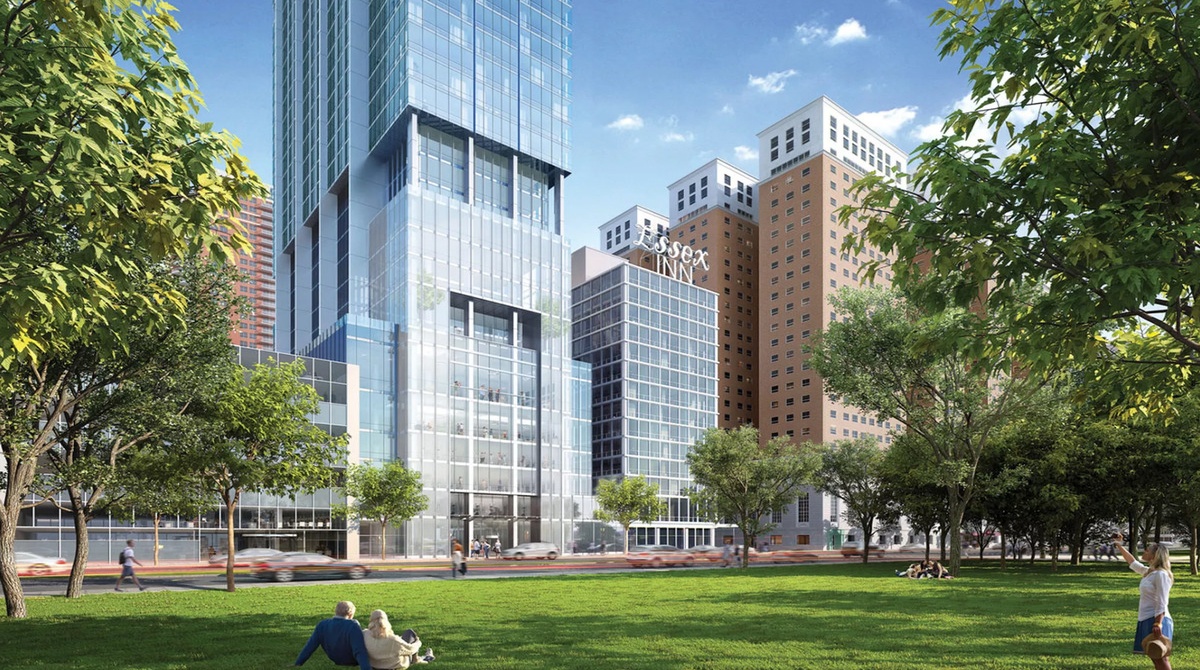 Essex on the Park
6. Essex on the Park - This 56 story apartment tower located at 808 S. Michigan Avenue just west of Grant Park has a height of 607 feet. It will be completed in 2019 and will have 479 high end rental units, indoor pool and winter garden and ground floor retail space. It will also include 84 well concealed parking spaces. The developer is Oxford Capital. The tower will be replacing a parking garage.
The two building project is expected to cost $240 million. The designer team is Chicago's Hartshorne Plunkard Architecture.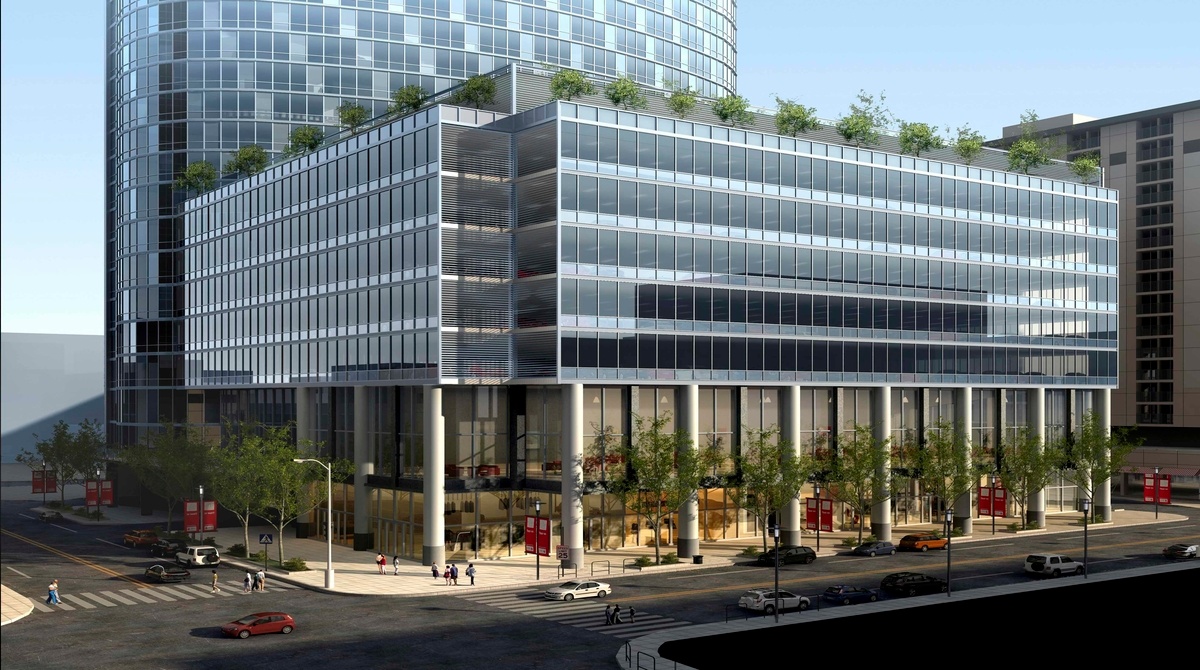 727 W. Madison
7. 727 W. Madison - The building will reach 472 feet to the top of its highest floor and 495 feet to its architectural pinnacle. This will be Chicago's tallest building west of the Kennedy Expressway when its completed in late 2018. It will include 492 rental apartments, 9,500 square feet of ground floor retail, and a 375 stall garage. The tower will be 44 stories high and will be known as One South Halsted.
It is a joint venture between Fifield Companies and F&F Realty and design work by FitzGerald Associates Architects. The tower will feature an ellipse-shaped tower that will be connected to an 80 foot boxy podium. The upper portion of the podium will have a metal and glass facade with a two toned spiral pattern. One South Halsted will be Chicago's tallest building west of the Kennedy. The project will cost $136 million. Lendlease will be the project's general contractor.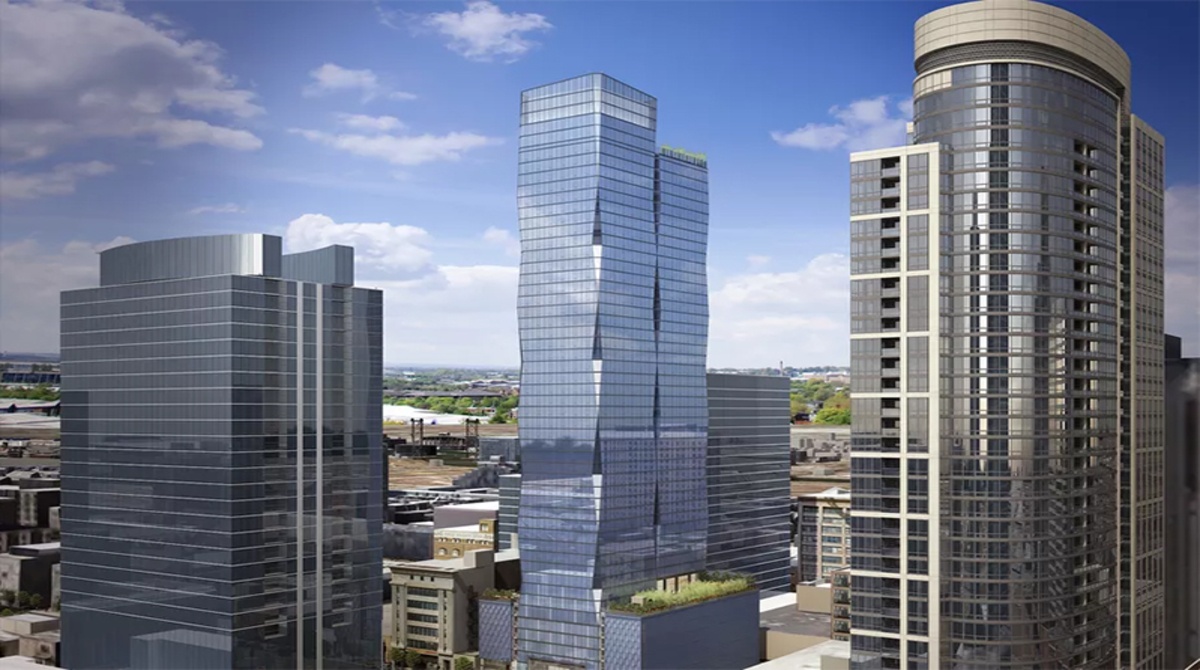 The Paragon
8. The Paragon - The 47 story high rise at 1326 S. Michigan Avenue will contain 500 rental units, 190 parking spaces and retail space. It is designed by SCB and is a joint venture between Chicago based Murphy Development Group and California's CIM Group and should open in the spring of 2019.
The project is estimated to cost over $119 million. The high rise is designed by Solomon Cordwell Buenz (SCB) and includes a dog park, rooftop pool and lounge spaces for residents. The general contractor is Walsh Construction and the development is expected to open in mid 2019.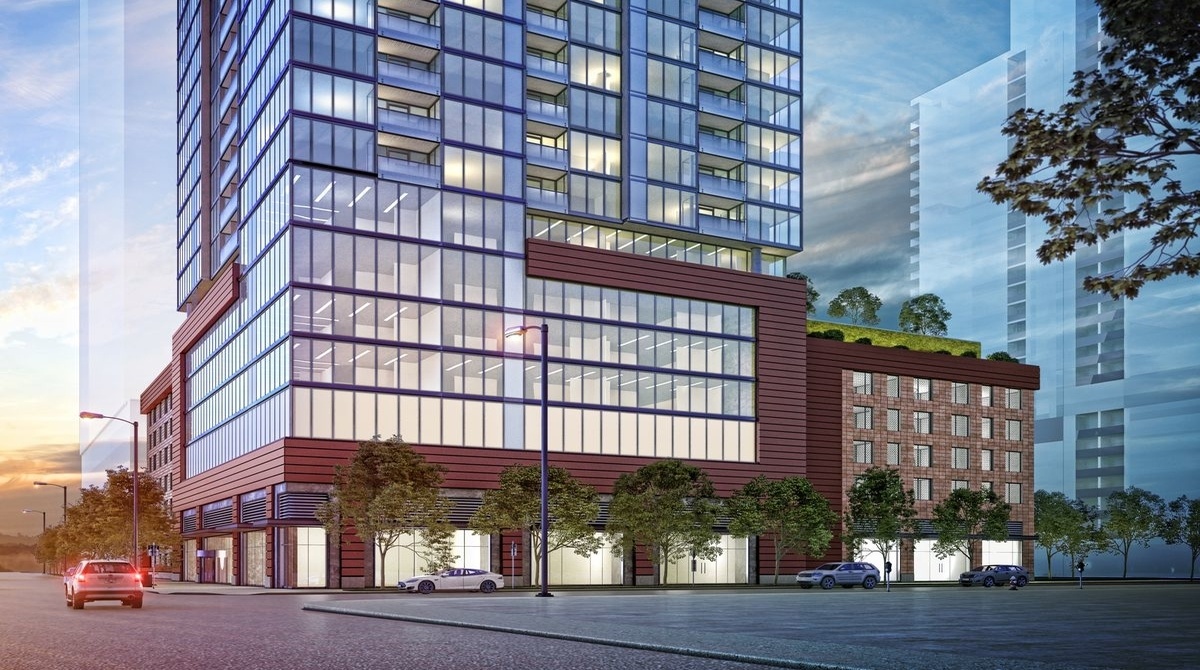 Old Town Park Phase 2
9. Old Town Park Phase 2 - This is the second of three high rises planned for the redevelopment of Chicago's 1970's era Atrium Village apartment complex into Old Town Park and is located at 202 W. Hill St.
The developer, Onni Group from British Columbia will start construction on a taller building to the south. Onni Group is also planning a third skyscraper to the west of the phase two building which will also have 39 stories.
This 39 story project is designed by The Hartshorne Plunkard Architecture and will include 428 residential units, a parking garage and ground floor retail space.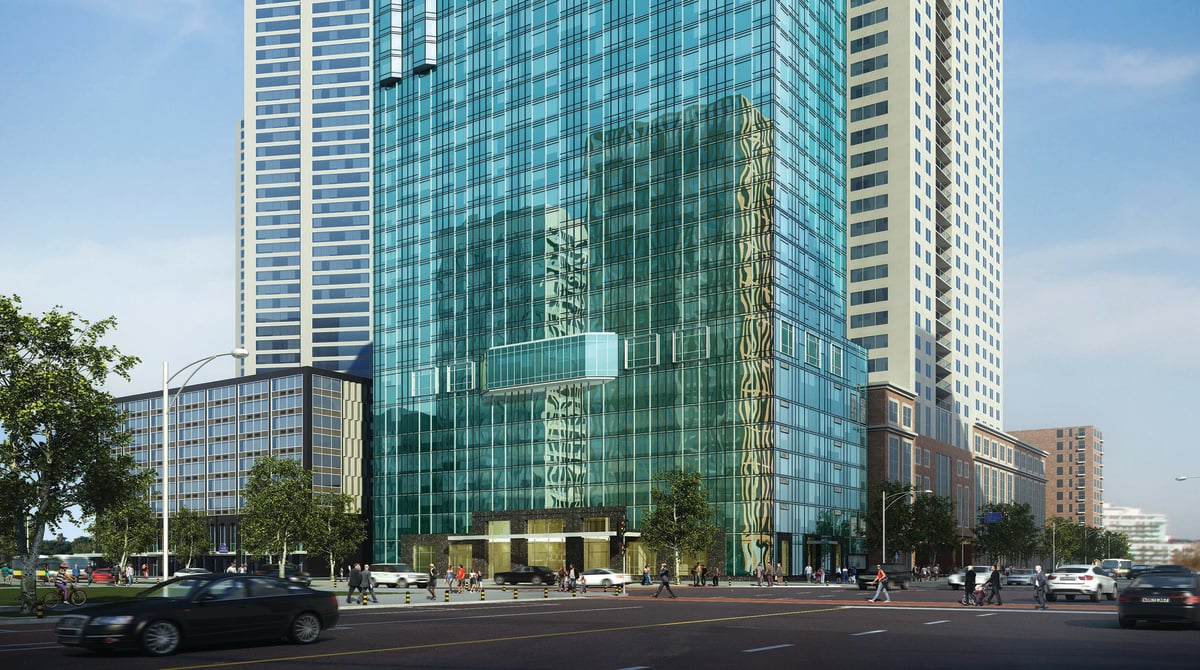 1101 S. Wabash
10. 1101 S. Wabash - This 30 story South Loop hotel development will include 342 guest rooms shared between a Hilton Homewood Suites and a Hilton Garden Inn. It is designed by Lothan Van Hook DeStefano and Pappageorge Haymes and will feature 3,500 square feet of retail and a garage for 57 cars.
The project is estimated to cost $15 million. Crews are now planting the 306 foot tower's subterranean roots. The Hinsdale based developer/Operator is SB Yen Management Group. The site was previously an unremarkable two story parking garage that was demolished in 2016.
Procore recently published a related piece called Architecture Firms in Chicago: 10 Of The Best
Looking for High Rise Construction Projects that are in the Early Design Phase or coming up for Bid?
Posted by Judy Lamelza