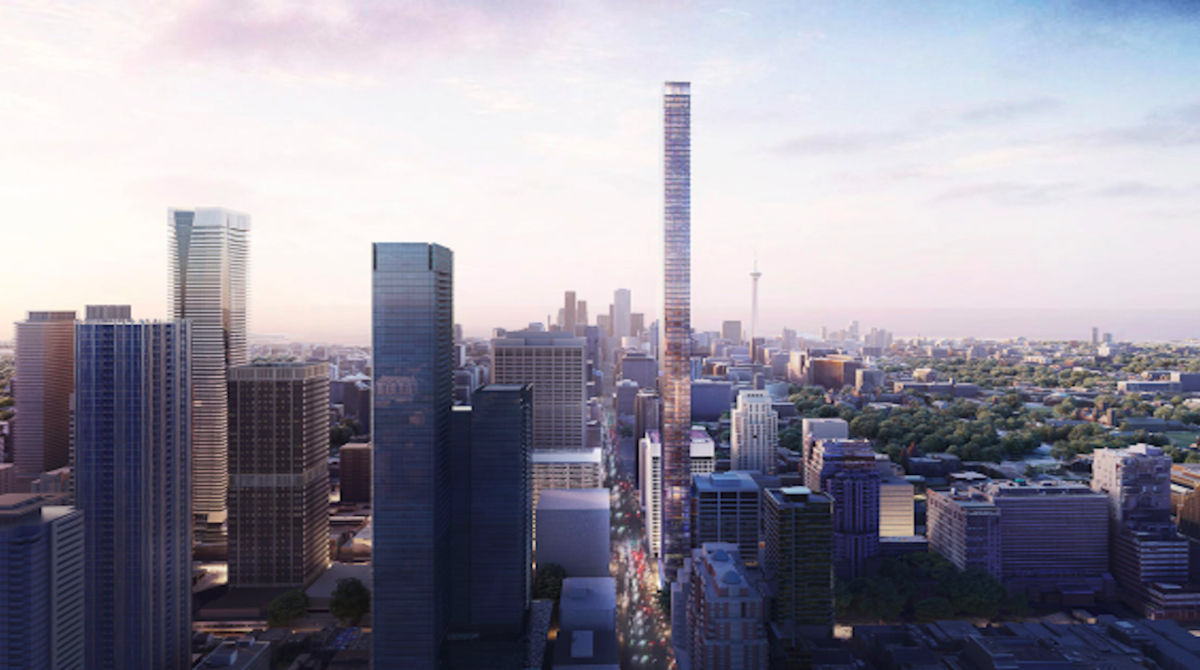 Uptown Toronto will be getting an 87 storey, mixed-use tower that is being proposed for Bay and Bloor. Dutch developers Kroonenberg Groep and ProWinko together with Herzog & de Meuron and with Quadrangle will be designing the tower at 1200 Bay Street. The rendering above is from architects Herzog & de Meuron.
According to an article from Urban Toronto, the slender tower would rise at the northwest corner of Bay and Bloor streets. There is currently a 12 storey office and retail building on the site.
The building would include the following features:
- 13 floors of office and retail space
- Topped by a private amenity level
- 332 condominium units spread across 64 floors
- Top floor of tower would house a restaurant
- Rentable space and a sky lounge are planned for top three storeys
- Provide unrivaled views of the region
- Double-skin glass facade would enclose the tower
- Exterior timber roller shades
- Outer layer of transparent, open-jointed glass
The tower will reach a height of 324 metres. This makes it the tallest in Canada if completed today, but falls five metres short of the planned 329 metre west tower at Mirvish+Gehry Toronto which is under construction right now.
This will be Herzog & de Meuron's first project in Toronto and also a first for Kroonenberg.
On-Site Magazine states that altogether, the building would include 332 condos and range from single bedroom units to multi-floor penthouse suites.
"This is an iconic block in the neighbourhood and Toronto at large. We have an opportunity to deliver a project that sets a new benchmark for design and strives to give something back to the city."
Owner of Kroonenberg Groep | Lesley Bamberger
Per Real Estate News Exchange, residents of the building will enter a triple-height lobby from Bloor Street at street level and take one of four elevators to their condo level. The project is in the early planning stages and still requires approval from the City of Toronto.
Kroonenberg Groep is an international developer, real estate investor and manager of retail space, workspace and residential space.
ProWinko is from the Netherlands and its portfolio consists of high quality real estate at top locations in major city centres. They are currently active in six countries (Canada, the Netherlands, Belgium, Portugal, Luxembourg and Switzerland.
Herzog & de Muron was established in Basel in 1978. They are an international team of nearly 500 collaborators including the two founders, five senior partners, eight partners and 42 associates that work on projects across Europe, the Americas and Asia.
They have designed a wide range of projects from private homes to large scale urban design. These include museums, stadiums, hospitals along with private projects such as offices, laboratories and apartment buildings.
DataBid is currently reporting on this project - 1200 Bay Street Mixed-Use - Toronto (0019060820)
Posted by Judy Lamelza