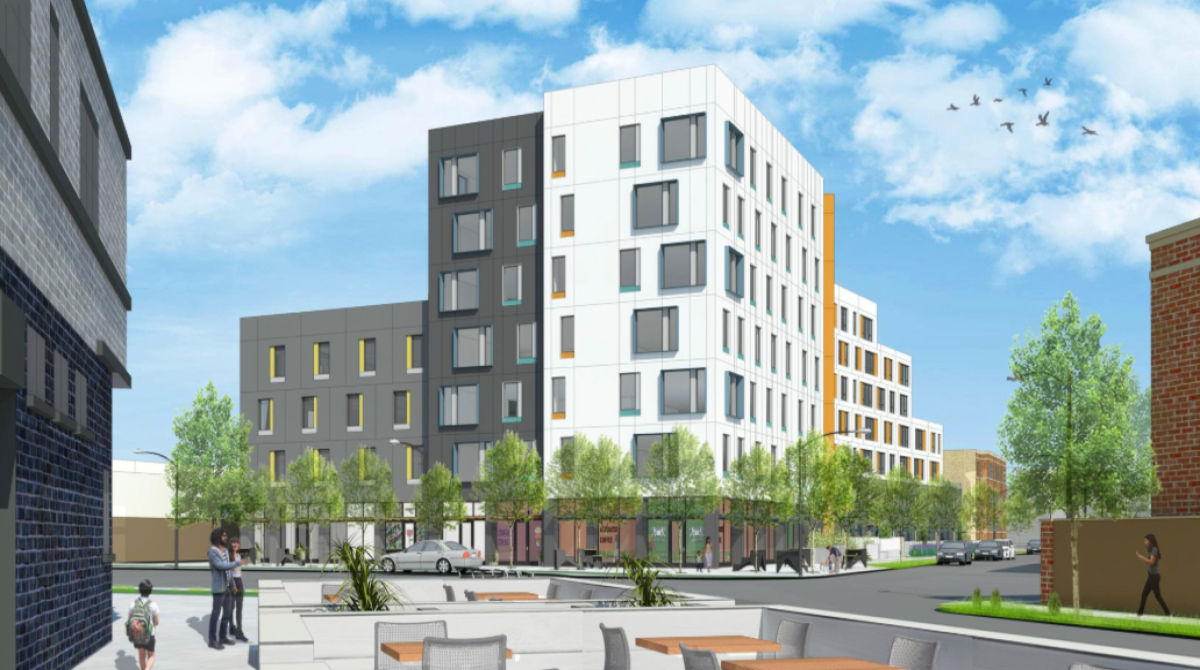 A long brewing proposal to build an all-affordable 100 unit apartment complex next to the Logan Square Blue Line station was granted approval by the Chicago Plan Commission according to Block Club Chicago.
The developer, Bickerdike Redevelopment Corporation has proposed a seven-story building on the site of a 1.43 acre parking lot that is owned by the city and is located at 2602-38 N. Emmett Street. A measure was also approved by the commission to sell the property to the developer for $1.
It has taken 5 years of planning and organizing by neighbors who were adamant about getting this affordable housing project in their community according to Alderman Carlos Ramirez-Rosa.
Looking for more Mixed-Use Projects in the Chicago area?
The development is estimated to cost $40.1 million and would draw on a range of public funding sources which would include the Chicago Housing Authority, tax-increment financing and low-income housing tax credits.
Half of the units would be set aside for Chicago Housing Authority voucher holders and the other half would be for people making less than 60 percent of area median income.
Bickerdike is striving to finalize its funding by next spring and break ground shortly after that according to CEO Joy Aruguete. The proposal still needs approval from the Community Development Commission and the City Council's committees on zoning, housing and finance before it can be approved by the full council.
Ramirez-Rosa and Mayor Lori Lightfoot are very confident that the plan will reach the finish line.
"The site of the development is a "unicorn of a property" because it's city-owned land located across the street from transit in a gentrifying community. Because the department values people over cars and because the department believes that we should use our tools to reduce segregation and not maintain it, the Department of Housing emphatically supports this project."
Chicago Dept. of Housing Commissioner | Marisa Novara
Per Chicago Curbed, If and when City Council approves this project, the seven story building could break ground in the spring of 2020 and is expected to be completed by 2021.
In addition to the 100 rental units, there will be ground floor commercial space, a community room, a small public plaza and parking for 20 vehicles. The architect is Chicago based Landon Bone Baker Architects.
DataBid is currently reporting on this project - Affordable Housing Complex & Commercial Space Logan Square - Chicago (0067040319)

Posted by Judy Lamelza