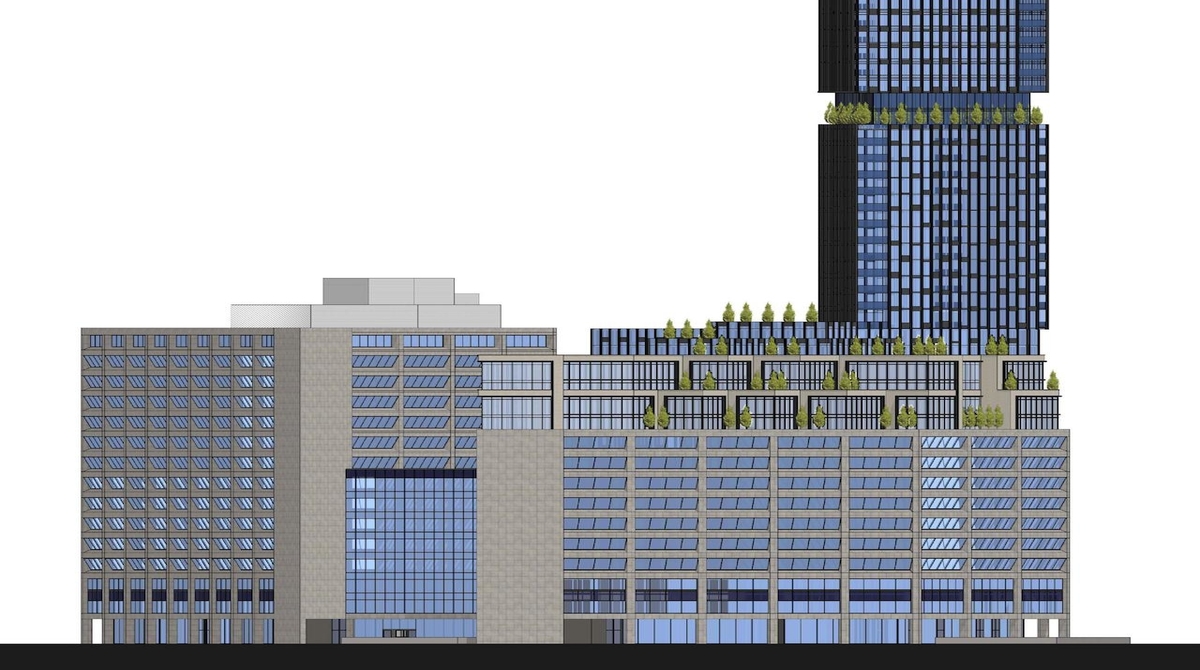 Toronto is a city that is mostly built-out already and people are constantly trying to come up with creative ideas to maximize land use. One answer has been to add on top of existing buildings. One such proposal was submitted by Northam Realty Advisors. They have applied for rezoning to build a condo tower on top of a corner of the Bell Trinity Square office complex at 483 Bay Street per Urban Toronto.
The architect is IBI Group and they have designed a 70 storey tower that is 226.63 metres in height and would include 590 condominium units.
The new tower would be situated on the southeast corner of the site, close to the intersection of Albert and James Streets. The tower was placed in this position so it would not interfere with view corridors related to heritage buildings including Old City Hall and New City Hall.

There was a similar tower that was placed above an existing office property and that was at 488 University Avenue.
Residents will access the tower by a new elevator and stair core located on the Trinity Square facade beyond the existing atrium which would connect with a 15th floor sky lobby via a bridging structure.
The features of these units are as follows:
- 590 units in a mix of 56 studios, 342 one-bedrooms, 118 two-bedrooms, and 74 three-bedrooms
- 1,189 m2 of indoor amenity spaces
- 1,095 m2 of outdoor amenity spaces
- 551 parking spaces
- 736 bicycle parking spaces
The parking spaces are in addition to those already available for the current office building.
Details regarding the proposed exterior materials or the engineering required to support the additional levels are not yet available.



Posted by Judy Lamelza