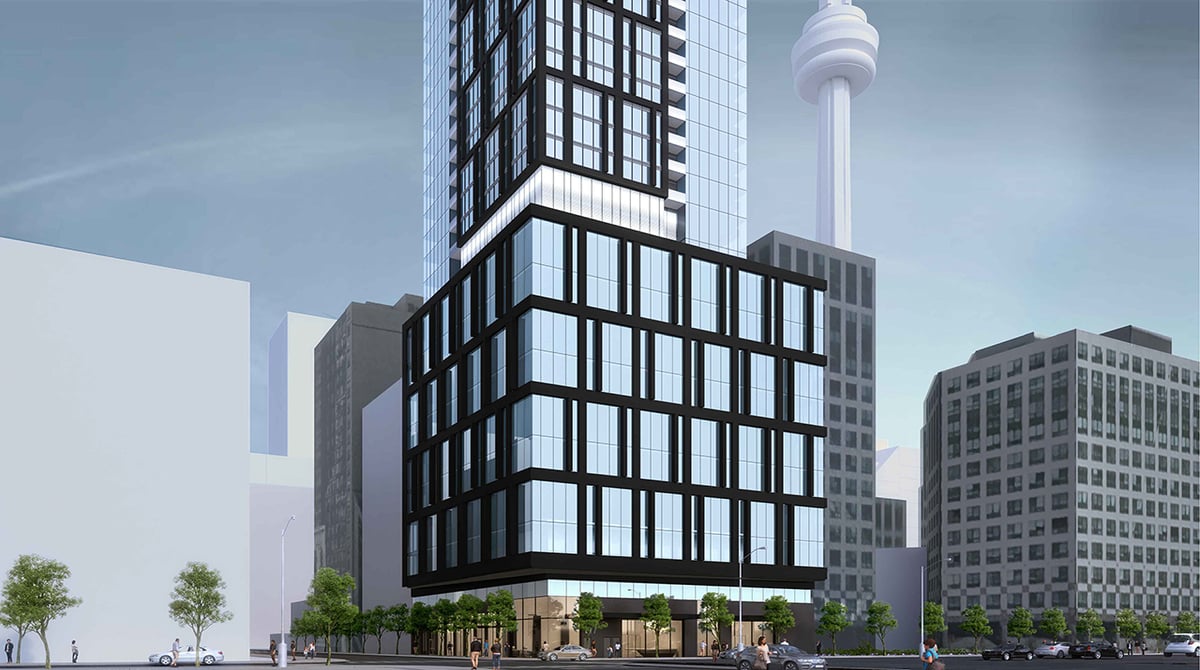 Reserve Properties, Westdale Properties and the Rockport Group have submitted a Zoning By-law Amendment to build a 66 storey mixed-use building at the southeast corner of Wellington Street and Blue Jays Way. (Rendering above courtesy of IBI Group and the City of Toronto)
An article in Toronto Storeys states that Reserve and Westdale are also the developers behind the Pharrell Williams-endorsed untitled Toronto project that is slated for Yonge and Eglinton.
At this time, the site at 277 Wellington Street is occupied by an existing 9 storey glass and steel office building which used to house the popular Cora's restaurant before it closed its doors due to the pandemic.
The proposed development consists of the following:
- Demolishing the existing office building
- Constructing the new 232.30 metre residential and commercial mixed-use building
- 116 square-metres of retail use at grade
- 9,169 square-metres of office space within the 9-storey podium
- 37,170 square-metres of residential gross floor area with the tower
- New landscaping treatments at ground level along Blue Jays Way and Wellington, including planter beds and outdoor furniture zones
The vertical tower portion would rise from the ninth floor and include various structural setbacks. The residential component would consist of:
- 645 condo units ranging from bachelor to larger two and three-bedrooms
- Consist of 54 bachelors, 376 1-bedrooms, 149 2-bedroms and 66 3-bedrooms
- House indoor and outdoor amenity spaces for residents
- 1,849 square-metres of indoor and outdoor amenity space would be on the 10th, 40th and 42nd floors
- 10th floor would also have a south-facing outdoor terrace that would connect to 226 square-metres of indoor amenity
- Outdoor dedicated play area for children that could be observed from the indoor amenity space
- Five levels of underground parking
- 93 parking spaces (71 of which would be for resident use)
- 22 spaces would be shared visitor and commercial spaces
- Car share services proposed for the garage
- 687 bicycle parking spaces
Livabl Market News reports that separate lobbies and elevator bays would be included for the office and residential portions off of Blue Jays Way.
Architectural drawings by IBI Group depict space for a spa, gym, games room, movie theatre, party room and co-working space from the 40th to 42nd floors.
According to Urban Toronto, exterior finishes include a main building envelope of blue-tinted glass, with silver-tinted glass accents, plus a syncopated grid of dark metal panels for articulation.
The ground floor would feature a mix of glass, dark gray stone panels and a metal canopy. The mid-tower amenity floors would feature clear glass.
DataBid is currently reporting on this project - 277 Wellington Street West Mixed Use - Toronto Entertainment District (0023010621)
Posted by Judy Lamelza