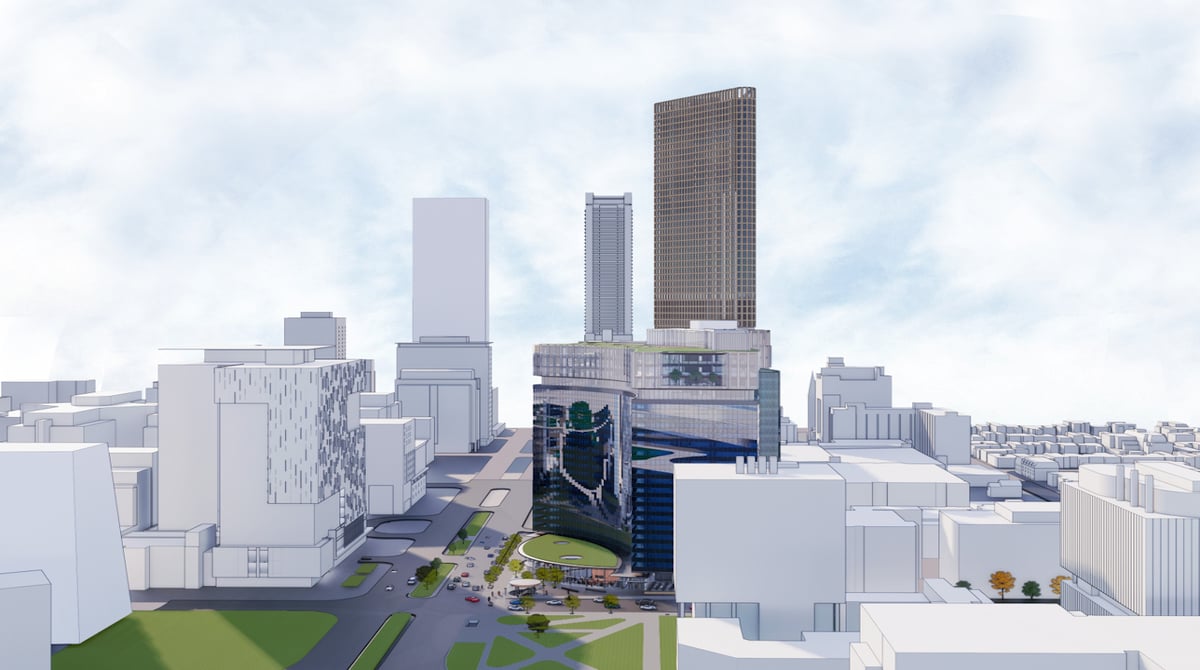 A 61 storey residential tower has been proposed for the Toronto intersection of University and College. A rezoning application was submitted last month to the Toronto City planners to build a 4 storey addition above an existing 19 storey office tower and a 61 storey purpose-built rental tower on the southwest corner of the site, formally known as 700 University Avenue, which is currently home to the Ontario Power Building. (Rendering above submitted to City of Toronto).
Toronto Storeys states that the site is 9,787 square metres and is bounded by College Street to the North, University Avenue to the East, Orde Street to the South, and the former Murray Street road allowance to the West.
The 19 storey Ontario Power Building is on the site now. The building is occupied by Ontario Power Generation and neighbouring hospitals. There is also a daycare facility, retail space, and an entrance to the Queen's Park TTC station and a sunken courtyard that provides public access to the building and the site's concourse levels.
The development when complete will include the following:
- 1.8 million square feet of gross floor area
- 111,322 square metres of office space
- 17,364 square metres of retail space
- 531 new purpose-built rental units
The project entails the following:
- Redeveloping the existing couryard
- Redeveloping the concourse
- Redeveloping the lower concourse levels to create a four-season public realm
- Create new, universal access to the ground plane of the existing office building and to Queen's Park subway station
- Widening of sidewalks running along the site
- New paving and tree planting
- Creating pedestrian seating areas
The development would also include the 61 storey residential tower at the rear of the site which would include:
- 531 rental suites
- 121 studios
- 230 one-bedroom units
- 127 two-bedroom units
- 53 three-bedroom units
The development would incorporate a number of sustainable building design measures by KPMB such as green roofing as well as high quality and durable materials that would ensure the longevity of the development.
A daycare centre on the second and third floors of the tower would also be included with a wraparound terrace for residential and office occupants. About 22,862 square feet of amenity space would be located throughout the tower with indoor and outdoor amenities included throughout levels 25 and 26.
There would also be a 4 storey vertical addition to the existing 19 storey office building. It would be 24.75 metres in height and including the upper mezzanine level, would result in a height of 24 storeys for the office building. The proposed addition would add 15,754 square metres of new office space in addition to the renovation of the existing office building.
The existing 488 off-site parking spaces would continue to be leased, while the project would add 11 new parking spaces at the lower concourse level and 722 bicycle parking spots.
DataBid is currently reporting on this project - 700 University Avenue Rental Tower - Toronto (0026082620)
Posted by Judy Lamelza