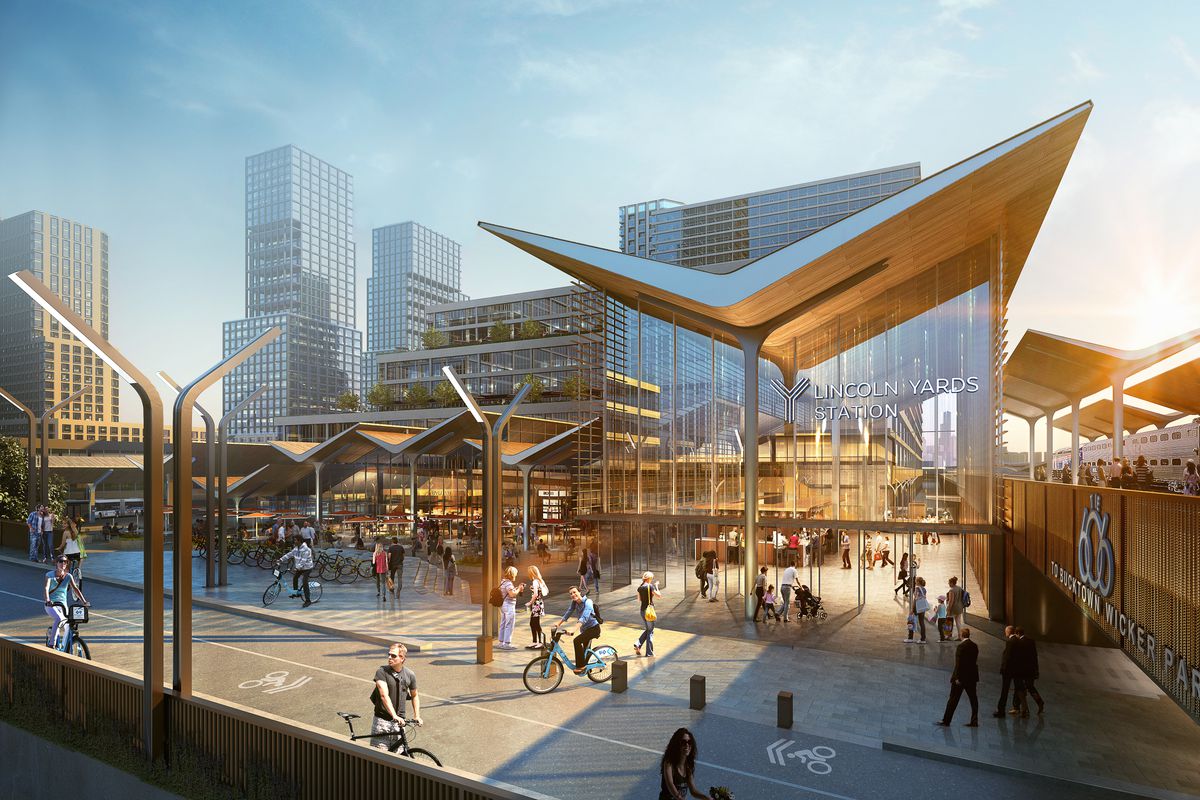 After years of planning and acquiring land, Sterling Bay officially had a public presentation Wednesday night of their massive $5 billion Lincoln Yards mega project according to Chicago Curb. This mixed-use plan calls for a complete transformation of nearly 53 acres of vacant land covering both banks of the Chicago River's North Branch Industrial Corridor.Sterling Bay's Managing Principal, Andy Gloor, said "very rarely do you get an opportunity to have a blank slate. A lot of times when you have a piece of land like this, you are pioneering a new area. This is very unique."
"This is a huge project that incorporates some astonishing numbers that are not often seen: 12 million square feet of buildings, 5,000 residential units, 23,000 on-site jobs, and at least 6,200 parking spaces."
Sterling Bay's Managing Principal | Andy Gloor
Sterling Bay's Erin Lavin Cabonargi stated that the average building height will be 300 feet and a few "icon buildings" could reach as high as 700-800 feet. Many local residents in attendance at the public presentation were shocked at those numbers.
Chicago architecture firm Skidmore, Owings & Merrill and Boston based CBT came up with the masterplan for this project. James Corner Field Operations will be doing the landscape design and have also designed New York's High Line and the Navy Pier's revamped promenade. The structures in the plan are organized around multiple public green spaces and step downward as you go toward the river for better physical and visual access to the river. Sterling Bay has separated Lincoln Yard into two pieces and each has a separate Planned Development application. The 29 acre "North" parcel which is on the former Finkl steel plant site will include most of the commercial and residential buildings in this project. Lincoln Yard's "South" parcel is situated at the city's old Fleet and Management Facility site and will be anchored by office space, retail, a Live Nation Entertainment complex and a United Soccer League stadium which will seat 20,000. The two parcels are both situated around an extension of Dominick Street from Armitage to Throop and a new north-south bridge will link the two.
Traffic conditions along Dominick Street will be greatly improved by the numerous roadway improvements that are included in this plan. Kingsbury Street will be realigned into a continuous through route. Approximately 3.5 acres will be committed to new roadways. The plans also call for the following:
- New pedestrian pathways
- Extension of the 606 trail
- Three water taxi stops
- Near term improvements to the existing Clybourn Metra platform
Long term goals will include city plans for a new transitway along Kingsbury and a new "multimodal" Metra station connecting rail commuters, CTA buses, cyclists and private shuttles. The proposal will set aside 13.5 acres for new park space, plazas and riverwalks and will include a new dog park and sledding hill as well as recreational fields.
Sterling Bay estimates the project could take 10 years to complete and will be built in phases.
According to the Chicago Sun Times, the developer has stated that once all of the businesses are in, the Lincoln Yards project could produce $4.2 billion in economic output annually, bringing in more than $38 million in revenue per year to the city. The City Council last year approved zoning changes opening up the area for office, retail and residential space. Sterling Bay filed papers with the city zoning administrator on Wednesday but they still need to put the plan before the City Plan Commission, Zoning Board and eventually the full City Council for approval.

Posted by Judy Lamelza