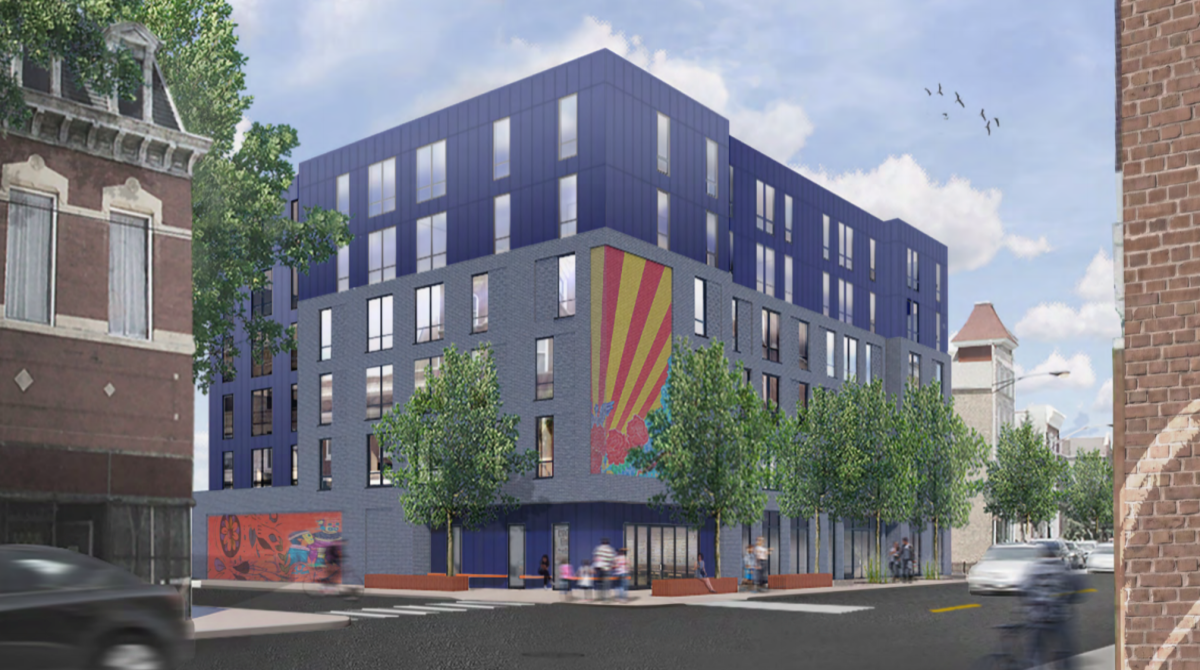 Alderman Byron Sigcho-Lopez just had a second meeting to discuss with residents the proposal for a six story, 45 unit affordable housing building for Pilsen. Many residents were concerned with the height of the building and what changes to the neighborhood the affordable housing might bring according to Block Club Chicago.
New renderings of the building were revealed by The Resurrection Project and Skender Construction. The 62 foot tall building will be located at 1850 S. Racine Avenue and will cost $20 million.
"This development is TRP's anti-displacement strategy. It's an opportunity to serve those families that we find are most vulnerable and most at risk of displacement."
Vice President of real estate at The Resurrection Project | Veronica Gonzalez
The building would include the following:
- Mix of 1, 2, and 3 bedroom apartments
- Income requirements would be between $17,000 and $50,000 per year
- 20 one-bedroom apartments
- 20 two-bedroom apartments
- Five 3-bedroom apartments
- Community room on first floor
- 31 parking spaces
There are currently 290 people on The Resurrection Project's waitlist and this unit breakdown reflects their needs.
One resident of the community, Nicholas Brown, spoke at the meeting about his fear that the height of the building would set off a gold rush on 18th Street and a domino effect along Racine and would encourage more developers to come in and build large scale developments. He feared this would change the character of the neighborhood.
The lead architect with Skender Construction, Angela Spadoni, stated that the design team created the building to be distinct but compatible with the neighborhood. The masonry and panel building was inspired by nearby buildings.
The building's design would include a prominent mural facing Racine Avenue along with benches and planters to create an inviting community experience.

Gonzalez also stated that there are other affordable housing developments of similar scale and density within a half mile of this project.
The Alderman's office is also working with the Chicago Metropolitan Agency for Planning to address existing parking concerns.
Alderman Byron Sigcho-Lopez has not decided if he will approve this project and will take the resident's concerns under consideration.
The Resurrection Project officials hope to submit a zoning application next month and begin applying for state and federal funding to build the project between September and February 2020. If approved, construction could begin in May 2021 and units could begin leasing by spring of 2022.
Per Chicago Sun Times, the Resurrection Project, which is a well-connected Pilsen nonprofit founded in 1990, purchased the property in 2018 for $1 million from Patrick Heneghan, president of Heneghan Wrecking.
According to Block Club Chicago, under the city's 2018 affordable housing rent limits, a one-bedroom for a family making 30 percent of the area median income would rent for $438, while someone making 60 percent of the area median income would pay $914.
A two-bedroom unit at 30 percent of the area median income would be $526, compared with $1,096 at 60 percent. A three-bedroom apartment would be $629 at 30 percent of the area median income versus $1,264 at 60 percent.
Skender is currently working with Sterling Bay to create affordable housing units in West Humboldt Park.
DataBid is currently reporting on this project - The Resurrection Project Affordable Housing Apartment Building Pilsen - Chicago (0069071619)
Posted by Judy Lamelza