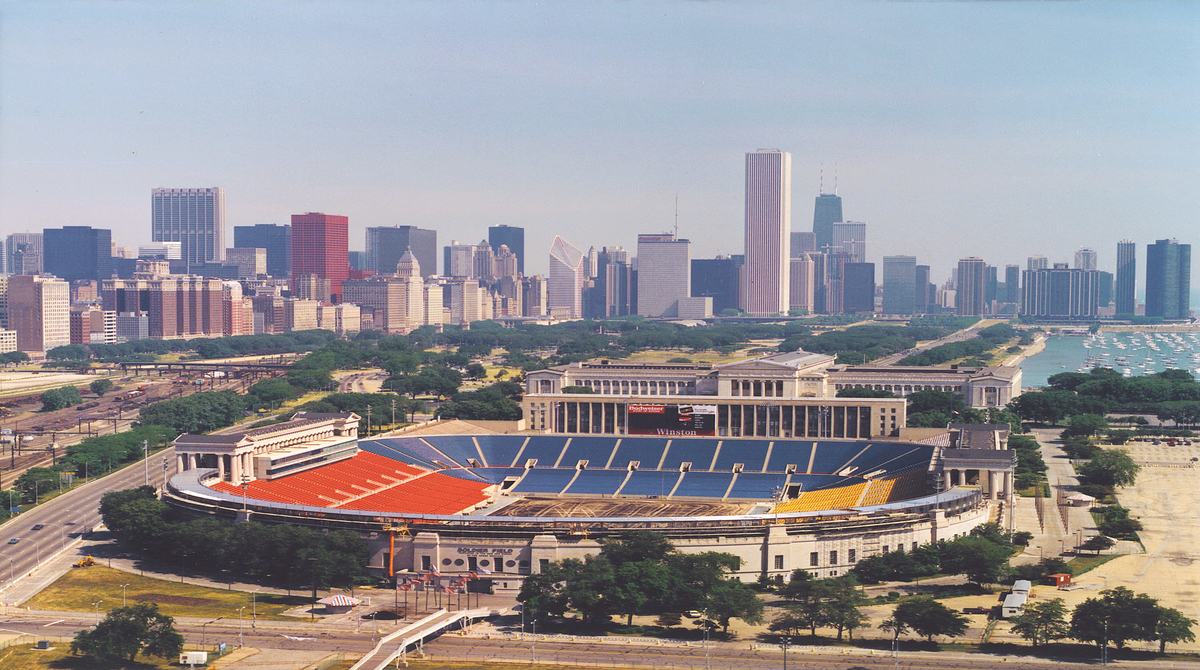 A massive plan to build a 34 acre, mixed-use development above the Metra Electric tracks west of Lake Shore Drive and Soldier Field is getting ready to move forward per Chicago Curbed.
This multi billion dollar project will stretch from McFetridge Drive to north of McCormick Place. It comes from Landmark Development which is a venture led by developer Bob Dunn from Wisconsin and includes local partner Gerald Fogelson who controls the air rights above these tracks.
This project was first introduced in 2008 when Fogelson was planning a 3,000 residence, 500 hotel room development above the tracks. In 2013, the Chicago developer was looking for partners to bring his Near South Side vision to life. It was then known as the Gateway project.
The new proposal could face competition from other large projects including a massive proposal slated for the nearby site of the old Michael Reese Hospital. This project is different than other massive developments because it will not require the use of controversial tax-increment financing.
Since the cost and engineering involved to cap the existing tracks will be enormous, the proposal will need to be very large for the developers to turn a profit. The project will make its official debut at a public meeting next month. It will be hosted by 3rd Ward Alderman Pat Dowell.
The major question regarding this project is whether there is enough demand in Chicago for another near-downtown mixed-use mega-development.

According to Crain's Chicago Business, the air rights over the tracks were acquired more than 20 years ago by Gerald Fogelson who built the huge Central Station residential complex just to the north, south and east of Roosevelt Road and Michigan Avenue. Fogelson had wanted to develop the adjacent air rights property himself as a sort of Central Station 2.0, and as late as 2015 was looking for a partner. He then had a plan for a $3 billion project which included 3,000 apartments and 500 hotel rooms.
Fogelson's plans never materialized and a new group named Landmark Development emerged with Fogelson still involved but Dunn, who is president of Milwaukee-based Hammes, now serving as lead developer.
The local alderman, Pat Dowell, will present the proposal at a public meeting on March 13 and while she wants to hear what the local residents have to say, she also believes that the plans are very impressive.
Some sources have said that this project could provide the opportunity for more retail, entertainment and other growth near the convention center. This project would resemble Millennium Park which is also a multilayer deck over commuter rail tracks, only with residences and offices on top, rather than greenery.
Developers have also expressed interest in having some sort of rail link from this property to downtown. It could extend to McCormick Place or further south. This could include reconstructing Metra's decaying 18th Street station and getting the commuter rail agency to add more frequent service or constructing a new line. This could turn the 18th Street station into a transit center for the mid-South Side lakefront.
Learn About All the Mixed-use Projects Coming Up for Bid with a Free Trial from DataBid
Posted by Judy Lamelza