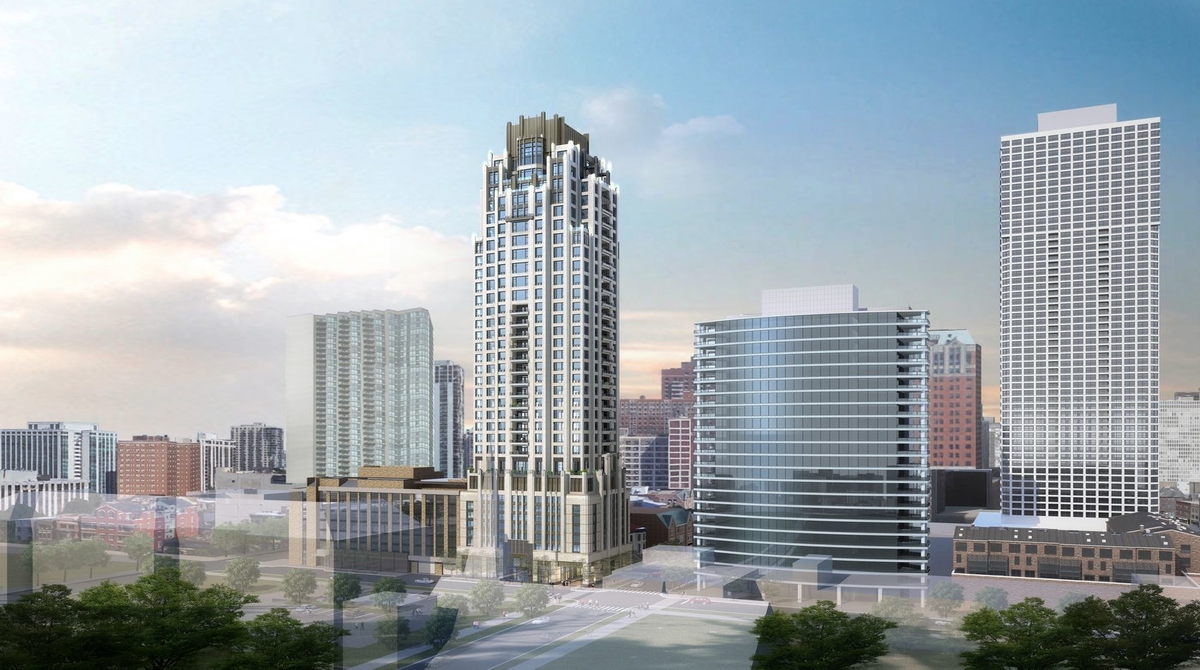 New York developer Nahla Capital together with Lagrange Property Group have proposed a 34 story condominium tower for the northwest corner of Oak and Dearborn Streets in Chicago's Gold Coast. It will be located at 40 W. Oak and will replace a parking ramp that is attached to the Warren Barr rehabilitation center according to Chicago Curbed.
Architect Lucien Lagrange stated that the design is somewhat toned down from its earlier renderings last year but still features many elements of the French born architect's signature style with its stepped corners, ornamental balconies, vertical buttresses and a sculpted crown.
The building will rise just over 500 feet and will feature only 90 high-end condo units. There will be 160 parking spaces with 50 spots reserved for the Warren Barr facility next door. Residential load will take place in a porte-cochere with an entrance on Dearborn and an exit onto westbound Oak Street.
Due to the height of the tower, it will be required to go through the city's Planned Development process. The developer will need to get city approval and also approval from 2nd Ward Alderman Brian Hopkins.

The development will contribute $4.6 million into Chicago's Neighborhood Opportunity Fund.
Per Crain's Chicago Business, Nahla Capital wants to enter a downtown residential market that has favored apartments for the past several years. Condo development plunged after the recession and has never fully come back, even though demand has been strong for new condos in buildings at the very top of the market.
Recently even the high end has become more competitive as more developers have tried to cater to wealthy buyers. About 70 to 80 percent of all new downtown condos for sale are priced at more than $700 per square foot according to Gail Lissner, managing director in the Chicago office of Integra Realty Resources.
Gail Lissner stated that the site for this project is in an excellent Gold Coast location and should be a very strong competitor in the new development market.
Nahla describes itself as a real estate private-equity firm that manages and invests capital for global private clients in core urban markets in the United States. It has investments in residential buildings in New York, retail properties in Los Angeles and an office tower in Philadelphia. This will be its first venture in Chicago.
DataBid is currently reporting on this project - 40 W Oak Street Luxury High Rise Condominium Development Gold Coast - Chicago (0010091919)

Posted by Judy Lamelza