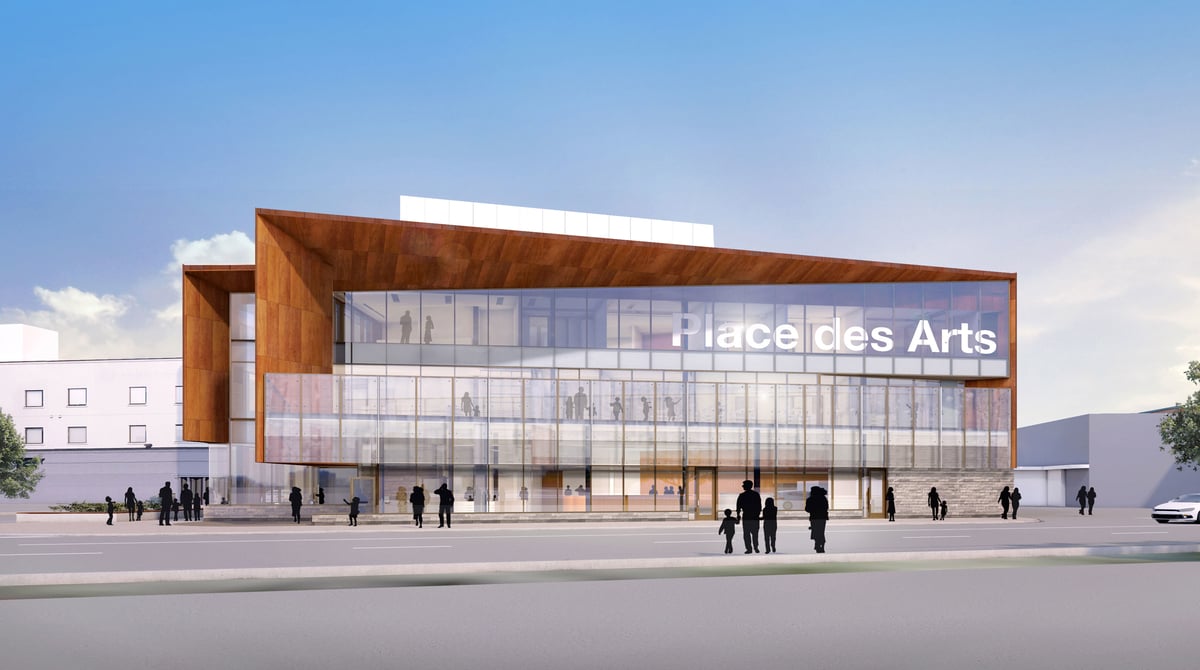 Construction is starting the week of August 5th on Place des Arts located on a former parking lot at the corner of Larch Street and Elgin Street in downtown Sudbury. This is the second phase of the project and involves constructing the building for Northern Ontario's first multidisciplinary centre of artistic excellence per MA Place des Arts.
"With the preparation of the site last fall, we have the ground all ready for us to start construction now. The start of construction is the culmination of 20 months of intense and inspiring design development sessions with architects Yallowega Belanger Salach Architecture and Moriyama & Teshima Architects. The project will incorporate precious relics from the past and a public art installation by Lise Beaudry into the interior architectural design. It's very exciting to be embarking on the home stretch."
President of Place des Arts | Stephane Gauthier
The building will include the following features:
- Will house eight french language cultural organizations
- Building will have bold, dynamic lines in a bright, modern design.
- Partly covered with corten steel with colours reminiscent of Northern Ontario ore
- 40,000 square feet of floor space
- Arts centre will house a concert hall with 300 seats
- 120 seat multifunctional studio
- Bistro with sidewalk terrace
- Gift boutique/bookstore
- Early childhood arts centre with playground
- Nearly 10,000 square feet of office and collaborative workspace
The contract to build Place des Arts was awarded to HEIN after a competitive public tendering process. HEIN has more than 30 years of experience in construction and specializes in institutional and commercial sectors. HEIN will be hiring subcontractors, some of which will be local companies. Construction spinoffs are estimated at $18.7 million and will create nearly 180 jobs by the time the construction is completed at the end of 2020.
Looking for more Local Ontario Projects?
Place des Arts is a $30 million project and is supported by Canadian Heritage, FedNor, the Northern Ontario Heritage Fund Corporation, the Ministry of Tourism, Culture and Sport, the City of Greater Sudbury and many community partners.
According to Northern Ontario Business, Place des Arts is expected to host 850 events in the first year and generate 50,000 admissions. Belanger Construction has been in business in Northern Ontario for 50 years. During that time, they have completed hundreds of projects and built strong relationships with many clients, including the City of Greater Sudbury.
Per Greater Grand Sudbury, the audience for Francophone cultural activities in Greater Sudbury has been increasing in recent decades and existing facilities no longer meet the needs of artists or the demands of a growing audience. Place des Arts will address the critical arts infrastructure shortage and provide a home for the project's seven founding organizations.
See DataBid Blog titled: Construction of Place des Arts to begin in Sudbury
See DataBid Blog titled: Place des Arts Centre being built in Sudbury
DataBid is currently reporting on this project: La Place des Arts du Grand Sudbury (0020072518)

Posted by Judy Lamelza