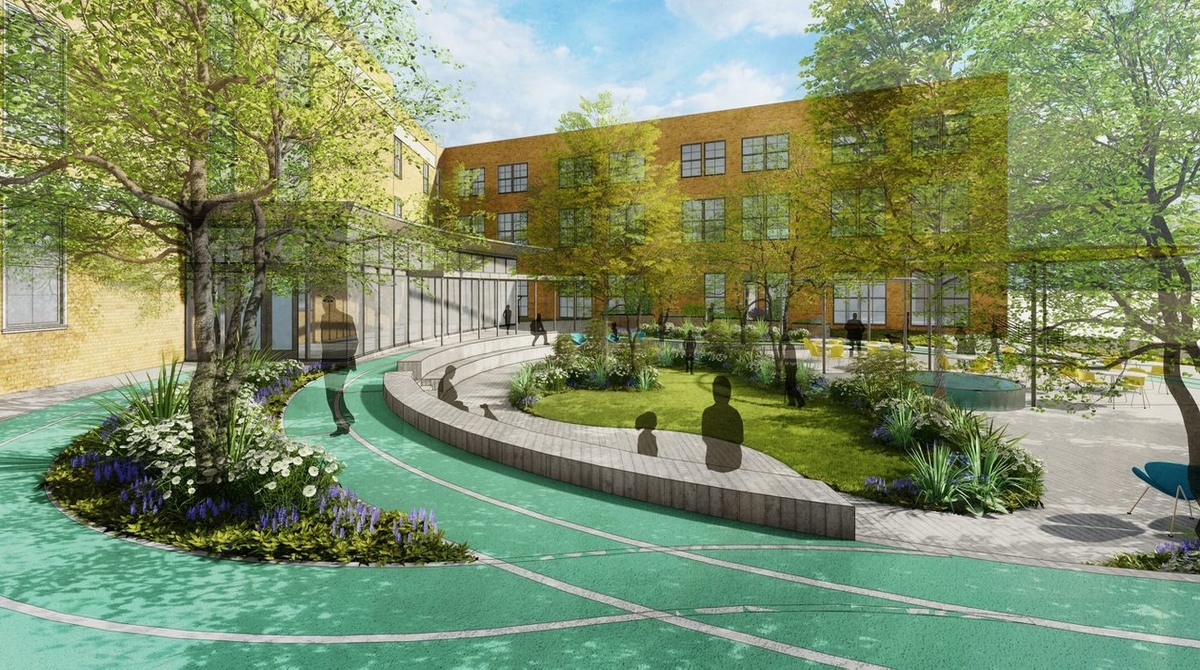 Alden Foundation and Artspace, two mission-based developers have proposed a new Rogers Park project that would provide senior housing for the LGBTQ community and also an artist live/work space at the corner of Ashland Avenue and Howard Street per Block Club Chicago.
The location at 7519 N. Ashland Avenue is a city-owned lot that is currently a community garden. The $30 million project would include 81 apartments. Only four would be market-rate while the rest will be for those making less than the Chicago median income or with Chicago Housing Authority vouchers. The income requirements are as follows:
- $62,400 for one person
- $71,300 for a family of two
- $80,200 for a family of three
- $89,100 for a family of four
Both developers unveiled their plans for the project at a community meeting Tuesday hosted by Alderman Maria Hadden.
Plans call for a five-story, 96,600 square foot complex that will have two wings, one for the artists' space and one for the senior living center.
The following features will also be included:
- 65 apartments for people aged 55 and older
- 15 apartments for artists to live and work
- One apartment for an on-site maintenance engineer
- Four apartments would be designated as market-rate
- Twelve apartments would be for those with housing vouchers which would allow seniors to pay 30 percent of their income towards their rent.
- Remaining units will be available for seniors or artists making 30, 50 or 60 percent of the Chicago-area median income
- 3,500 square feet of ground floor commercial space
- 34 parking spaces
Rents would range from $358 to $1,400 per month according to the developers.
Since federal law doesn't allow developers to exclusively provide housing to any one group, the facility will instead offer an open and welcoming environment for LGBTQ seniors.

The developers will partner with Howard Brown Health to provide programming and services for that population.
Work is expected to start in the spring of 2021 and be move-in ready by the summer of 2022.
According to Rogers Park Business Alliance, the co-developers are requesting the city-owned property at Howard and Ashland for $1 in exchange for the public benefit of developing 76 additional units of affordable housing. They will further finance this project by applying for an annual allocation of $1,215,108 of the Chicago Low Income Housing Trust Fund subsidy, $1,300,000 in Chicago HOME funds, and $1,250,000 in Illinois Housing Development Authority tax credits. Also, the developer has applied to secure 12 units for CHA voucher holders for a term of 30 years.
The purchase of this vacant lot will put it back on the tax roles and will eventually reduce the tax burden on property owners. It is anticipated to generate $111,506 in property tax revenues every year - most of which will go to our public schools.
DataBid is currently reporting on this project - 7519 N. Ashland Avenue Senior Housing & Artist Live/Work Development Rogers Park - Chicago (0035111319)

Posted by Judy Lamelza