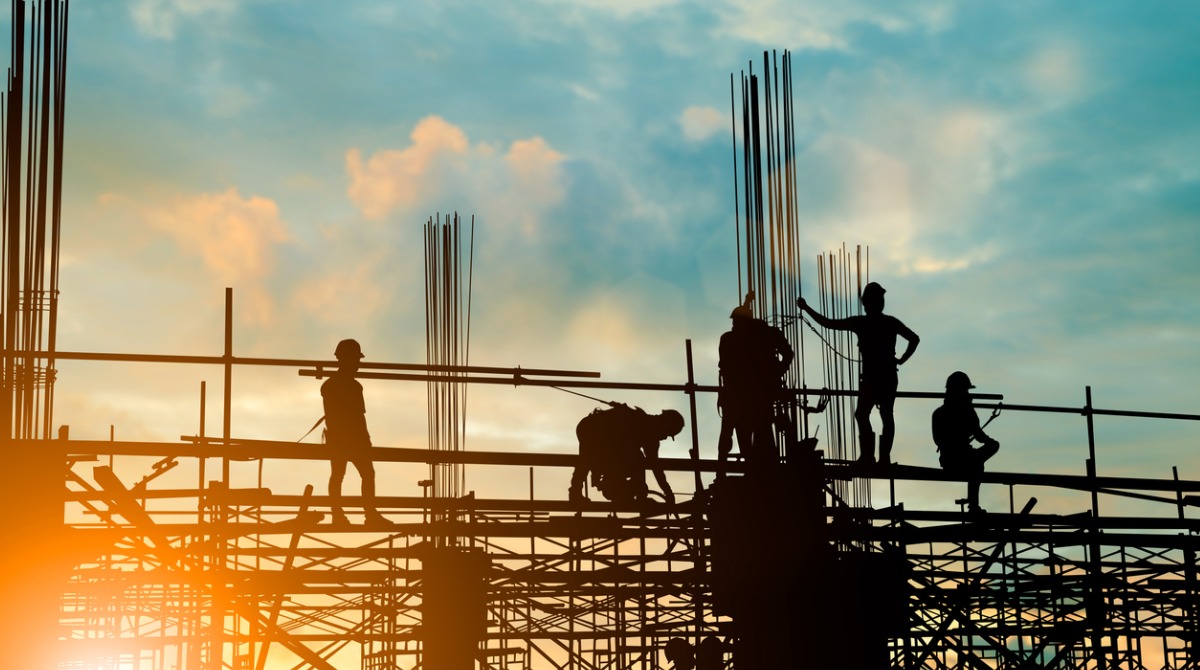 As the construction industry moves into a different phase of living with the pandemic, they are now faced with additional complications that have been amplified by the continuing effects of the past few years.
The construction industry and especially general contractors are now facing the following major problems:
- Workforce shortages
- Supply Chain Issues
- Inflation Challenges
"It is no secret that there are pressure points on our industry right now. The challenges we've faced the last couple years around supply chain disruption and rising materials and labor costs have only escalated, making planning and budgeting for projects incredibly unpredictable. In some cases, increases are as high as 10 percent in a span of just six months."
General Manager & Senior Vice President Lendlease Construction | Kinjal Patell
RE Business reports that despite these challenges, general contractors maintain robust pipelines and anticipate that this year's revenues will exceed last year's totals.
"Last year, there was a lot of uncertainty as we were still in the process of rebounding from COVID, and construction deals were just finding their legs. Our backlog today is better than the corresponding time a year ago as deals have continued to push forward. We forecast 2022 to be a better year than 2021."
President of McHugh Construction | Michael Meagher
Meagher anticipates that McHugh's revenues will be more than 30 percent above last year's total. But he does raise a cautionary note, as inflation and rising interest rates are making it harder for projects to pencil out and for developers to secure financing.
Patel sees material pricing as the top challenge for builders today and the main reason is that there is so much unpredictability.
The producer price index for new nonresidential building construction -- a measure of the price that contractors say they would bid to build a fixed set of buildings -- increased 19.8 percent year over year in June, costs rose faster than bid prices for a variety of inputs in the index, including:
- Diesel fuel
- Prepared asphalt
- Concrete products
- Plastic construction products
- Insulation materials
Patel stated that the most important strategy for dealing with price escalations is communication.
"If we hear from our suppliers that prices are shifting, we communicate that to our clients and let them know that we might want to look at that element of the project again for another round of budgeting. Another tactic is early awards. We're also pushing the client and architect to propose design concepts sooner than they would have in the past. This approach lets us bid and award the project earlier to lock in the supply chain and pricing."
General Manager & Senior Vice President Lendlease Construction | Kinjal Patell
Lendlease is building The Reed at Southbank in Chicago. This is a 41-story luxury residential development with 216 condominium units and 224 apartment units. Lendlease topped out the tower in July and the project is scheduled for completion in 2023.
According to Patel, Lendlease has experienced some projects being put on hold due to economic uncertainty. Still, the company's pipeline is full and its outlook for the remainder of the year looks optimistic.
Ira Singer, founder and COO of Northbrook, Illinois-based Mosaic Construction, stated that in addition to preliminary budget estimates, his firm is providing clients with updated pricing and revised timing on a more frequent basis. This process enables more points where clients can make educated decisions based on item costs and timelines.
Mosaic includes language in their contract proposals to protect against price increases from the bidding stage to the contract stage. Singer stated that the faster a client can decide on a trade supplier and approve orders and purchases, the more effective they can be with holding the price.
Mosaic is currently performing a lot of work for Expansive Coworking in Chicago, Milwaukee and Minneapolis. Mosaic's sister company, Cannabis Facility Construction, specializes in the marijuana sector, including the construction of indoor cultivation facilities, processing labs and retail dispensaries.
Singer also stated that supply chain issues are by far the biggest challenge for builders in today's market.
"A material or equipment item today could be $5 with a lead time of two weeks. If we look tomorrow, it could be $25 with a six-week lead time. There is no warning or indication of this fluctuation. There are never-before-seen lead times eclipsing 52 weeks on certain products such as appliances. Other significant delays include the lead time for the delivery of materials to erect steel buildings, hovering around 36 to 40 week lead times."
Founder & COO of Mosaic Construction | Ira Singer
Mosaic is trying to alleviate this problem as much as possible by preordering equipment immediately when available, or even resequencing parts of projects that would normally be in a different order.
Novi, Michigan-based Oliver/Hatcher Construction has also taken this approach. On its most recent logistics center project, the firm flipped its building model to construct from the inside out according to company president Paul Hatcher. He stated that the precast walls are normally installed first, but due to delays that resequenced their schedule to start with the installation of the available steel.
Hatcher believes that material shortages are the biggest challenge today and that communication and collaboration between all parties is even more important as they look for alternative materials, equipment and means of construction that could save time in the schedule, costs or both.
Supply chain disruptions are one of the biggest challenges because they drive a domino effect that leads to higher material prices.
"Construction has relied more heavily on global manufacturers for building materials who have been impacted by travel restrictions and labor shortages. We advise owners and developers to get projects underway sooner than later, considering today's inflationary pressure and anticipated interest rate increases. We also provide recommendations for equivalent domestically sourced materials as alternatives to foreign products."
President of McHugh Construction | Michael Meagher
McHugh has several mid and high-rise multifamily projects underway in Chicago, including 1000M, a 73-story building located at 1000 S. Michigan Ave. designed by the late Helmut Jahn. Unique projects underway by McHugh include FanDuel Sportsbook, a new sports wagering lounge at Chicago's United Center, and Ramova Theater, the historic renovation of a theater and buildout of adjacent space for a new brewery and restaurant in Chicago's Bridgeport neighborhood.
Howard Green, executive vice president with Rosemont, Illinois-based Meridian Design Build, believes that labor is the biggest challenge for general contractors currently.
LOOKING FOR MORE PROJECTS IN THE CHICAGO AREA?
Meridian is currently working on an extensive project that will convert a 907,500 sf industrial building that was completed on a speculative basis for Clarius Partners in Joliet last year into an electric vehicle manufacturing plant for Lion Electric. The project involves the addition of interior mezzanine levels, more than 85,000 sf of office space, a 1,000 car employee parking lot and modifications to the building shell to accommodate vehicle assembly lines.
They also have five ground-up, build-to-suit projects underway across three states for a package handling company and nine speculative industrial buildings for seven developer clients totaling more than 2.5 million square feet.
Jim Brucato, president and owner of Principle Construction Corp. in Rosemont, Illinois, also states that labor presents the biggest challenge today.
"Lack of labor is a large part of why commodity prices have skyrocketed. Manufacturers of certain materials have actually been forced to reduce their weekly production output because they do not have adequate labor to effectively produce for an entire 40 hour week. This has exacerbated the imbalance of supply and demand, which always leads to increased costs."
President & Owner of Principle Construction Corp. | Jim Brucato
Brucato stated his firm has learned to think not only "outside the box" but "way outside the box" when it comes to finding alternative solutions to deal with labor and materials shortages.
Singer says he sees the skilled labor pool tightening and to keep projects moving forward, Mosaic has to keep a deep bench of trade and supplier resources on call in order to find backups or alternative solutions.
The unemployment rate along job seekers with construction experience fell from 7.5 percent in June 2021 to 3.7 percent in June 2022, the lowest rate for the month of June in the 23-year history of data from the AGC.
Lendlease supports organizations like HIRE360, which seeks to expand employment and advancement opportunities for under-represented populations pursuing careers in the trades.
Posted by Judy Lamelza