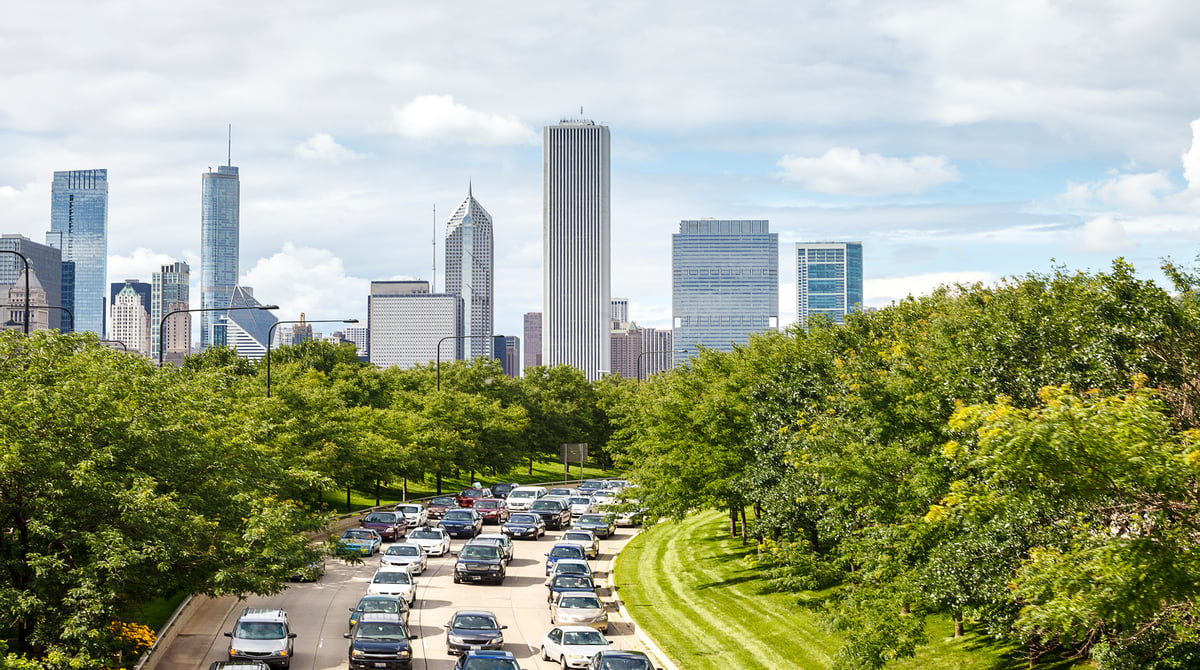 The Illinois DOT and Governor Pritzker this week revealed their $23.5 billion, six year Rebuild Illinois program. The Multi-Year Improvement Program will include maintenance, preservation and expansion of more than 4,212 miles of roadways and 9.2 million miles of bridge deck across Illinois per Construction Dive.
The state plans to focus on the following major areas:
- $7.6 billion for road reconstruction and preservation
- Almost $5 billion for bridge replacement and repair
- $1.6 billion for safety and system modernization including interchange reconstruction
- $3.1 billion for expansion
- $2.1 billion for support activities like engineering and land acquisition
The state will set aside 75% of the program funds for maintenance and preservation which is a lot different from how Illinois used to handle surface transportation infrastructure which unfortunately was to wait until assets were crumbling and then replacing them.
The federal government will contribute almost $9.1 billion to the Rebuild Illinois Program which is approximately 40% of the entire estimated cost. Bond issues, as well as state and local funds, will pay for the balance.

The following are some of the major projects that are planned under the current Multi-Year Program:
- $1.2 billion - Reconstruction of 16 miles between I-80 and the Lincoln Highway (US 30) in the Illinois cities of Joliet, New Lenox and Minooka. Work will also include two new bridges, new auxiliary lanes and interchanges; other bridge work; utility adjustments and construction engineering.
- $561 million - Reconstruction along 2.1 miles of the Kennedy Expressway (I-190/I-90) in Chicago and Rosemont, Illinois. The project also includes the construction of auxiliary lanes engineering for contract plans, construction engineering and utility work.
- $210 million - Reconstruction of 4 miles at I-90/I-94 at the Jane Byrne Interchange (I-290/Congress Parkway) in Chicago. The work also includes bridge replacement, removal and demolition; ramp modifications; retaining walls; noise barriers; lighting; landscaping; drainage upgrades, ADA improvements and construction engineering.
- $181.4 million - Interchange construction at Illinois 126 in Romeoville, Illinois. This project also includes engineering, land acquisition and utility work.
According to Governing, Governor Pritzker and the DOT is taking every precaution to make sure that every dollar that gets spent in this capital plan is done completely above board and done the right way and with taxpayers in mind. This extra precaution is taking place because of the federal raid on state Senator Martin Sandoval's Springfield and Cicero offices and his home. The federal search warrant stated among other things agents were looking for communications with several Illinois Department of Transportation officials. No subpoenas have been issued to IDOT. However, some Republicans have used the raid as justification to try to repeal the gas tax increase.
The primary revenue source for the expanded road plan is the gasoline tax lawmakers doubled last spring from 19 cents a gallon to 38 cents a gallon. This highway program will put thousands of people to work across the state.
The Springfield area will see quite a few large projects in the following counties:
- Sangamon County
- Montgomery County
- Logan County
- Mason County
Per the Chicago Streets Blog, the infrastructure bill also includes longterm, sustainable funding for public transportation, with transit receiving $4.7 billion over the first six years and $281 million for each year afterwards. This translates to 23 percent of the total transportation spending.
The plan will also include a $50 million annual fund for biking and walking safety infrastructure, which the Active Transportation Alliance lobbied tirelessly for.
Posted by Judy Lamelza