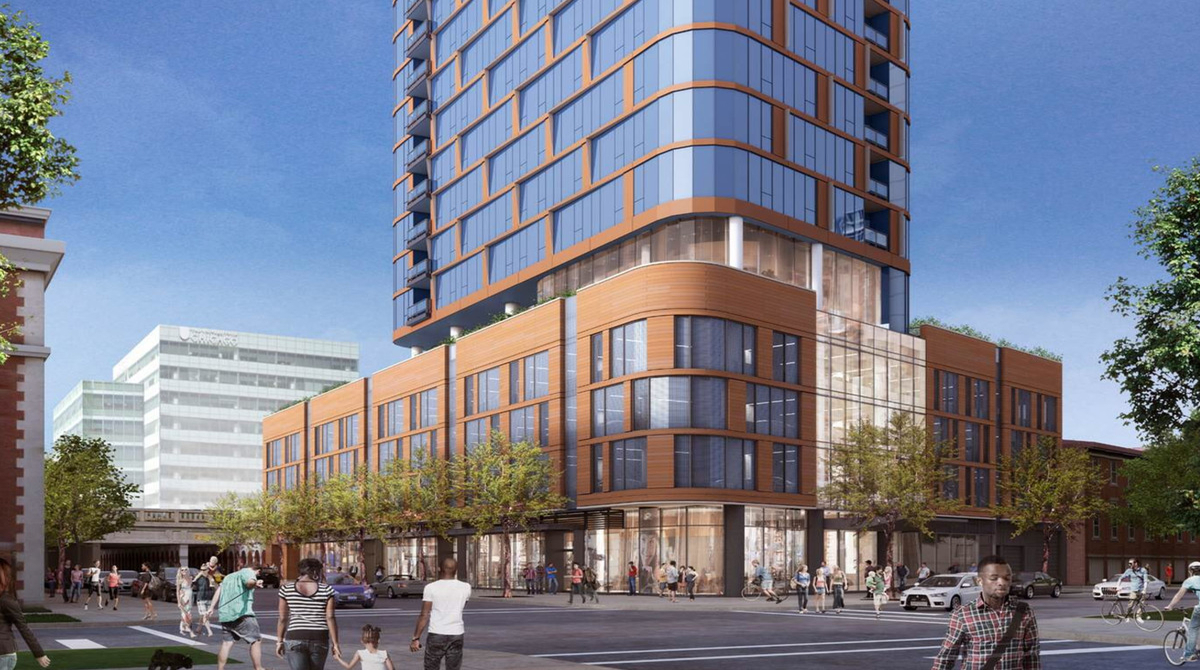 According to a rezoning application that was filed with the City of Ottawa, Colonnade BridgePort wants to build a 21 storey residential high-rise in Ottawa per Ontario Construction Report.
The property located at 100 Argyle Avenue is owned by 100 Argyle Corporation. It is on the south side of Argyle Avenue between Metcalfe and Elgin Streets, north of Catherine Street and Highway 417 and is directly across the street from the Museum of Nature.
The 1,560 square meter property that is currently on the site is a 2.5 storey office building with surface parking to the side and rear of the property. This is a heritage building and is part of the Centretown Heritage Conservation District.
Per the Ottawa Business Journal, Ottawa developer and property manager Colonnade BridgePort has filed a rezoning application. Under the proposed development, the facade of the heritage building will be preserved. The Argyle Avenue property is currently zoned for a maximum height of nine stories.
The surrounding area has seen many high-profile developments including Centretown Citizens Ottawa Corporation's Beaver Barracks project on Metcalfe Street and Lam Development's Soba Ottawa condo tower on
Catherine Street that is presently under construction.
Need More Private Projects in Ontario?
According to Ottawa Matters, the Centretown Citizens Community Association is opposing a proposal to build this apartment building across the street from the Museum of Nature.
The community association's president, Shawn Barber says the group supports further intensification in Centertown, but this particular proposal violates current zoning regulations.
If approved by the city, the proposal would include 62 underground parking spaces for residents and 12 surface spots for visitors.
Barber said the proposal also violates guidelines in the existing community design plan, which has a number of conditions outlined for buildings next to the museum. The plan holds that infill directly adjacent to the museum should be treated as "background" and should have "exemplary architecture."
Barber said the community association has not heard from the developers yet, but the association would be happy to meet with them to help redesign the building so that it fits within existing zoning requirements.
He emphasized that the association welcomes efforts to bring more rental units downtown, but this is simply not the right location for such a building. He suggested the tower should be built just one block further south on Catherine Street.
DataBid is currently reporting on this Design/Planning project - 100 Argyle Avenue Apartments - Ottawa (0019121918)

Posted by Judy Lamelza